Since September 2013 I'm posting regularly in English in addition to Catalan. If you want to read this post translated to English, please use the automatic translator on the right column.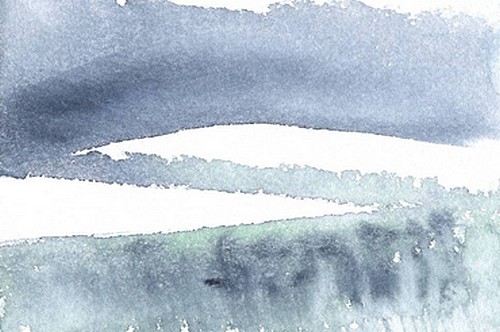 Paisatge nevat - M.J. Becerril
Continuem el nostre recorregut per
les deu cançons més tristes
i arribem a
Erstarrung
(Convertit en gel), el quart lied de
Winterreise
(Viatge d'hivern) de Schubert. Amb aquest cicle ens trobem en el mateix cas que amb els
Kindertotenlieder
, pràcticament qualsevol cançó que triéssim podria formar part de la llista, o podria formar-ne part el cicle, directament. Com que alguna havia de triar em vaig quedar amb
Erstarrung
, una cançó desesperada (amb permís de Pablo Neruda).
Aquesta serà la tercera cançó del
Winterreise
que escoltarem després de 
Der Lindenbaum
i
Auf dem Flusse
, i encara no us he parlat de com va arribar Schubert a compondre aquesta obra, així que avui podem fer una mica d'història.
A començaments de febrer de l'any 1827 Schubert portava una temporada no gaire bona; potser perquè no es trobava bé, potser perquè veia que passava el temps i no aconseguia el reconeixement que mereixia, potser perquè se sentia sol... la qüestió és que no es trobava en la millor situació per compondre i anava fent amb certa desgana. Fins que va trobar, en el número de la revista literària
Urania
corresponent a l'any 1823, un recull de dotze poemes de Wilhelm Müller, el poeta de
Die schöne Müllerin
; el seu títol era
Wanderlieder von Wilhelm Müller. Die Winterreise. In 12 Liedern
(Cançons de caminant de Wilhelm Müller. El viatge d'hivern. En dotze cançons). Llavors, una rere l'altra, Schubert va compondre les seves dotze cançons en el que quedava del mes de febrer.
Els seus amics es van amoinar per ell aquells dies perque s'aïllava i es mostrava esquerp i no sabien del cert perquè. Fins que un dia Schubert va dir a un d'ells, Josef von Spaun: "Vine avui a casa de Schober, us cantaré un cicle de lieder foscos. Estic desitjós de conéixer-ne la vostra opinió. M'han afectat molt més del que ho han fet altres lieder." El mateix Spaun explica com van quedar d'estupefactes quan van sentir les cançons, tan sinistres i tan diferents i com, després del desconcert inicial, poc a poc les van anar apreciant.
A la quarta cançó,
Erstarrung
, trobem el caminant vagant de forma erràtica per la neu, hi cerca debades algun record de l'estimada. És conscient que el seu cor s'està glaçant i el glaç conserva la imatge d'ella, si el cor es fon el record s'escolarà i es perdrà per sempre.
Les cinc estrofes del poema es converteixen en la partitura més llarga del cicle amb les repeticions que Schubert fa de totes les estrofes excepte la tercera. Sentim la respiració entretallada del caminant i el seu pànic, la seva agitació en la seva cerca desesperada. Només trobem una mica de llum, una mica de calma, a l'estrofa central, quan s'esmenten les flors; la repetició dels dos primers versos, però, acaba amb aquesta il·lusió. Amb una cançó tan colpidora que no és estrany que els amics de Schubert quedessin impressionats.
Nosaltres la sentirem en la segona de les versions que va enregistrar el baix baríton Hans Hotter, és de l'any 1954 i l'acompanya Gerald Moore; una versió esplèndida. La primera la va enregistrar el 1942(en plena guerra!) amb Michael Raucheisen i encara en va enregistrar una altra el 1961, amb Erik Werba.
Només una cosa i us deixo que l'escolteu.
Winterreise
és un cicle de vint-i-quatre cançons i només us n'he parlat de dotze. Un altre dia us explico perquè.
Erstarrung 
Ich such' im Schnee vergebens
Nach ihrer Tritte Spur,
Wo sie an meinem Arme
Durchstrich die grüne Flur
Ich will den Boden küssen,
Durchdringen Eis und Schnee
Mit meinen heißen Tränen,
Bis ich die Erde seh'.
Wo find' ich eine Blüte,
Wo find' ich grünes Gras?
Die Blumen sind erstorben
Der Rasen sieht so blaß.
Soll denn kein Angedenken
Ich nehmen mit von hier?
Wenn meine Schmerzen schweigen,
Wer sagt mir dann von ihr?
Mein Herz ist wie erstorben,
Kalt starrt ihr Bild darin;
Schmilzt je das Herz mir wieder,
Fließt auch ihr Bild dahin!
Inútilment cerco
les seves petjades en la neu,
aquí, on sovint passejarem
tots dos pels camps.
Jo vull besar el sòl,
i, amb les meves llàgrimes ardents,
penetrar dins el gel i la neu,
fins que pugui veure la terra.
On puc trobar un rebrot,
on puc trobar verd herbatge?
Les flors estan mortes
la gespa ha empal·lidit.
No hi ha doncs cap record,
que em pugui endur d'aquí?
Quan els meus dolors callin,
qui em parlarà d'ella?
El meu cor s'ha convertit en gel,
i a dins hi ha la seva imatge erta;
si mai el meu cor es torna a fondre,
la imatge fugirà per sempre.