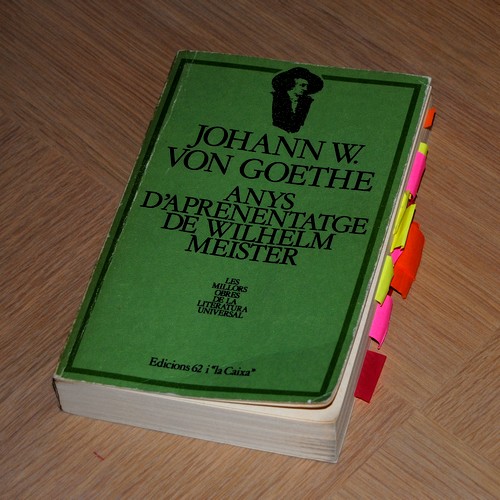 Ladies and gentlemen, the day has come! This is our nineteenth and last post in a series that started two years, eight months and twenty-six days ago: the
series
on the songs of
Wilhelm Meister's Apprenticeship
, by Johann Wolfgang Goethe. As you know, those songs are related to what is happening in the novel, but don't really explain it which turns Mignon or the harpist, common characters in recitals, into perfect strangers. So it was a day that I thought of beginning a post series that would put songs into context by explaining the plot of the novel.
And that's what I roughly did in my eighteen previous posts. I said "roughly" because, unwilling to challenge your patience, I confined myself to talk about the essential stories and characters, avoiding many interesting people or things; for instance, Therese, who would have deserved more scope. The novel talks about theater, philosophy, religion or secret societies, and, in fact, I ignored all of them; I gave such a narrow view of the work that I'm afraid, I made Goethe look as a soap opera writer (nevertheless, I explain the plot as it is, I didn't make anything up). Although I didn't spare irony, we all know that Goethe was a major figure of literature and a key figure for Lied, and that
Wilhelm Meister's Apprenticeship
is a novel with many readings beyond mine, quite superficial.
In the novel, there are a total of fourteen songs; Some of them were musicalized many times but some others only drew Anton Rubinstein's attention. Unfortunately,
there isn't any recording
of these songs so we haven't been able to listen to them; that's why we repeated some poems with different composers. This table contents, by way of summary, all the songs in the order they appear in the novel and every version we heard.
This time I didn't choose a painting to illustrate the post, as I usually do. Instead, I'm paying homage to my own copy of
Wilhelm Meister's Apprenticeship
as I kept it for nearly three years, full of bookmarks. It's part of a very popular collection of masterpieces of universal literature published during the 80s. I also worked with the
English
(translated by Thomas Carlyle) and
German
online editions I'm linking.
We're listening to our last Wilhelm Meister's song, and adding a new composer to the table: Franz Liszt. Liszt made two versions of
Wer nie sein Brot mit Tränen aß
, we're listening to the second one performed by Gerald Finley and Julius Drake. We'll give them a rest for now but sooner or later, we'll listen to more Wilhelm Meister's songs, there are so many...
The time has come to put the novel back in the bookcase, I hope it will remain there for a long time. Many thanks to all of you who followed the stories of Wilhelm Meister, Mignon, the harpist, Philine, the Count, the Countess, Jarno, Friedrich, Philine, Therese, Natalie, Mariane, Lothario, Serlo, Aurelie, Laertes ... You brave people!
TWer nie sein Brot mit Tränen aß

Wer nie sein Brot mit Tränen aß,
Wer nie die kummervollen Nächte
Auf seinem Bette weinend saß,
Der kennt euch nicht, ihr himmlischen Mächte.
Ihr führt ins Leben uns hinein,
Ihr laßt den Armen schuldig werden,
Dann überlaßt ihr ihn der Pein:
Denn alle Schuld rächt sich auf Erden.
Who never ate his bread in sorrow,
Who never spent the darksome hours
Weeping and watching for the morrow,
He knows ye not, ye gloomy Powers.
To earth, this weary earth, ye bring us,
To guilt ye let us heedless go,
Then leave repentance fierce to wring us:
A moment's guilt, an age of woe!
(translation by Thomas Carlyle)