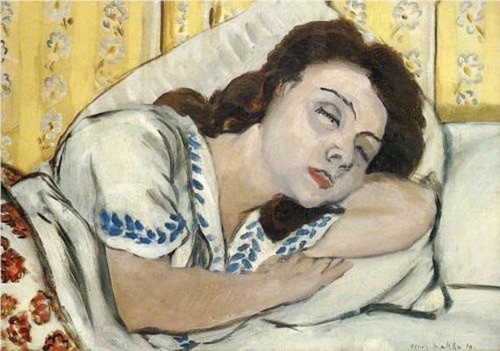 Retrat de Marguerite dormint
We keep on talking about the Schubertiade Vilabertran. This week, it's turn for two song recitals by Matthias Goerne and Alexander Schmalcz, on 27th and 29th August. The programme of the first one is pretty intense: We will have the Vier Lieder, Op. 2 by Berg, Dichterliebe and three pieces that are the last ones (or almost) written by its composers: Three Poems of Michelangelo of Hugo Wolf, the Suite on Verses of Michelangelo by Dmitri Shostakovich and Brahms' Vier ernste Gesänge. So far, we've listened to five songs from that programme, here on Liederabend:
Four of them are from Dichterliebe; the first four because, as you know, we follow the order of the cycle. Thus, we had Im wunderschönen Monat Mai and Aus meinen Tränen sprießen with Fritz Wunderlich and Hubert Giesen; Die Rose, die Lilie, die Taube, die Sonne, with Jonas Kaufmann and Helmut Deutsch and Wenn ich in deine Augen seh' with Christopher Maltman and Graham Johnson. I've already told you some things about this gorgeous song cycle but, if you aren't convinced yet, let me suggest five more reasons to love it.
The fifth song we previously listened, is one of the three poems of Michelangelo by Wolf, the third one, Fühlt meine Seele das ersehnte Licht, in the great version of Hans Hotter and Gerald Moore.
The second recital of Goerne and Schmalcz has a very special programme, devoted to Beethoven. We're listening to as well-known pieces as Adelaide and An die ferne Geliebte, and many others which are rarely interpreted; it is a good chance to delve into the composer's lieder.
We've just listened to one song included in this programme, Auf dem Hügel sitz ich spähend, which opens An die ferne Geliebte. Have I ever told you how much I love that cycle?
The music of this post will be, as usual, one of the songs that we're listening in Vilabertran. I chose one of the Alban Berg's songs; it's his first time in Liederabend so, from now on, his picture will be in the index of composers. The Vier Lieder, Op. 2 is a work written in 1910 when Berg was twenty-five. They speak of dreams and sleeping as a way to avoid the hardships of life. In fact, I've just realized that Dichterliebe, the work that comes next in this recital, also contains songs that speak of dreams. We'll have an oniric beginning!

The Vier Lieder are considered a frontier between tonality and atonality. Certainly, when we listen to them, we realize that they aren't entirely one thing or the other (except perhaps the fourth song, more clearly atonal). However, almost one hundred years after the songs' composition, this issue doesn't scare us anymore; I think that we mainly perceive its nocturnal, mysterious atmosphere. Very clearly, for instance, in the second song, Schlafend trägt man mich, with a poem by Alfred Mombert (only the first poem is from another poet, Christian Hebbel). We're listening to this brief song performed by Christianne Stotijn and Joseph Breinl.
Schlafend trägt man mich

Schlafend trägt man mich
In mein Heimatland!
Ferne komm ich her,
Über Gipfel, über Schlunde,
Über ein dunkles Meer
In mein Heimatland.
Sleeping, I am carried
to my homeland.
I come from far
over peaks and chasms,
over a dark sea
to my homeland.