Song of the week: Geistlisches Wiegenlied (J. Brahms) - C. Ludwig, G. Downes, G. Parsons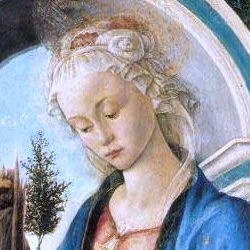 I'm not sure if someone is reading this English blog every week. I'm not sure either if someone is using the translator on the right column. But if there is some quiet, discreet reader I wish you merry Christmas, in the voice of Christa Ludwig singing
Geistliches Wiegenlied
by Johannes Brahms.
Since September 2013 I'm posting regularly in English in addition to Catalan. If you want to read this post translated to English, please use the automatic translator on the right column.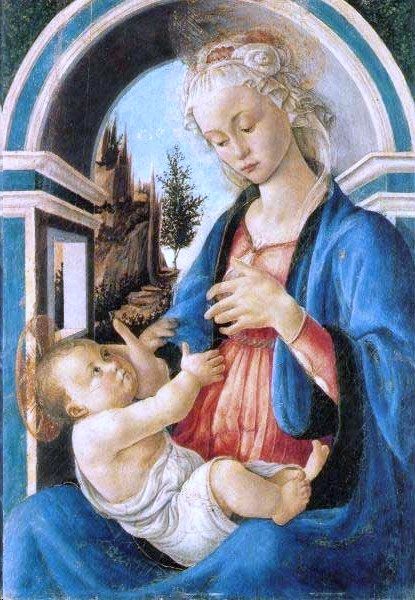 Mare de Déu amb Nen - S. Botticelli
Johannes Brahms era molt amic del violinista Joseph Joachim, que era qui l'havia presentat als Schumann, Robert i Clara. El 1864 Joachim i la seva dona Amalie va tenir el seu primer fill, Johannes, i Brahms els va regalar una cançó de bressol.
Així com Joseph Joachim era un prestigiós intèrpret, Amalie Schneeweiß havia estat de soltera una reconeguda cantant d'òpera (un cop casada es va dedicar al concert i l'oratori, activititats socialment més acceptades); no és estrany que Brahms els escrivís una exquisida cançó perquè l'interpretessin tots dos, Geistliches Wiegenlied (Cançó de bressol sacra), per a contralt, viola i piano. Perquè viola i no violí? Perquè la viola era l'instrument preferit de Brahms, o perquè el seu timbre s'adeia més amb la tessitura d'Amalie, aquestes són les dues teories més exteses. I qui se suposava que havia de tocar el piano? Potser la mateixa Amalie?
El text utilitzat per Brahms pertany a l'Spanisches Liederbuch, un recull de poesia espanyola dels segles XVI i XVII traduida o adaptada per Emanuel Geibel i Paul Heyse i dividit en dues parts, poesia profana (Weltliche Lieder) i poesia sacra (Geistliche Lieder). D'aquesta col·lecció, Robert Schumann havia posat música a una part de les cançons profanes i Hugo Wolf n'hi posaria més tard a la major part de les cançons. Brahms va triar una de les cançons sacres; la Mare de Déu bressola el Nen i demana als àngels que el protegeixin i vetllin el seu son. Emanuel Geibel va adaptar un poema de Lope de Vega, Cantarcillo de la Virgen, que podreu llegir una mica més a baix en lloc de la traducció del text de la cançó; aquest mateix poema el va musicar també Eduard Toldrà gairebé cent anys després.
El lligam entre cançó de bressol i cançó de Nadal no és infreqüent, tenim exemples ben propers com El noi de la mare, però Geistliche Wiegenlied té un segon component clarament nadalenc, a més del text: la melodia que interpreta la viola és la melodia de la nadala tradicional alemanya Joseph, lieber Joseph mein. Viola i veu van cantant dues cançons diferents sense trobar-se mentre el piano es manté en segon pla fent de nexe entre elles. Com us deia, una cançó exquisida.
La sentirem amb els mateixos intèrprets amb què vam escoltar la primera de les dues cançons de l'op. 91, Gestillte Sehnsucht: Christa Ludwig, amb Geoffrey Parsons (piano) i Herbert Downes (viola). Abans podem escoltar la nadala tradicional interpretada pel Dresdner Kreuzchor dirigit per Roderich Kreile.
Bon Nadal!
Joseph, lieber Joseph mein
Geistlisches Wiegenlied 
Die ihr schwebet
Um diese Palmen
In Nacht und Wind,
Ihr heilgen Engel,
Stillet die Wipfel!
Es schlummert mein Kind.
Ihr Palmen von Bethlehem
Im Windesbrausen,
Wie mögt ihr heute
So zornig sausen!
O rauscht nicht also!
Schweiget, neiget
Euch leis und lind;
Stillet die Wipfel!
Es schlummert mein Kind.
Der Himmelsknabe
Duldet Beschwerde,
Ach, wie so müd er ward
Vom Leid der Erde.
Ach nun im Schlaf ihm
Leise gesänftigt
Die Qual zerrinnt,
Stillet die Wipfel!
Es schlummert mein Kind.
Grimmige Kälte
Sauset hernieder,
Womit nur deck ich
Des Kindleins Glieder!
O all ihr Engel,
Die ihr geflügelt
Wandelt im Wind,
Stillet die Wipfel!
Es schlummert mein kind.
Pues andáis en las palmas,
ángeles santos,
que se duerme mi niño,
tened los ramos.
Palmas de Belén
que mueven airados
los furiosos vientos
que suenan tanto:
no le hagáis ruido,
corred más paso,
que se duerme mi niño,
tened los ramos.
El niño divino,
que está cansado
de llorar en la tierra
por su descanso,
sosegar quiere un poco
del tierno llanto.
Que se duerme mi niño,
tened los ramos.
Rigurosos yelos
le están cercando;
ya veis que no tengo
con qué guardarlo.
Ángeles divinos
que váis volando,
que se duerme mi niño,
tened los ramos