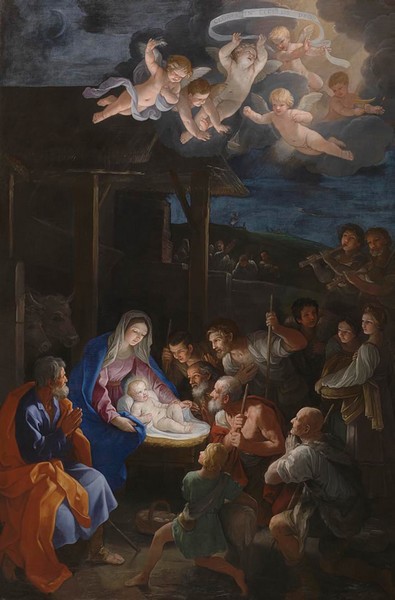 The Adoration of the Shepherds - G. Reni
This week I'm (more or less) on holiday, so I'm posting a very brief Christmas post, the second one this season. Just a few words to talk you about a little, tender, song: one of the Trois chants de Noël by the Swiss composer Frank Martin, his first song here on Liederabend.

Music was usual in family gatherings at Martin's home; we can imagine that scene we've talked so many times, family and friends making music together, but in the middle of the 20th century. At Christmas, the father, Frank, used to play the piano while the whole family sang, usually traditional Christmas carols. In 1947, however, there was a new repertoire: The composer gave his daughter Francoise, who was fifteen years old, three Christmas songs; the accompaniment was for piano and flute, so Marie, his wife, could join the domestic concert. The lyrics were written by Albert Rudhart; I'm afraid the only thing I know about him is that some years before he had written the libretto of a musical tale by Frank Martin, La nique à Satan.

We're listening to the second of the three songs, Image de Nöel, which describes that image we have seen so many times in paintings like the one illustrating this post (or at home, if we usually put up the nativity scene) It's a very short song, it hardly lasts a minute, and it has a serene medieval air. I chose the interpretation of mezzo-soprano Christianne Stotijn, pianist Joseph Brenl and flautist Toon Fret.

I hope you enjoy the music, the last days of 2017 and the first ones of 2018. See you next year!
Image de Nöel

L'enfant Jesus des images,
Le beau bébé rose et blanc,
Tend ses deux poings vers les mages
Ou vers un berger tremblant.
Le boeuf sans cérémonie
Rumine engrondant un peu
Et Vierge en manteau bleu
Sourit à la compagnie.
Please visit this
link
If you need an English translation