Fernanda Sánchez presents Mein Liebster singt am Haus in Mondescheine, a new song in the series in collaboration with the Master's Degree of Lied-ESMUC. The performers are Mojca Erdman and Gerold Huber. Thank you very much, Fernanda!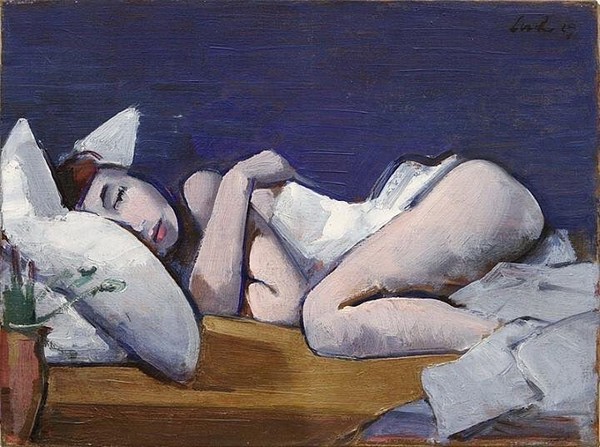 Noia dormint - F. Lerch
A taste of Hugo Wolf
When one's profession is being a musician, one enters a world in which if not all, most people that surround us don't understand what we do. I'm talking about the world of classical music, an unknown world for a big percentage of the world's population, which in itself could be divided into sub-worlds: early music, opera, orchestras... and so on. Still, there are composers whose names go far beyond the borders of those sub-worlds and even the world of classical music; because of the diversity of their works, the volume of their work, their undisputable geniality or their very fortunate circumstances in the history of western music.
Hugo Wolf is not one of those composers. When I talk to musician friends that don't perform lieder, Wolf's works are unfamiliar to them, maybe they've heard the name but they wouldn't be able to place him in a specific time and place of western music. And what to say about friends who aren't musicians or classical music aficionados? Hugo Wolf might as well be a character from a film or a fashion designer. Hugo Wolf was born in 1960 in Styria a Slovene town that was part of the Austrian empire. He went to the conservatory in Vienna, where he was Mahler's classmate and friend. He composed mainly lieder but developed a very expressive and intense style, different from the other lieder composers.
I myself discovered him late in my career as a singer and yet, for my master's audition the only Lieder I sang were Wolf's. I am truly captivated by his songs. Ian Bostridge referred to him as "the god of small things"[1] and I couldn't agree more. To me, his songs are mini master-pieces, and in an attempt to help Wolf's name trespass the borders mentioned above, I want to talk about one of his wonderful songs: Mein liebster singt am Haus in Mondenscheine.
This song is number twenty in Wolf's Italianisches Liederbuch, a songbook than more than a cycle is a collection of Italian poems by different authors translated to German by Paul Heyse. There are different opinions about the quality of the poems, although full of drama, some say they are shallow texts about the back and forward of quarrelling young love, but also, an illustration of the romanticized idea of Italy the Germans had, a country that Wolf dreamed of visiting, but never did. The great thing about these poems is the freedom they give to regroup them or change the order, so that the performers can give them a new personal meaning.
In Mein Liebster singt am Haus the picture is very clear: A girl cries in bed because her mother won't let her go out to see her beloved singing a serenade by her house, to the point of shedding tears of blood that make her blind. Not short of drama. When I heard the song for the first time, I was deeply moved by the pain Wolf imprinted to this poem and the subtlety with which he managed to create the scene.
The piano plays freely, with a light melody, portraying a serenade on a pleasant night, in contrast to the melody on the voice, much more dramatic and declamatory. Wolf even wrote the indication leidenschaftlich [pasionately] The speaking rhythm of the text over the melody of the serenade is pleasant both to sing and to listen to, and the harmonic language creates an atmosphere that oscillates between sensuality and pain.
It was funny to listen to song number twenty-four after it, Ein Ständchen Euch zu bringen kam ich her, where the male counterpart simply sings: I was passing by to sing to your beautiful daughter, please tell her I miss her. The language in this song is shameless and lively, and has nothing to do with the painful moaning in Mein Liebster singt am Haus.
Both songs, only one and a half minutes long, are wonderful. Performing them in a recital one after the other can change their meaning, Mein Liebster singt am Haus may not seem so painful, but rather the tantrum of a girl who is not allowed to go out at night to flirt with the boy next door, as the love they sing about in Ein Ständchen Euch zu bringen doesn't seem the deepest of loves. The point is that the meaning of a song is most times subjective and in it lies the freedom of performance.
When I decided to write about this song I started to look for information and do research about the text and the very transcendent meaning it had in my opinion. Instead of that, I only found reviews of concerts and recordings. The soprano had a very slow vibrato, her performance was too knowing and not felt enough, the hall wasn't the right venue for this repertoire. A whole bunch of statements and comments that robbed me momentarily of the magic I felt when I heard the song for the first time and then the many times I sang it. Mojca Erdmann's performance, which captivated me, was destroyed by the press. This only reaffirms what I've always thought about singing: music is a living art, songs are living works of art and the complicity between the composer and the performer it's what keeps it alive, and that complicity is subjective and personal. And it is a true privilege to be Hugo Wolf's accomplice, even if it's only for a minute and a half.
About the author

Fernanda Sánchez Rojo is a Mexican singer living in Barcelona. She studied the Early Music Masters programme at ESMUC and that is the repertoire she normally sings in different projects in Spain, the UK and Mexico. Currently she is a student in the Lied Masters Programme Victoria de los Ángeles.
Mein Liebster singt am Haus in Mondescheine

Mein Liebster singt am Haus im Mondenscheine,
Und ich muss lauschend hier im Bette liegen.
Weg von der Mutter wend' ich mich und weine,
Blut sind die Tränen, die mir nicht versiegen.
Den breiten Strom am Bett hab' ich geweint,
Weiss nicht vor Tränen, ob der Morgen scheint.
Den breiten Strom am Bett weint' ich vor Sehnen;
Blind haben mich gemacht die blut'gen Tränen.
My sweetheart's singing outside the moonlit house,
And I must lie in bed and listen.
I turn away from my mother and weep,
My tears are blood, which will not dry.
I have wept that broad stream by the bed,
I do not know for tears if day has dawned.
I've wept that broad stream out of longing;
The tears of blood have blinded me.
(translation by Richard Stokes)