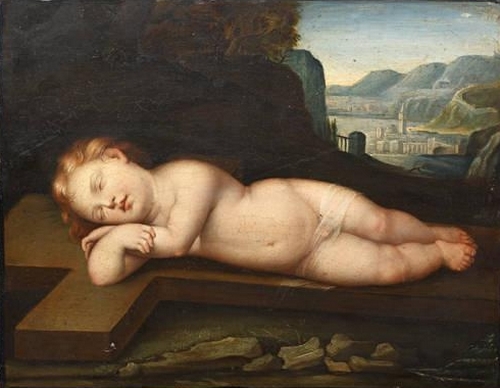 The Child Jesus sleeping on a cross - F. Albani
I wonder if you are as much moved as I am with the painting at the top of this post. That Baby Jesus, laying on a cross instead of on a cradle. A tiny cross, custom-made, a quite obvious symbol of what will happen to him some day. These kind of symbols are usual in Baby Jesus' paintings; for example, a goldfinch as a symbol of the crucifixion (it appears in Murillo's "
The Holy Family with a little bird
" which illustrated a post some years ago) or a pomegranate that symbolises the resurrection. There are usually subtle elements, that could even go unnoticed. But that child sleeping on the cross... even the most clueless observer would grasp the message!
Francesco Albani, the artist of that painting, wasn't the only that painted this motiv, we can find it in many other paintings and sculptures; Murillo, for instance, painted the Child on the cross several times, even with his little hand lying on a skull. You may wonder why I chose this picture to illustrate the first Christmas post. I had little option, because the song is about it. And why did I choose this song? Just wait to hear it!
Schlafendes Jesuskind
is one of Wolf's Mörike-Lieder, no. 25. The poem has a subtitle, "painted by Francesco Albani", and we read about the way someone observes the painting and wonders what the Holy Child is dreaming of. There's one more Mörike-Lieder which talks about a painting;
Auf
ein altes
Bild
, no. 23, describes a Madonna and Child where we can see another symbol of crucifixion: a young, green tree, which will eventually become the cross. Mörike doesn't specify the work; it could be, for example,
that of Girolamo dei Libr
i
. In fact, I thought over listening to that song, because the image is less harsh and the song is really beautiful, but I didn't want to give up on the version of
Schlafendes Jesuskind
I'm sharing.
Wolf composed a song as sweet as Mörike's poem. Contemplative, in this case literally; thoughtful and emotional. He didn't use to alter the poems he musicalized, but in this case he did it: he added the final repetition of the first words, "
Sohn der Jungfrau, Himmelskind!
" after repeating also the four bars of the prelude. Thus, we hear those words after the observer keeps quite for some time; if at the beginning of the song, the score marks them as "
leise
" (low), at the repetition is marked
pp
, with the observation "as lost in deep thoughts." It's a perfect end to the song.
My full intention was to be brief during the three Christmas weeks and I would say that I'm about to get it. Just two more things. The first one, please don't leave this page without listening to the great performance of Wolfgang Holzmair and Imogen Cooper. It's a live recording at the Wigmore Hall; just notice that when the song ends, after a few seconds of silence, we hear some coughing. I would say it's the usual coughing when we forget to breath and swallow during a song and then we have to take a breath one way or another...
The second thing, of course, is to wish you a Merry Christmas. I really hope you like this little gift from Hugo Wolf.
Schlafendes Jesuskind

Sohn der Jungfrau, Himmelskind! am Boden,
Auf dem Holz der Schmerzen eingeschlafen,
Das der fromme Meister, sinnvoll spielend,
Deinen leichten Träumen unterlegte;
Blume du, noch in der Knospe dämmernd
Eingehüllt die Herrlichkeit des Vaters!
O wer sehen könnte, welche Bilder
Hinter dieser Stirne, diesen schwarzen
Wimpern sich in sanftem Wechsel malen!
Son of the Virgin, child of Heaven, on the ground
Upon the wood of suffering Thou hast fallen asleep,
that the pious master, meaningfully playful,
Has placed under Thy light dreams;
Flower Thou, still only encompassing
Half-lit in the bud the glory of the Father!
Oh could one see what images
Behind this brow, behind these black
Lashes, are painted in gentle alternation!
(translated by Sharon Krebs)