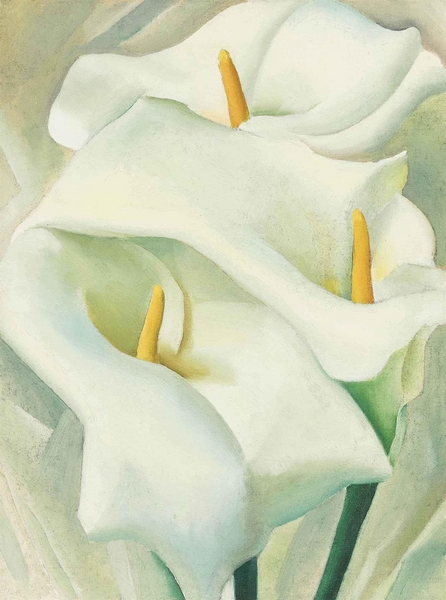 Calla Lilies - G. O'Keeffe
This post is the third, and the last one dedicated to the programmes of song recitals at the Schubertiade Vilabertran. Malcolm Martineau is one of the main artists this year, with three recitals, all of them scheduled this week: tomorrow with Sarah Connolly (I talked about it
last week
), the day after tomorrow with Kate Royal and on Saturday with Christoph Prégardien. You can't imagine how much I'm looking forward to them!
Kate Royal's recital
includes two cycles of Robert Schumann: the essential
Liederkreis
, op. 39, one of the most important works written by the composer in 1840, and a beautiful cycle of his second time that we haven't started yet,
Gedichte der Königin Maria Stuart
, op. 135, with a Lied by Johann Rudolf Zumsteeg as a prelude. The program is completed with other songs from other Schumann's cycles and a few ones by Gabriel Fauré, which built the
Prison
that entitles the programme. So far, we've heard four Lieder from this recital:
Three of them are from Eichendorff's Liederkreis: Mondnacht, the first cherry I told you; Frühlingsnacht, a radiant song, the first of our ten happiest songs; And Waldesgespräch, Susanna Puig told us about it some weeks ago in the series dedicated to the Master's Degree in Lied at ESMUC. In all three cases, we heard the recording by Dietrich Fischer-Dieskau and Gerald Moore.
The fourth Lied was also presented by one ESMUC students, Guillem Martí. It's Mein schöner Stern, the n. 4 of Minnespiel, op. 101 and we also heard Fischer-Dieskau, accompanied by Jörg Demus.
The song recitals of the Schubertiade (not the festival, which will last until September 3) will be closed by Christoph Prégardien, with the greatest Winterreise. By the way, Prégardien has lately been singing this cycle with ornaments, in the way that Lied was sung in the old days; I wonder if he will do so again... I've written often about Winterreise: I went into details about the composition, I told you my impressions, I gave newcomers some clues to listen to it... We heard seven songs, all of them with different performers, singers as pianists. I didn't notice it until I made this review! I hope they will be useful in case you're going to Vilabertran:
Gute Nacht, with Florian Boesch and Malcolm Martineau; Erstarrung, with Hanns Hotter and Gerald Moore; Der Lindenbaum, a guest post where my friend Javier del Olivo shared two versions, one by Christian Gerhaher and Gerold Huber and another by Thomas Quasthoff and Charles Spencer; Auf dem Flusse with Martti Talvela and Ralph Gothóni; Die Krähe with Christopher Malman and Graham Johnson; Täuschung, with Jonas Kaufmann and Helmut Deutsch and Die Nebensonnen with Peter Pears and Benjamin Britten.
Today's musical illustration will be one more song from the Eichendorffs, sang by Kate Royal. Intermezzo, n. 2, is a gem like all the songs in the cycle. This recording of the Liederkreis, op. 39 is included in Graham Johnson's complete songs.
Intermezzo

Dein Bildnis wunderselig
Hab' ich im Herzensgrund,
Das sieht so frisch und fröhlich
Mich an zu jeder Stund'.
Mein Herz still in sich singet
Ein altes, schönes Lied,
Das in die Luft sich schwinget
Und zu dir eilig zieht.
Your blissful, wonderful image
I have in my heart's depths;
it looks so freshly and joyously
at me in every moment.

My heart sings mutely to itself
an old, beautiful song
that soars into the air
and hastens to your side.
With Intermezzo we bid farewell to the Schubertiade 2017... In case you wonder whay I didn't say a word about the two first recitals, it's easy: as every year, I'm writing these posts some weeks in advance so they are still "future recitals" to me...

Next week we will close our 2016-2017 season with a different post, just wait and see!