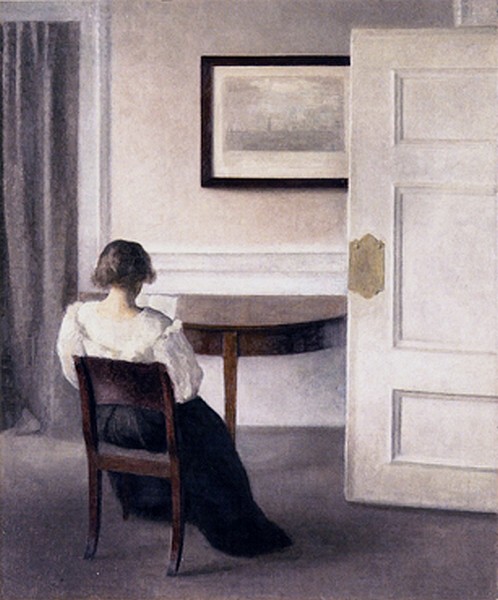 Interior - V. Hammershøi
Third and the last post dedicated to the Schubertíada Vilabertran; we'll go over three song recitals to complete the review of the series that we started two weeks ago.
Sunday 27 August. Anna Lucia Richter & Gerold Huber
This program takes us to the essence of Lied: Schubert in the first part, Schumann in the second one. So far we heard four of the Schubert's Lieder and four more from Schumann's Liederkreis, op. 39, with poems by Eichendorff:
Monday 28 August. Andrè Schuen & Daniel Heide
Die schöne Müllerin. Need we say more! If you want to read something about its origins and some songs, follow these links:
Friday 31 August. Christoph Prégardien & Julius Drake
This programme is about Schubert and the most 'Schubertian' cycle by Mahler, Songs of a Wayfarer, where the composer pays homage to Winterreise (linden included). From that programme, we heard so far these three lieder:
In 1814, a few months after his fiancée's death, Ernst Schulze began to write the collection Poetisches Tagebuch, a diary that he kept until 1817; the title of each poem is the day he wrote it. Between the end of 1825 and the beginning of 1826, Schubert musicalized nine of these poems; a tenth Lied remained unfinished and he wrote, in addition, a part song. There were his first and last works with Schulze's poems. His relationships with his poets were often that way: he found them, he devoted himself intensely and then he moved on.
Christoph Prégardien and Julius Drake will perform Schulze's nine songs in Vilabertran. There is one at the previous list, Im Frühling, and I suggest you a new one: An mein Herz (To my heart), written on January 23, 1816. It represents clearly the spirit of the group: the seek of rest to calm down a constant restlessness. Our performers will also be Prégardien and Drake. I hope you like it and that you can enjoy this recital, the last one this summer in Vilabertran.
An mein Herz

O Herz, sey endlich stille!
Was schlägst du so unruhvoll?
Es ist ja des Himmels Wille,
Daß ich sie lassen soll!
Und gab auch dein junges Leben
Dir nichts als Wahn und Pein;
Hat's ihr nur Freude gegeben,
So mag's verloren seyn!
Und wenn sie auch nie dein Lieben
Und nie dein Leiden verstand,
So bist du doch treu geblieben,
Und Gott hat's droben erkannt.
Wir wollen es muthig ertragen,
So lang nur die Thräne noch rinnt,
Und träumen von schöneren Tagen,
Die lange vorüber sind.
Und siehst du die Blüthen erscheinen,
Und singen die Vögel umher,
So magst du wohl heimlich weinen,
Doch klagen sollst du nicht mehr.
Gehn doch die ewigen Sterne
Dort oben mit goldenem Licht
Und lächeln so freundlich von ferne,
Und denken doch unser nicht.
O my heart! be still already!
Why are you pounding so savagely?
It is the will of heaven
that I should leave her.
And if your young life gave you
nothing but delusion and pain,
it still gave her joy,
so let it be lost!
And even if she never understood your love
or your sorrow,
you still remained faithful
and God has recognized this.
We mean to endure it courageously,
so long as our tears can still flow;
and we dream of better days
that have long since passed.
And if you see the flowers appearing
and hear the birds singing about you,
you may weep quietly,
but there must be no more lamenting.
For the eternal stars still move
up there with golden light
and smile so kindly from afar;
and yet they do not think about us at all.
(translation by Emily Ezust)