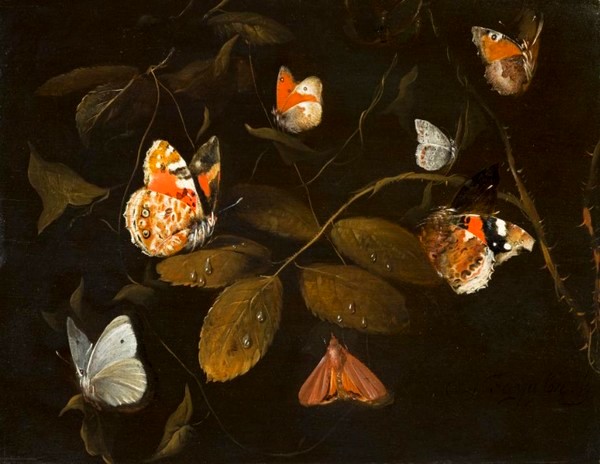 Six Butterflies and a Moth on a Rose Branch - W. G. Ferguson
This week, we also commemorate an anniversary after having recalled Berlioz last week. In fact, the 150th anniversary of the death of another composer, Carl Loewe, also known as "the king of the ballad". He was one of our first composers here on Liederabend, we listened to one of his songs in August 2012. Back then I told a few notes about him; he was born in Löbejün (north of Germany) a few weeks before Schubert was born in Vienna, both in similar family circumstances. Both enjoyed an excellent musical training thanks to their achievements as choir boys, but the parallelism between their lives ends here.
Loewe achieved at 23 the permanent job that any young composer wished (from Schubert to Mahler, to mention two names that didn't get it) because it ensured them some income and, most important, that they could devote themselves to compose. Loewe earned a position as organist and musical director in Stettin (Prussia) and kept it for forty-six years until he retired in 1866. There he conducted the premiere of Felix Mendelssohn's A Midsummer Night's Dream, (the concert overture), and both collaborated on other projects later. Loewe, admired by composers such as Richard Wagner and Hugo Wolf, wrote many works: operas, oratorios, chamber music, symphonic pieces and, above all, songs.
Or, to be precise, ballads, because he specialized in telling stories, under the influence of composers such as Johann Zumsteeg, Friedrich Reichardt or Carl Zelter. He composed with great success hundreds of ballads, following a seemingly simple formula: strophic form, a melodic vocal line and an accompaniment technically simple but imaginative and charming. During the 40s and 50s, he did something unusual at that time when Art Song was a domestic matter: he performed his songs in concert. He didn't limit to accompany, he was the singer himself. His tours took him to England and, according to the chronicles, Queen Victoria became one of his most enthusiastic admirers.
I do not know if Die Sylphide was among the Queen's favorites (did she even listen to it?). The poem was written by someone I mentioned some times, last one in Saint George's Day, but only once as a poet (as a translator, in fact): Johann Gottfried Herder, one of the most important personalities of German culture during the second half of the 18th century. We owe him, probably, the close link between traditional poetry and Lied; he defended the need to preserve that cultural heritage. Let me remark that he understood by volkslieder, "folk songs", something different from the modern meaning, that's to say, songs of unknown origin transmitted from one generation to the next. It was that and it was much more than that.
To begin with, in this case Lieder doesn't mean just "songs", it also refers to poems (we've seen how Wilhelm Müller or Heinrich Heine referred to their poems as Lieder). Herder didn't refer solely to old poems, to anonymous poems or to German poems; In his collection Volkslieder, published in 1778, he included fragments of works by Shakespeare and poems written by him or by contemporaries such as Claudius and Goethe (for example, Heidenröslein, a good sample of folk song according to Herder's notion). He somehow aspired to collect the soul of the people in a broad sense. I would say that the title of the posthumous edition of his work was illustrative: Stimmen der Völker in Lieder, that is, "Voices of the people in songs."
We're listening to Die Sylphide, a Loewe's song from Herder's Das Lied vom Schmetterlinge (The song of the butterfly), a poem about spring and life that we find in the third book of the second part of Volkslieder; Loewe changed the title and emphasized the sylph that appears there briefly. It's a charming song, a light ballad that reminds us of the flight of the butterfly, and this is the achievement of Loewe: the butterfly appears before our eyes, flutters, shows us its beauty and flies away, leaving us with a smile on our lips. Enjoy Die Sylphide, performed by Marlis Petersen and Camillo Radicke.
Die Sylphide

Liebes, leichtes, luft'ges Ding,
Schmetterling,
Das da über Blumen schwebet,
Nur von Tau und Blüten lebet,
Blüte selbst, ein fliegend Blatt,
Das mit welchem Rosenfinger!
Wer bepurpurt hat.
War's ein Sylphe, der dein Kleid
So bestreut?
Dich aus Morgenduft gewebet,
Nur auf Tage dich belebet?
Seelchen, und dein kleines Herz
Pocht da unter meinem Finger,
Fühlet Todesschmerz.
Fleuch dahin, o Seelchen, sei
Froh und frei,
Mir ein Bild, was ich sein werde,
Wenn die Raupe dieser Erde
Auch wie du ein Zephyr ist,
Und in Duft und Tau und Honig
Jede Blüte küßt.
Dear, light, airy thing,
Butterfly!
That hovers there above the flowers,
Living only on dew and blossoms,
Itself a blossom, a flying leaf,
That, with what a rosy finger!
Someone has crimsoned.
Was it a sylph, who sprinkled
Your dress thus?
Who wove you from the scent of morning,
Who only gave you a lifespan of days?
Dear soul, and your little heart
Pulses there under my finger,
Feels the pain of death.
Fly thence, oh dear soul, be
Joyful and free!
For me an image of that which I shall become,
When the caterpillar of this earth
Like you, is a zephyr,
And in scent and dew and honey
Kisses every blossom.
(translation by Sharon Krebs)