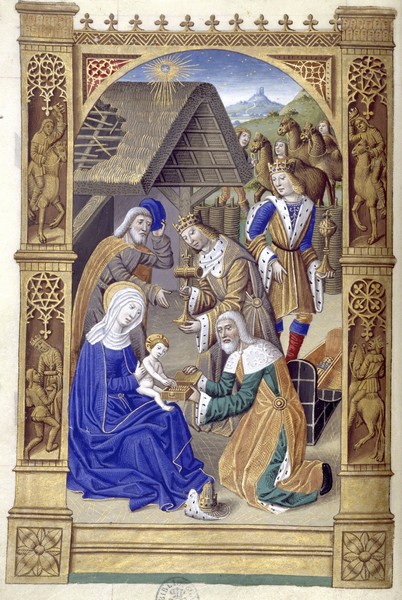 Llibre d'hores de Carles VIII. Reis d'Orient - J. de Bensançon
A Luciano Berio li agradava la música tradicional, però els arranjaments habituals per a veu i piano que feien els seus col·legues li produïen un cert neguit. La raó d'aquesta incomoditat era, suposo, que el piano no ha estat mai un instrument tradicional; les cançons populars no solen tenir acompanyament i, si en tenen, els instruments són senzills, com ara la flauta o la guitarra. Per això, en el seu recull Folk songs acompanyen la veu un conjunt de set instrumentistes que toquen la flauta o el piccolo, el clarinet, l'arpa o la guitarra, el violoncel, la viola i la percussió. És a dir, instruments que podem associar, ni que sigui en les seves versions més primitives, amb la música tradicional; pel que fa a l'instrument principal de la cançó, la veu, Berio demanava també que el cant no fos impostat. Amb tot això, el compositor feia per "subratllar les arrels culturals i expressives de les cançons" i donar-hi "una nova interpretació rítmica i harmònica". Folk songs va ser un encàrrec del Mills College, a Califòrnia, on Berio feia classe, i es va estrenar el novembre de 1963; deu anys després va publicar la segona versió del recull, per a mezzo i orquestra.
Berio i la seva dona, la mezzosoprano Cathy Berberian, van escoltar enregistraments antics, van remenar antologies editades i van parar l'orella al que cantaven els músics de folk per triar les cançons. Finalment, el recull, d'onze peces, incloïa cançons d'Alvèrnia, la Provença, Sicília, Sardenya, Armènia, els Estats Units i fins i tot, de l'Azerbaidjan; segons sembla, a Berio i Berberian els va enamorar una cançó d'aquest país que tenien en un disc i, com que ni ells ni ningú proper en coneixien la llengua, la cantant es va inventar un text (que no diu res) per aproximació fonètica.
No diríeu mai quina cançó americana va incloure Berio al recull? Exacte, I wonder as I wander.. I no només aquesta cançó de Niles, també Black is the color of my true love's hair, la seva cançó més coneguda, gràcies sobretot a les versions de Joan Baez o Nina Simone. Imagino que, a diferència de Britten, Berio ja sabia que I wonder as I wander no era ben bé una cançó tradicional i devia posar-se d'acord amb Niles per les qüestions legals i econòmiques. Ell mateix va contribuir a Folk songs amb dues cançons que eren només "intencionadament populars", que havia compost el 1947. Aquest petit embolic de cançons populars, populars però no gaire o intencionadament populars no és gaire diferent del que explicava Herder dos cents anys abans, pensem-hi!
Els Reis ens porten la tercera i última versió d'I wonder as I wander, la de Luciano Berio, que escoltarem interpretada per Cathy Berberian, el Juilliard Ensemble i el compositor dirigint. Com podreu escoltar, inicialment acompanyen la veu l'arpa, el clarinet, la viola i el violoncel; més tard s'hi afegeix també la flauta, que cobra protagonisme en un postludi gairebé tan llarg com la cançó.
La setmana vinent canviem d'obra, no patiu. Havia triat la versió de Britten (la meva preferida amb diferència, gràcies en part a la veu magnífica de Finley) com a primera cançó de Nadal aquest any i, estirant del fil, vaig anar trobant altres versions (encara en queden, si us en calen més) i vaig pensar a fer aquest petit experiment.
I wonder as I wander
I wonder as I wander out under the sky,
How Jesus our Saviour did come for to die.
For poor or'n'ry people like you and like I,
I wonder as I wander out under the sky.
When Mary birthed Jesus 'twas in a cow stall,
With wise men and shepherds and farmers and all.
On high from God's heaven the star's light did fall,
And the promise of the ages it did then recall.
If Jesus had wanted for any wee thing,
A star in the sky, or a bird on the wing;
Or all of God's angels in heav'n for to sing,
He surely could've had it for he was the King!
Em demano tot vagant sota el cel
com Jesús, el nostre Salvador, va venir per morir
per gent normal com tu i com jo,
m'ho demano tot vagant sota el cel.
Quan Maria infantà Jesús, va ser en un estable,
amb els Reis d'Orient i pastors i grangers i tots.
De dalt del cel de Déu caigué la llum de l'estel,
i llavors es recordà la prometença de l'Antic Testament.
Si Jesús hagués volgut qualsevol cosa petita,
un estel al cel, o un ocell volant,
o tots els àngels de Déu cantant al Paradís,
segurament ho hauria pogut tenir perquè era el Rei!
Articles relacionats