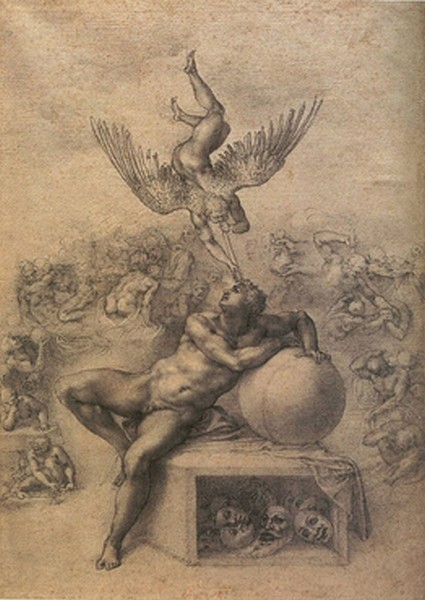 El somni - Miquel Àngel
Aquesta és una altra de les setmanes marcades des de fa temps a la meva llibreta, la setmana de Benjamin Britten: demà fa cent anys del seu naixement. Nosaltres ens afegim als merescuts homenatges que se li estan fent parlant, és clar, d'un dels seus cicles de cançons.
Britten és un dels compositors de cançons més important del segle XX, per esmentar només alguns dels seus cicles, podem parlar de
The Holy Sonnets of John Donne
,
Songs and Proverbs of William Blake
,
A Charm of Lullabies
,
Winter Words
,... Va triar acuradament poetes de diferents èpoques, des del segle XIV de John Donne fins a amics seus com W.H. Auden, però també va fer molts arranjaments de
cançons tradicionals
. Va respectar la llengua original dels poemes, i així trobem cicles en anglès però també en francès, alemany, italià i rus, i va compondre per a intèrprets com Dietrich Fischer-Dieskau i Galina Vixnèvskaia.
Fins ara només hem escoltat una cançó de Britten, del cicle
Songs and Proverbs of William Blake
, l'obra que va compondre per Fischer-Dieskau, i no acabava de decidir-me per quina altra triar per escoltar-la avui; vaig anar canviant d'opinió fins que vaig recuperar un article publicat a The Guardian fa uns mesos,
The road to perfection: Ian Bostridge's best of Benjamin Britten
; quan vaig rellegir aquest paràgraf ja ho vaig tenir clar:
Britten va escriure aquestes cançons durant la seva estada de tres anys a Amèrica amb Peter Pears, el tenor que va ser la seva parella i la seva inspiració. Però les va estrenar a Londres, al Wigmore Hall, el 1942. Un conjunt de complexos poemes de Miquel Àngel en italià renacentista, amb unes imatges intensament eròtiques i homosexuals. La idea que aquests dos homes, que ja eren prou impopulars perquè eren pacifistes, tornessin a la Gran Bretanya, pugessin a l'escenari i interpretessin aquestes cançons és extraordinària. No crec que la gent s'adonés realment del que estava passant perquè les cançons eren en italià.
Ian Bostridge s'està referint als
Seven Sonnets of Michelangelo
, escrits entre març i octubre de 1940; van ser la primera obra composta per a Pears, després vindrien molts més, tant cançons com personatges d'òpera. Benjamin Britten i Peter Pears es van conéixer (o retrobar, no ho sé del cert) arran de la mort d'un amic comú, el 1937. El maig de 1939 marxaven tots dos cap a Amèrica, primer a Canadà i després als Estats Units, per fer una sèrie de concerts i estudiar algunes ofertes de treball que li havien fet a Britten. L'esclat de la guerra els va trobar allà i no van tornar a Europa fins el 1942; llavors es van declarar oficialment objectors de consciència (respecte el pacifisme de Britten, permeteu-me que us recomani la darrera entrada al blog
An die Musik
, dedicada al
War Requiem
). Com deia Ian Bostridge al seu article, la seva posició no devia ser gens fàcil, fa setanta anys i en una societat immersa en la guerra (i que, tot i així, feia per mantenir la vida cultural).
Miquel Àngel, conegut sobretot com a pintor, escultor i arquitecte, va escriure els seus sonets per a Tommaso Cavalieri. Es van conéixer quan l'artista tenia prop de seixanta anys i el jove prop de vint, i Miquel Àngel va quedar totalment captivat per ell; van ser amics fins a la seva mort als 89 anys, Tommaso era amb ell en aquell moment. De les set cançons que va compondre Britten n'he triat per escoltar la tercera, el Sonet XXX, en el qual el poeta parla de com depèn del seu estimat i de com se sent jove amb ell (recordem que els separaven quaranta anys); uns versos bellíssims i una cançó bellíssima. Evidentment, la versió que escoltarem és la de Peter Pears acompanyat al piano per Benjamin Britten, en un enregistrament de 1954.
La veritat és que no sé perquè he deixat passat tant de temps des de l'anterior cançó de Britten, no haurien de caldre aniversaris per escoltar-lo; en faig propòsit d'esmena.
Sonetto XXX
Veggio co' bei vostri occhi un dolce lume,
Che co' miei ciechi già veder non posso;
Porto co' vostri piedi un pondo addosso,
Che de' mie zoppi non è già costume.
Volo con le vostr'ale senza piume;
Col vostr'ingegno al ciel sempre son mosso;
Dal vostr'arbitrio son pallido e rosso,
Freddo al sol, caldo alle più fredde brume.
Nel voler vostro è sol la voglia mia,
I mie' pensier nel vostro cor si fanno,
Nel vostro fiato son le mie parole.
Come luna da sè sol par ch'io sia;
Che gli occhi nostri in ciel veder non sanno
Se non quel tanto che n'accende il sole.
Veig amb els vostres bells ulls una dolça llum,
que amb els meus cecs ja no puc veure;
porto amb els vostres peus un pes a l'esquena,
Que dels meus, coixos, ja no és costum.
Volo, sense plomes, amb les vostres ales;
Amb el vostre enginy sempre aspiro al cel;
al vostre albir esdevinc pà·lid o vermell,
Fred al sol, calor a les boires més fredes.
La meva voluntat és només a la vostra,
els meus pensaments neixen al vostre cor,
Les meves paraules són en el vostre alè.
Sol, semblo com la lluna al cel
que els nostres ulls no poden veure
excepte quan el sol l'encèn.