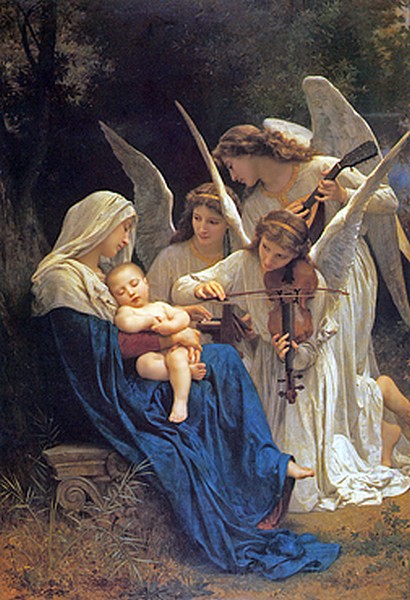 El cant dels àngels - W.A. Bouguereau
Avui, dia de Sant Esteve, una entrada molt breu, només per proposar-vos que escolteu una altra nadala d'A Ceremony of Carols, de Benjamin Britten. La setmana passada escoltàvem That yongë child; avui escoltarem, com us avançava, la segona part del número, Balulalow, que és la cançó de bressol que el narrador ens recomanava escoltar en la primera; la primera estrofa la interpreta un nen solista i a la segona se li afegeix el cor, sempre amb l'acompanyament de l'arpa. Aquest cop el text no és anónim, els autors són James, John i Robert Wedderburn.
Continuem amb la mateixa versió, el Copenhagen Boys' Choir i l'arpista Enid Simon dirigits per Benjamin Britten, i continuem també amb la traducció de l'Aaron.
Fins l'any vinent, que tingueu un bon canvi d'any!
Balulalow
O my deare hert, young Jesu sweit
Prepare thy creddil in my spreit,
And I sall rock thee to my hert,
And never mair from thee depart.
But I sall praise thee evermoir
With sanges sweit unto thy gloir;
The knees of my hert sall I bow,
And sing that richt Balulalow!
Oh corazoncito mío, dulce niño Jesús
Prepara tu cuna en mi alma
Y yo con amor te meceré
Y nunca jamás te dejaré.
Te alabaré por siempre jamás
Con dulces canciones tu gloria cantaré
Las rodillas de mi corazón hincaré
Y te cantaré esa buena Nana.