Tercera setmana de la sèrie en col·laboració amb el Màster en Lied de l'ESMUC. Blanca Vázquez Canales ens presenta Tears, d'Ivor Gurney; ella mateixa interpreta també la cançó, acompanyada per Ignasio Aparisi. Moltes gràcies, Blanca, per partida doble, i gràcies també a l'Ignacio!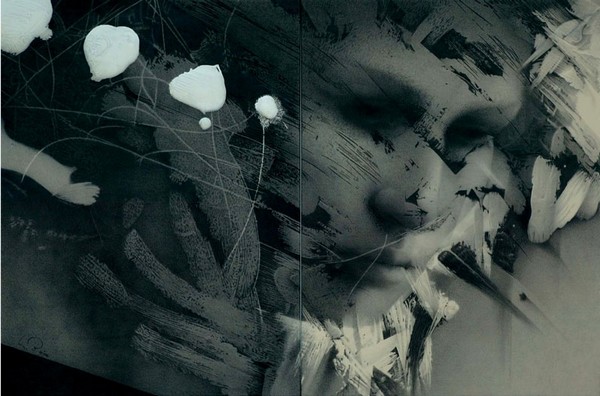 Venus que irromp de les aigües - M. Boix
Ivor Gurney (Gloucester, 1890 - Dartford, 1937) músico y poeta, decidió musicalizar los poemas de Shakespeare, Flechter y Nashe pertenecientes a la Época Isabelina, en la cual, el florecimiento de las artes incluye la poesía con el único cometido, que era, el deleite.
5 Elizabethan Songs fueron compuestas en la época en la que el autor realizaba sus estudios en el Royal College of Music de Londres, bajo la tutela del compositor Charles Villiers Stanford. Más adelante, continuaría sus estudios con Ralph Vaughan Williams. Isabelinas es la palabra que adjetiva estas cinco canciones escritas entre 1913 y 1914. Influenciado por el estilo italiano, hace constantes referencias a la literatura del mundo clásico, como en el caso de la primera canción, Orpheus.
Como muestran las distintas biografías de músicos y compositores, en ocasiones la creación de sus obras estaba influenciada por sus estados de ánimo, y también por su salud mental. En este caso, el músico sufría desde su juventud constantes cambios de humor y problemas mentales que con el tiempo se fueron acentuando. Estas canciones reflejan parte de estos cambios. Encontramos en la secuencia y en el devenir de estas obras, desde la más brillante euforia que refleja la felicidad (Orpheus, Under the Greenwood Tree, Spring) hasta lo más sombrío que invita a la introspección y a la melancolía (Tears, Weep).
Su vida se sitúa en una época de cambios compositivos, podríamos ubicar a Ivor Gurney en el postromanticismo. Al escuchar e interpretar su obra, nos recuerda al que fue su maestro, R. Vaughan Williams. Fue un apasionado de la música de cámara y de las palabras que ponía a esta música. Gurney hacía una selección muy exclusiva de los textos de escritores y poetas de la época. Cuenta con una producción de unas 300 canciones. Lo que nos demuestra, sin duda alguna que, detrás de su enfermedad mental existía una persona de gran talento.
Después de este pequeño marco social y compositivo de la vida y del ciclo de canciones compuesto por Ivor Gurney, nos sumergimos en su segunda canción isabelina Tears. A pesar de que se indica que su texto pertenece a John Fletcher, realmente es un texto anónimo renacentista utilizado con anterioridad en la música por John Dowland (Third Books of Songs or Ayres, 1603). Fue la tendencia de la época del S. XX la que hizo resurgir textos de la Época Isabelina. La canción consta de una dedicatoria a Emmy Hunt, ésta fue la hermana de Ivor, que junto con su otra hermana Margaret Hunt y Alfred H. Cheesman, educaron el interés de Gurney en la música y la literatura.
Tears o Lágrimas en castellano, es una balada interpretada con frecuencia en las cortes inglesas. Así pues, encontramos la justificación del porqué se repite después de cada estrofa "Softly, now softly lies sleeping". La temática principal de este texto gira entorno a la cultura de las fuentes de agua. En la Época Renacentista, tenían dos significados: uno era práctico (el uso de una fuente para cubrir necesidades básicas: la higiene personal, alimentación…) y el otro era el uso decorativo en las casas de las "well-to-do families" o familias adineradas (zonas de descanso-relax, bienestar, inspiración...). En este caso se usa el segundo de forma metafórica relacionando las gotas de agua de las fuentes con las lágrimas: "Weep you no more sad fountains". La canción es una metáfora al llanto de tristeza hacia la muerte de una mujer: "When she lies sleeping". Muy posiblemente la reina Elizabeth I de Inglaterra que murió envenenada.
La canción se divide en dos partes, ambas conservan una línea vocal prácticamente idéntica. El texto se inicia con la escala descendente de Do# menor, la tonalidad de la pieza, que juega con el sentido del texto: "Weep you no more sad fountains" (No lloréis más tristes fuentes) y acompañado de la nota pedal de la tónica de la tonalidad. Continúa con el juego de las notas que recuerdan al fluir del agua de las fuentes: "Look how the snowy mountains" (Mira las montañas nevadas) que anima a conducir la mirada hacia arriba para ver las montañas. Ésta es la frase que llega a la nota más aguda de la canción, un mi 4. "Heaven's sun doth quickly waste" (Mis ojos de cielo rápidamente derriten), supone una subida en corcheas por terceras que desemboca a la modulación de Do Mayor. Seguidamente llega el estribillo de la canción, propio de baladas, en la tonalidad de Re menor, anticipado por una pincelada religiosa, usual en las temáticas de la Época Isabelina: "But my Sun's heavenly eyes, view not your weeping, that now lies sleeping. Softly, now softly lies sleeping" (Pero mis ojos de cielo, los ojos de Dios, no ven tu llanto, pero ahora permanece dormida. Suavemente, ahora suavemente permanece dormida). Descansa la melodía de nuevo en la tonalidad principal.
En la segunda parte de la canción retoma el acompañamiento del piano el tema inicial con textura homofónica y sin la nota pedal, algo que relaja la sonoridad para expresar lo que quieren decir las palabras: "Sleep is a reconciling, a rest that peace begets" (Dormir es una reconciliación, un descanso que la paz engendra). "Doth not the sun rise smiling, when fair at even he sets" (El sol no sonríe, cuando justo al atardecer se pone), finaliza la frase esta vez en Do# mayor. Tears concluye en esta misma tonalidad.
Al realizar el análisis y desde un punto de vista personal, esta canción es altamente emocional y que recita, habla o incluso murmura sobre un sentimiento de pena muy profundo. Quizá no se pueda poner de manifiesto con las palabras y sea la música la que nos guíe hacia el desasosiego al que incita. Es curioso como el escritor de este poema no se atrevió a mencionar el nombre de esa mujer que muere softly. Es posible, que las mayores emociones del mundo sean inconcebibles para las palabras, sin duda alguna, existe un refinamiento magnífico en el lenguaje y la expresión.
Después de la lectura de estos párrafos, espero que hayan sido capaces de cambiar su mirada al observar el texto, de manera que ya no vean montañas nevadas y riachuelos en medio de un prado inglés, pues conocerán y serán capaces de identificar la conmoción que supone la muerte como pérdida y en este caso, la de esa mujer que permaneció dormida eternamente y que no conocemos… o sí.
Tears

Weep you no more, sad fountains;
What need you flow so fast?
Look how the snowy mountains
Heaven's Sun doth quickly waste.
But my sun's heavenly eyes
View not your weeping,
That now lie sleeping
Softly, now softly lies
Sleeping.
Sleep is a reconciling,
A rest that peace begets.
Doth not the sun rise smiling
When fair at even he sets?
Rest you then, rest, sad eyes,
Melt not in weeping
While she lies sleeping
Softly, now softly lies
Sleeping.
No lloréis más, tristes fuentes;
¿qué necesidad tenéis de fluir tan rápido?
Mirad cómo a las montañas nevadas
el sol del cielo delicadamente deshace.
Que los ojos celestiales de mi sol
no vean vuestro llanto,
ahora que yace durmiendo,
suavemente, ahora suavemente yace durmiendo.
Dormir es una reconciliación,
un descanso que la paz engendra:
¿no se eleva el sol sonriendo
cuando se pone?
Descansad entonces, descansad tristes ojos
no se deshagan en llanto,
mientras ella yace durmiendo,
suavemente, ahora suavemente yace durmiendo.
(traducción de Blanca Vázquez Canales)
---
Sobre Blanca Vázquez Canales

Blanca Vázquez Canales (Valencia, 1993) en 2017 finaliza el Conservatorio Superior de Música "Joaquín Rodrigo" de Valencia en la especialidad de Canto. En 2018 realiza el Máster Artístico de Estudios Avanzados en Lied, Canción Española y Cançó Catalana "Victoria de los Ángeles" en Barcelona. En el mismo año es finalista en el Concurso de Canto de Juventudes Musicales de España. Entre sus próximo compromisos se encuantra el estreno de "3 Sonetos de Lope" de César Cano y la grabación de "Ciclo de Canciones sobre textos de Alfonsina Storni" de Claudia Montero.