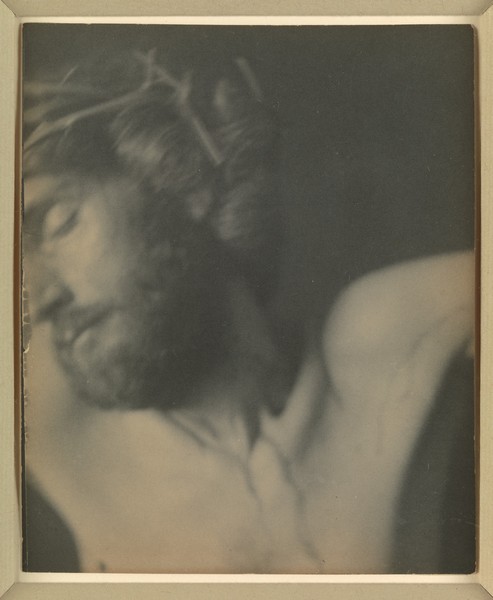 Tot s'ha acomplert - Fredrick Holland Day
In Memoriam Neus Català.
Com és habitual en Setmana Santa, us deixo un article breu. De fet, és la continuació del de la setmana passada; la casualitat ha fet que la primera part de l'Spanisches Liederbuch, els Geistliche Lieder (cançons sacres) sigui d'allò més adequada per a aquestes dates.
Hugo Wolf va posar música a deu dels tretze Geistliche Lieder que Emanuel Geibel i Paul Heyse van incloure al seu recull i els va reordenar de manera que quedessin aparellats: els dos primers són pregàries a la Mare de Déu, als dos següents sentim Josep i Maria, els dos següents estan adreçats al Nen, dos més ens situen als Evangelis i els dos darrers al Gòlgota.
Només per aquesta primera part, tan breu si la comparem amb els trenta-quatre lieder de la segona, el cicle de Wolf ja és una meravella; com a mostra, el desè i darrer lied, Wunden trägst du, mein Geliebter. L'original és de José de Valdivieso, sacerdot i autor de diverses obres de caràcter religiós i místic, entre ells el Romancero espiritual, publicat el 1612. Els versos que va traduir Geibel, el diàleg entre una ànima i Jesús, són part d'un romanç que porta per títol (almenys a una edició de 1880) Romance de una alma a los pies de un Crucifijo; els podeu llegir més avall en lloc de l'habitual traducció del poema alemany al català.
Aquest lied el canten tant homes com dones, i és habitual que en els enregistraments amb dos cantants el cantin plegats: la dona canta els versos de l'ànima i l'home els de Jesús. És el cas de la versió que he triat per compartir, amb Michaela Selinger, Wolfgang Holzmair i Russell Ryan. El poema no deixa de tenir un punt morbós, però la saviesa de Wolf fa que en la música hi sentim sobretot gratitud, amor i compassió; és un lied commovedor.
Per acabar, un comentari sobre la fotografia que il·lustra el post. És l'última (It is finished) d'una sèrie de set, The Seven Words, que Fredrick Holland Day va fer el 1898 (no, no m'he equivocat amb l'any). En aquest enllaç trobareu informació molt interessant sobre el projecte; per exemple, que les fotografies són autorretrats. Per cert, jo diria que "Tot s'ha acomplert" és la sisena Paraula, no la setena, però així és com ho diu al web del Metropolitan Museum of Art
La setmana vinent avançarem la publicació a dimarts, perquè no se'ns passi el dia de Sant Jordi. Mentrestant, que tingueu una bona Pasqua!
Wunden trägst du, mein Geliebter.

Wunden trägst du, mein Geliebter,
Und sie schmerzen dich;
Trüg ich sie statt deiner, ich!
Herr, wer wagt es, so zu färben
Deine Stirn mit Blut und Schweiß?
"Diese Male sind der Preis,
Dich, o Seele, zu erwerben.
An den Wunden muß ich sterben,
Weil ich dich geliebt so heiß."
Könnt ich, Herr, für dich sie tragen,
Da es Todeswunden sind.
"Wenn dies Leid dich rührt, mein Kind,
Magst du Lebenswunden sagen:
Ihrer keine ward geschlagen,
Draus für dich nicht Leben rinnt."
Ach, wie mir in Herz und Sinnen
Deine Qual so wehe tut!
"Härtrest noch mit treuem Mut
Trüg ich froh, dich zu gewinnen;
Denn nur der weiß recht zu minnen,
Der da stirbt vor Liebesglut."
Wunden trägst du, mein Geliebter,
Und sie schmerzen dich;
Trüg ich sie statt deiner, ich!
Feridas tenéis, mi vida,
y duélenvos;
¡Tuviéralas yo y no vos!
¿Quién os puso desa suerte,
mi Jesús enamorado?
"¡Ay, que caro me ha costado,
Alma,, buscarte y quererte!
Mis heridas son de muerte,
aunque dudas por tu amor."
Fuera yo, Senyor, la herida,
si son de muerte las vuestras,
"Pues ¿qué dolor de ellas muestras?
Alma, llámalas de vida
que no verás en mí herida
donde vida yo te doy."
¿Ay, como me han lastimado
las heridas que en Vos veo!
"–Para lo que yo deseo
pocas son las que me han dado;
que no es buen enamorado
el que no muere de amor."
Feridas tenéis, mi vida,
y duélenvos!
¡Tuviéralas yo y no vos!