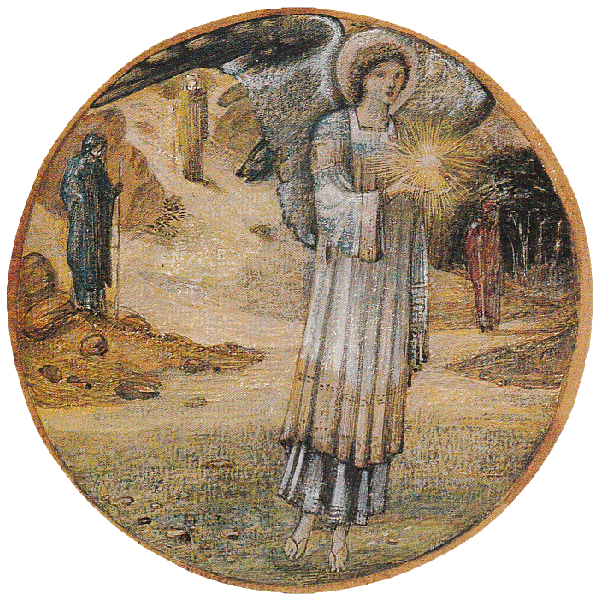 Estel de Nadal (Llibre de les flors) - E. Burne-Jones
No sé ben bé com ha anat, però ja és aquí Nadal. I amb ell, tres entrades més breus amb tres cançons nadalenques per avui, el dia de Nadal i el dia d'Any Nou.
Aquesta setmana ens la porta el compositor Charles Ives, aquell senyor que de dia venia assegurances i de nit componia. Ives es va mantenir sempre al marge de l'establishment musical, alhora que molt aferrat a la vida quotidiana dels americans, i totes dues coses es reflecteixen a la seva obra; era un esperit lliure, la seva música no només no era gens acadèmica, sinó que sovint era extremadament original. Fa temps vam escoltar una petita mostra d'aquesta originalitat, la cançó Memories, que explica dos records de la seva infantesa, un de plaent i un de trist; si no la vau escoltar llavors, us convido a fer-ho ara, perquè, sobretot la primera part, és tan expressiva que no costa gens visualitzar els nens i el que ens expliquen.
La cançó d'Ives que escoltarem avui, A Christmas Carol, no té res a veure amb Memories, és pràcticament un himne que s'ajusta al que més o menys entenem tots per una cançó de Nadal: l'estel, el Nen, els àngels... No se sap del cert quan la va compondre; podria haver estat el 1894, quan tenia vint anys, en tot cas, està escrita abans del 1897. Segurament la va escriure per cantar-la en família, tot i que ell mateix suggeria que es podia cantar a l'església, i altres fonts indiquen que aquesta va ser la intenció inicial. Posats a no saber, ni tan sols està clar de qui és el text. Ives va anotar que era tradicional, però després se li va atribuir a ell mateix; segurament és les dues coses, i Ives hauria pres fragments de nadales d'aquí i d'allà, fàcilment reconeixedors,, per fer aquesta mena de collage.
Aquesta setmana m'agradaria dedicar la cançó a la meva amiga A., que ahir va fer anys i la tinc lluny i no puc fer-li una abraçada. Espero que li agradarà escoltar Gerald Finley cantant A Christmas Carol, acompanyat per Julius Drake, i que us agradarà a tots els lectors també.
A Christmas Carol
Little star of Bethlehem!
Do we see thee now?
Do we see thee shining
O'er the tall trees?
Little Child of Bethlehem!
Do we hear thee in our hearts?
Hear the Angels singing:
Peace on earth, good will to men!
Noel!
O'er the cradle of a King,
Hear the Angels sing:
In Excelsis Gloria,
Gloria!
From his Father's home on high,
Lo! for us He came to die;
Hear the Angels sing:
Venite adoremus Dominum.
Estel de Betlem!
Et veiem ara?
Et veiem brillar
sobre els alts arbres?
Nen de Betlem!
Et sentim en els notres cors?
Escolteu els àngels com canten:
Pau en la terra als homes de bona voluntat!
Noel!
Inclinats sobre el bressol d'un Rei
escolteu els àngels com canten:
In Excelsis Gloria,
Gloria!
Des de la casa del Pare a les altures
va venir a morir per nosaltres.
Escolteu els àngels com canten:
Venite adoremus Dominum.
Articles relacionats