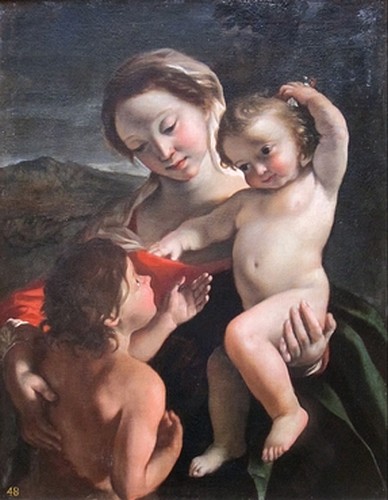 La Mare de Déu i l'Infant amb el nen Sant Joan Baptista - G. Lanfranco
És temps de Nadal. Aquest any el calendari disposa tres setmanes fins el dia de Reis i, com sempre, dedicarem les tres entrades corresponents a cançons relacionades amb el Nadal. Per començar tindrem una de les imatges musicals nadalenques més habituals, la cançó de bressol; al capdavall celebrem el naixement d'un nen. Fins ara n'hem escoltat una de Brahms (
Geistliches Wiegenlied
), dues de Britten (
That jongë child
i
Balulalow
) i una d'Strauss (
Weihnachtslied
) i avui n'afegirem a la llista una de Barber,
A Slumber Song of the Madonna
.
A Slumber Song of the Madonna
(Una cançó de bressol de la Mare de Déu) és la primera de les
Ten Early Songs
, un recull de cançons escrites entre 1925 i 1937; Samuel Barber la va escriure quan només tenia catorze anys, a partir d'un poema d'Afred Noyes. No sé si el nom d'aquest poeta anglès us és familiar, per a mi no ho era, i investigant una mica he trobat que és l'autor d'un dels poemes més coneguts de la literatura anglesa,
The Highwayman
(L'assaltador de camins); això ja em sonava una mica més, ni que sigui perquè se n'han fet moltes versions, pel·lícula inclosa. Doncs bé, aquest poema,
The Highwayman
, es va publicar el 1907 en el recull
Forty Singing Seamen and Other Poems
, que inclou un grup de set poemes anomenats Slumber
Songs of the Madonna
. Barber, lector empedreït de poesia durant tota la seva vida, va triar el primer d'aquests poemes per compondre la seva primera cançó; si més no, la més antiga de les que va publicar.
Les obres de compositors tan joves són relativament habituals i hem tingut ocasió d'escoltar-ne unes quantes, començant per la impressionant
Gretchen am Spinnrade
que Schubert va compondre als disset anys; tot i així, no deixa mai de sorprendre'm i admirar-me la maduresa de moltes d'aquestes peces. En el cas d'aquesta cançó de bressol de Samuel Barber em sorprèn la seva capacitat de transmetre l'amor i, sobretot, la por de la mare. Aquesta profunditat emocional es va convertir en un dels trets característics de la música del compositor; recordeu, per exemple,
The Crucifixion
, una mena de mirall d
'A Slumber Song of the Madonna
, composta gairebé trenta anys més tard, on tornem a sentir l'amor i la por de la mare en un context ben diferent.
Però ara és temps d'esperança i de llum i ens quedem amb el nen al bressol. I ja que parlem de nens, volia compartir amb vosaltres una nota que Samuel Barber va escriure a la seva mare; potser ja la coneixeu perquè s'ha difós àmpliament però confio que us agradarà rellegir-la. Com us deia abans, Barber va escriure la cançó que escoltarem avui quan tenia catorze anys però la seva vocació per la música venia de molt abans, i quan tenia nou anys la va confessar a la seva mare:
Nota per a la mare i per a ningú més.

Estimada mare: t'he escrit això per dir-te el secret que m'amoïna. No ploris quan el llegeixis perquè no és culpa teva ni meva. Suposo que hauré de dir-ho ara sense més ximpleries. No estic fet per ser un atleta. Estic fet per ser un compositor, i estic segur que ho seré. Et demanaré una cosa més: no em demanis que oblidi això tan desagradable i surti a jugar al futbol. Si us plau. De vegades això m'ha tingut tan amoinat que m'ha tornat boig (però no gaire).

T'estima,

Sam Barber II
En aquesta nota tan tendre, tan ingènua per una banda i tan madura per una altra, veiem com li amoïnava al petit Sam ser diferent o decebre els seus pares. I, tot i així, quina determinació tan gran, amb nou anys!

Abans d'escoltar A Slumber Song of the Madonna, interpretada per Cheryl Studer i John Browning, us volia dir una cosa més prosaica: em sap greu però he hagut d'habilitar la moderació dels comentaris perquè, tot i el captcha, continuava entrant molt d'spam. Si us plau, no deixeu d'escriure comentaris si us ve de gust, els publicaré tan aviat com pugui.

Bon Nadal!
A Slumber Song of the Madonna

Sleep, little baby, I love thee;
Sleep, little king I am bending above thee;
How should I know what to sing?
Here in arms as I sing thee to sleep!
Hush-a-by low,
Rock-a-by so.
Kings may have wonderful jewels to bring!
Mother has only a kiss for her King.
Why should my singing
So make me to weep?
Only I know that I love thee!
Love thee, my little one, Sleep!
Dorm, petitó, t'estimo;
dorm, reiet, m'inclino sobre tu;
com podria saber què haig de cantar-te?
Et porto al braç i et canto per adormir-te!
non, non,
non, ninon.
Els reis poden oferir joies maravelloses!
Una mare només té un petó pel seu rei.
Perquè hauria de fer-me plorar
la meva cançó?
Només jo sé que t'estimo!
T'estimo, petitó meu, dorm!