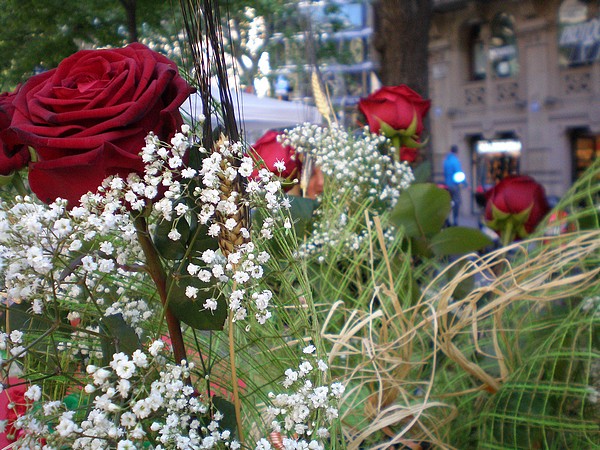 In Catalonia, St. George's Day is a day for kissing and hugging, for expressing sincere joy, for caressing and strolling through the crowd. There is nothing more alien to St George's Day than keeping social distance and wearing sanitary gloves and masks. Still, this year the streets will be empty and quiet. In fact, the best-case scenario is that we'll order our books online and will pick them up in our bookshop someday, and for the first time in many years there will be no roses in our vases. At least, we can have some virtual roses, so one more year I'd like to you have my musical rose. This time, it comes from Russia and from a new brand composer on Liederabend: Nikolai Medtner.
Medtner was born in Moscow; he graduated with honors in that city's conservatory and began a brilliant career as a pianist and as a composer. As Rakhmaninov, a great friend of his, he kept himself apart from the avant-garde and follow the Russian nationalism and, above all, the Central European musical tradition. To give you an idea, he was called "the Russian Brahms". After the Revolution, he stayed in Russia for a few years, but in 1921 he went into exile. First in Berlin, then in other cities, and he settled for good in London in 1936, where he died at seventy-two.
While Rachmaninoff kept his prestige out of Russia, Medtner's eventually went down. His friend managed to organize him a great tour through the United States and Canada in which he exclusively played his own works, that provided him a significant income and some prestige. It might have been the dream of any composer, but Medtner didn't seem to have liked that way of life. When he was still noticeably young, he had already stopped making great tours across Europe and once in exile, he abandoned them again forever.
On top of that, he both lost critics and his audience's favour, because his compositions were extremely difficult and were often described as obscure and incomprehensible; they lacked the charm of Rachmaninoff's pieces (while Rachmaninov was criticized because his music was made to please hia public. We are never satisfied). So, at one point, Medtner's music was well considered only in England; this became an important reason to move to London.
His catalogue includes around a hundred songs (almost half in German and the rest in Russian). The composer's conservative taste is also perceived in his poets choice for his songs: Goethe, Heine, Eichendorff and, as we will hear today, Pushkin (please don't read any pejorative connotation in my use of conservative, I can't see any wrong in admiring these authors).
From Seven poems by Pushkin, op. 29, composed in 1913, we are listening to the n. 5, Роза [Roza, Rose]. As we often find in literature, this flower symbolizes beauty and love; here, however, the poem is also a reflection on the renewal of life: if a flower withers, just focus on another one that blooms. This may appear to be insensitive, even cruel (not very long ago I read that nature is not cruel but indifferent); the song, however, softens this image; in my opinion, its contained sadness suits better another interpretation: despite everything, we must move on. Roza is a simple and elegant song, with a relatively long postlude where the pianist-composer appears, but we don't hear the difficult composer. I think it's a really beautiful song to share on St. George's Day; Luckily Medtner's songs are being recorded again, nonetheless, I've chosen to listen here a historical recording, with Medtner himself at the piano accompanying Elisabeth Schwarzkopf.
As I already explained in my previous post with a Russian song, Pevets, I don't speak Russian at all and I can't split hairs as I would like to. On that occasion, a nice reader pointed out a mistake in the poem and I truly thanked him as I was able to amend it; now, I'm afraid another mistake in the poem could be made. Pushkin wrote Roza in 1815 and made some small changes in a later edition. Medtner set to music this updated version, and I am not sure whether the text I'm sharing is the right one; at least, minor changes might have not altered the essence of the poem.
One last thing, as I mentioned Pevets: we listened to Anton Rubinstein's setting of this poem by Pushkin; Medtner also put it into music and, as Roza, it belongs to Opus 29, it's the n. 2. Just in case you feel like listening to one more song by our composer.
Stay safe!
Roza
Gde nasha roza?
Druz'ja moi!
Uvjala roza,
Ditja zari!...
Ne govori:
Vot zhizni mladost',
Ne povtori:
Tak vjanet radost',
V dushe skazhi:
Prosti! zhaleju.....
I na lileju
Nam ukazhi.
Where is our rose?
My friends!
The rose has withered,
This child of the dawn!...
Do not say
"Such is the life-cycle of youth",
Do not repeat
"Such is how joy fades";
Instead say in your soul:
"Forgive me, I grieve..."
And to the lily
Direct your attention.
(translation by Emily Ezust)
And this is the original poem:
Где наша роза,
Друзья мои?
Увяла роза,
Дитя зари.
Не говори:
Так вянет младость!
Не говори:
Вот жизни радость!
Цветку скажи:
Прости, жалею!
И на лилею
Нам укажи.
Related articles