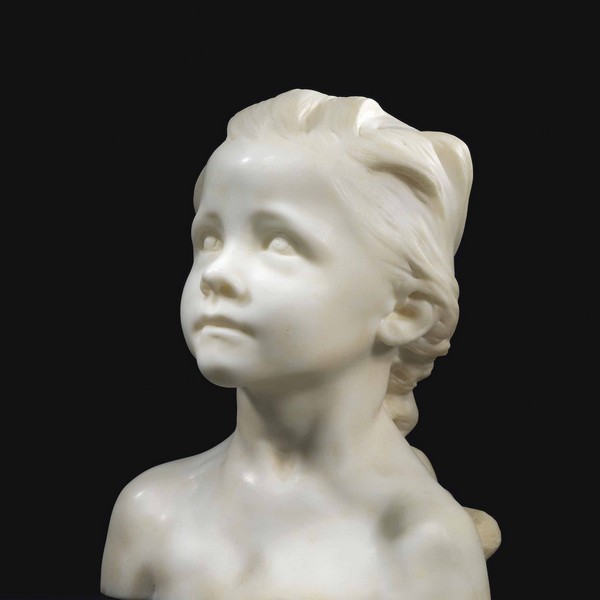 La petite châtelaine - C. Claudel
"A Lied is like a micro-opera." This expression is often used to emphasize the difficulty of conveying the wide content of a song in the couple of minutes it lasts. I don't really like this simile; I understand that it's usually addressed to people familiar with opera, but I don't like it because it can be confusing: a Lied is not an opera, neither big nor small. And it is not for a number of reasons. First, Opera has a marked narrative component, while Lied, in general, does not; some Lieder tell us a story, like Erlkönig or Der Zwerg, but most of them are images, moments, reflections... Opera is theatre and Lied is... poetry (thank you, Captain Obvious). Second, Lied is not sung as Opera is; it seems obvious as well, but this misunderstanding has upset some recital attendees who were unaware of it. The third reason is the most important to me: in opera, singers acts, while in Lied, they don't. Lied is interpreted, but not acted, and singers are well aware of it. How many times have we heard them in interviews saying that they feel more vulnerable in recitals because have to be themselves as they can't hide behind a character like in the opera?
However, as always, there are some exceptions. Some time ago I thought: "this is theatre" while listening to a cycle for the first time. There were no positive or negative connotations; it was, simply, a theatrical cycle. Then I read that, previously, the composer had thought of writing an opera on the subject; in addition, the cycle was written for mezzo-soprano Joyce DiDonato, who always shows on stage, that in addition to being an excellent singer, she is also a very good actress. Everything fitted together. I'll talk about the cycle, Camille Claudel: Into the fire [1], and I'll suggest one of the songs, but to appreciate much better the theatrical component, considerer listening to the whole piece.
We know Camille Claudel for her magnificent sculptures; for her, let's say, stormy sentimental and professional relationship with fellow sculptor Auguste Rodin and for her horrific end. On March 10, 1913, at forty-eight, Camille Claudel was admitted to a psychiatric institution, then called a "lunatic asylum". Officially, her admission was voluntary, but in fact, all documents were signed by her mother. Since young Camille, began to devote herself to sculpture (at thirteen, she caught the attention of sculptor Alfred Boucher), her mother had opposed radically. The father, on the other hand, supported his daughter from day one and, as we know, at that time, the householder's word was pretty much law. But a day came when her father died, March 3, 1913, and Paul Claudel, his only son, became the new householder; and now, with her son's support, Mme. Claudel managed to lock up Camille.
I might be unfair to this family, because I don't know the story most intimate details, and I don't either forget that assessing today what happened a hundred years ago is wrong, nevertheless I must admit that I can't understand such behaviour at all. Perhaps Camille Claudel was suffering from some serious mental illness that required some confinement period; or perhaps not, and her disorder consisted in living outside her social conventions. Just a week after her father died (a death not reported to her), Camille was locked up to treat her hysteria, in our eyes, an aberrant diagnosis. His family demanded her visits and correspondence to be restricted. Her mother and sister never visited her; her brother hardly did a dozen times. On several occasions, doctors recommended her discharge, and she wrote letters asking for it. Even Rodin, whose relationship had ended years before she was in the asylum, tried to help her until he died in 1917. All in vain. She could not be discharged without her family's consent, and the family didn't grant it. Camille Claudel spent her last thirty years locked up; she died on October 19, 1943, of starvation, like tens of thousands of lunatics during the war.
In 2011, Jake Heggie was commissioned by the San Francisco Performances concert series to compose the work that would celebrate the 30th anniversary of the Alexander String Quartet. Once agreed that it would be a work for voice (that of Joyce DiDonato) and string quartet, Heggie took up the idea of writing a work about Camille Claudel; it would no longer be an opera, but a cycle of songs. He would not write it in the usual way, that is, starting from some existing poems, instead he worked together with Gene Scheer as a librettist. They both chose six works by Claudel, which are the bust of Rodin, The Waltz, Shakuntala, La petite châtelaine, Les causeuses and L'âge mur and placed the character in the morning of March 10, her last day at freedom. After an instrumental prelude called Awakening, the sculptor converses with her pieces; that way, we go through different moments of her life, with texts often inspired by her diary and letters. The last sculpture has no words, only the quartet music (actually, the music of the whole work is inspired by the only string quartet written by Claude Debussy, a good friend of Claudel) and the cycle ends with an epilogue: Jessie Lipscomb visits Camille Claudel, Montdevergues Asylum, 1929. Jessie, also a sculptor and Camille's friend since their student days, in 1929, travelled from England, where she lived, and visited her; her last surviving picture was taken that day. The cycle was premiered on February 4, 2012; there's also a version for voice and piano and one for voice and orchestra that I haven't ever heard, but I increasingly like the string quartet to accompany voice.
I suggest you listen to La petite châtelaine as a sample of the cycle, performed by Joyce DiDonato and the Brentano String Quartet. Claudel and Rodin spent several periods of time at the Château de l'Islette, in the Loire, together and apart. In the summer of 1894 and 1895, Claudel went there alone, and she made the bust of a six-year-old girl who illustrates this post with her sweet face and her direct gaze raised towards us. The model was Marguerite, the granddaughter of the castle owners, the little chatelaine. Apparently, the sculptor would have suffered an abortion at that time, and Scheer talks about that in the lyrics of this song, which begins with the rhythm of a lullaby and gradually approaches the drama of her loss. As I told you before, it's better to listen to the whole cycle to grasp its theatrical character, but in this song, we'll find some clues: melismas, coloratura, declamed parts, repetitions, dramatic pauses... Or maybe not, and it's just my feeling and you don't see eye to eye. As always, I would like to know your opinion. One more question: don't you think it is a poignant song?
[1]
Updated 7/7.
Lluís Emili, a regular reader, tried to leave a comment a few days ago, but the website had one of those days; I apologise for the inconveniences of the CAPTCHA. He sent me an e-mail and told me something I would like to share, because I think it's really interesting: Lluís Emili points out that the title Camille Claudel: into the fire, paraphrase the title of the oratorio Jeanne d'Arc au bûcher [Joan of Arc at the Stake], composed by Arthur Honneger to a libretto by Paul Claudel.
La petite châtelaine
Hello, my little one,
La petite châtelaine
Do you know who I am?
Do you know who I am?
They say I leave at night
By the window of my tower
Hanging from a red umbrella
With which I set fire to the forest
Hello, my little one,
La petite châtelaine
Do you know who I am?
Or the land you come from?
Where the earth is stained…
I did as he said and returned you to clay.
Oh, how could I bleed such a blessing away?
Now I'm forever alone
With my children of stone.
La petite châtelaine
Can you hear my voice?
The voice of your mother?
Related articles