Nerea Benavent tells us about the tragic story of Elisabeth Kulmann and about Reich mir die Hand, or Wolke, the fifth song in the cycle of Robert Schumann Sieben Lieder von Elisabeth Kulmann. Thank you very much, Nerea!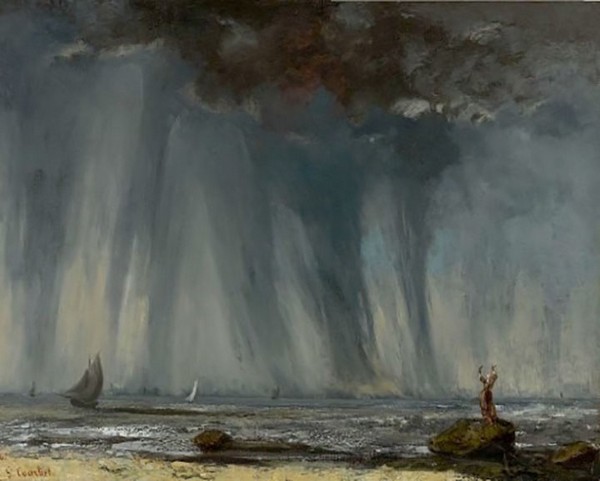 The tempest - G. Courbet
For a human being, accepting a tragedy such as the death of the beloved ones is an extremely difficult task. This was the situation which devastated the young writer Elisabeth Kulmann (1808-1825) when, as a child, she lost her father and her six brothers in the war, as a result she only had her mother's support to face pain and misery, the situation being worsened by the dire poverty in which they lived. Far from sinking into despair, mother and daughter were able to cope with adversity and Elizabeth had a good education thanks to her mother, which allowed her to develop a real proficiency in languages, literature and writing. She penned her first poems at the early age of eleven by getting her inspiration from subjects related to nature, from her experiences and even from the love she had for her country; however, as time went by, the shadow of her father and brother's death started to reveal in her writings. This is the case in the poem Reich mir die Hand, o Wolke, in which Kulmann openly expresses her wish to die in order to reunite with her lost relatives.
It can be easily understood that the young writer's reaction to such a tragedy is, as the poem shows, her disdain for earthly life and the longing for a life in the beyond with the hope of attaining the happiness she is unable to find. This attitude is linked to the subject of contemptus mundi, which has its origin in The Book of Job in the Bible and which was widely used during the Middle Age, for example in Coplas a la muerte de su padre (Verses on the death of Don Rodrigo Manrique, his Father) as taken from Bernardo de Cluny's work Contemptu Mundi. This theme was reintroduced in the Baroque, not only in literatura, as in the well known "muero porque no muero" (I'm dying because I'm not dead) or in Valdés Leal's paintings, but also in the Romantic era as a reaction against the rationalism of the Age of Enlightment. As a result, this gloomy atmosphere of the Romantic era might have been an influence on Elisabeth, who showed such a great interest in literatura. Nevertheless, it must not be forgotten that Elisabeth was just a young woman and, consequently, the personalization of the cloud, her attempt to talk with it and even the vision of her father and brothers in heaven are the fruit of a somewhat childish imagination. Elisabeth expressed her angst in her work, and she imagined herself leaving the Earth, at last, so as to enjoy the eternity of heavenly life with her dear ones. Destiny helped young Kulmann achieve her wishes and at the early age of seventeen she fell seriously ill and died a few months later.
It is not surprising either that Schumann chose Kulmann's work to compose a cycle of lieder at the end of his life, as he must have been fascinated by the tragic history of the young writer and who knows if he identified with her suffering, since Schumann was himself in a miserable situation due to his declining mental health. Furthermore, it is not strange either that he had access to Kulmann's writings, in spite of being a young female writer, which had little value at those times, her works were disseminated by her teacher, Karl Großheinrich, and came into the hands of great authors such as Goethe or Jean Paul. The cycle Sieben Lieder must have had a special significance for Schumann, as he wrote a prologue and a post scriptum as a dedication to Kulmann, as well as a explanatory comment of the text of each one of the seven lieder:
"As often in her poetry, she concerns herself here with a visionary depiction of her deceased family. She clings to this world with heart-felt love, to the flowers, the gleaming stars, the noble human-beings she meets during her brief stay on earth. But she has a foreboding that she will soon have to leave them."
Translation by Richard Stokes, author of The Book of Lieder (Faber, 2005)
Reich mir die Hand, o Wolke is undoubtedly the most dramatic of those that make up the cycle. Schumann achieves a great conjunction with the sense of text, since all along the lied there is a constant tremolo in the piano which evokes a storm: the storm which is part of the cloud to which Elisabeth is going. Besides, the two imperatives with which the first two verses begin correspond with a syncopation which suggests the writer's desperate call to the cloud. The tone of the lied is G minor, but sometimes Schumann manages to create different sensations through the modulations, such as the use of the A flat when he talks about his brothers in the heaven, which evokes a nostalgic feeling or the forceful C major when mentioning her father. In general, the lied conveys a feeling of constant despair and restlessness, the same that Elisabeth Kulmann probably felt when she wrote the poem.
The version of the lied that I have chosen to illustrate this work is that of Edith Mathis and Christoph Eschenbach.
About the author
Nerea Benavent Peiró (Valencia, 1993) has a degree in Classical Philology from the University of Valencia in 2016 and a Singing from the Higher School of Music of the Basque Country, Musikene in 2019, a master's degree in Musical Research from the International University of Valencia and currently attends the official Master's Degree in Lied "Victoria de los Ángeles"
Reich mir die Hand, o Wolke
"Wie oft in ihren Dichtungen beschäftigt sie sich visionsartig mit ihren Hingeschiedenen. Mit herzlicher Liebe hängt sie an dieser Welt, ihren Blumen, den leuchtenden Gestirnen, den edlen Menschen, die ihr auf ihrem kurzen Lebensweg begegneten. Aber es ahnt ihr, dass sie sie bald verlassen muss."
oriReich mir die Hand, o Wolke,
heb mich zu dir empor!
dort stehen meine Brüder
am offnen Himmelsthor.
Sie sind's, obgleich im Leben
Ich niemals sie geseh'n,
Ich seh' in ihrer Mitte
Ja unsern Vater steh'n!
sie schau'n auf mich hernieder,
sie winken mir zu sich.
O reich' die Hand mir, Wolke,
schnell, schnell erhebe mich!ginal
Reach me your hand, O cloud,
Lift me up to you!
There my brothers stand
At the open gate of heaven.
There they are, though in life
I never once saw them,
And in their midst
I see our father too!
They look down on me,
They beckon me to their side.
Reach me your hand, O cloud,
Quickly, quickly raise me up!
Translation by Richard Stokes, author of The Book of Lieder (Faber, 2005)