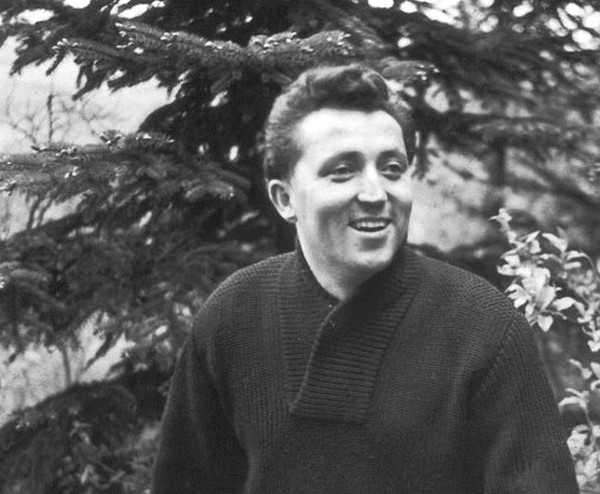 When Adelaide was first published, in 1797, there was a subtitle: "a cantata for solo voice with accompaniment for piano". We probably wouldn't call it nowadays a cantata, and it's not exactly a Lied either; it approaches the "operatic songs" that were fashionable in Vienna at the end of the 18th century. But Adelaide is usually performed in song recitals, that meaning that it can also be presented here on Liederabend, and it's always a pleasure to listen to that piece, no matter how it's classified.
Beethoven composed Adelaide in 1796, during his first years in Vienna; according to the usual division of his compositional periods, it would correspond to the first one, and it's its best known song along with Zärtliche Liebe. He set into music a poem by Friedrich von Matthison, a poet whom he greatly admired. It was not the only one; the poetry of Matthisson, poetry of nature following Klopstock's inspiration, was widely respected, and Schiller himself praised its melancholic sweetness and his descriptions of nature. Neither was Beethoven the only composer to pay attention to it; he wrote three Lieder with his texts and, about ten years later, Schubert wrote about thirty (including Adelaide).
The poem was published in 1790 in the Musenalmanach, the journal founded by the Göttinger Hainbund. It has four stanzas in which the poetic narrator tells us that every beautiful thing surrounding him in a spring garden reminds him of Adelaide's face. Even more: one day, when he is long dead, Adelaide will gleam on a flower born from the ashes of his heart. Beethoven's song separates the stanzas into two parts: the first one, larghetto, corresponds to the first three stanzas, while the last one, whose reference to the grave could make us think of a sad tempo, is allegro molto.
Adelaide was Beethoven's first successful work, it was sung in every home with a piano in Vienna. Despite the huge impact, the composer did not dare send the score to Matthisson until three years later; in the attached letter, he apologized for having dedicated to him the song without his consent and expressed his admiration. The poet was delighted with the work; in 1811, in a new edition of his poems, he said about Adelaide that among the many musical versions written, none had eclipsed his verses as that of the great Beethoven. It is a strange way of expressing his admiration for the song; other poets (Goethe, without going any further) would have been offended if the music had eclipsed their words.
The four stanzas of the poem became eight score pages and about six minutes long. If you're thinking that you can't be bothered listening to such a long song, please don't, because this nice song becomes a real gem when sung by Fritz Wunderlich. We have reached the really important point of this article: this week Fritz Wunderlich is our singer because Thursday 17 September (tomorrow, if you're reading this the day I'm posting) marks fifty-four years since his death and, as every year, I would like to remind him and thank him for his music. I hope you enjoy her interpretation of Adelaide, accompanied by Hubert Giesen. I guess you're all already in love with his voice and his singing, but, who knows, maybe someone will fall in love after listening this song...
Adelaide
Einsam wandelt dein Freund im Frühlingsgarten,
Mild vom lieblichen Zauberlicht umflossen,
Das durch wankende Blütenzweige zittert,
Adelaide!
In der spiegelnden Flut, im Schnee der Alpen,
In des sinkenden Tages Goldgewölken,
Im Gefilde der Sterne strahlt dein Bildnis,
Adelaide!
Abendlüftchen im zarten Laube flüstern,
Silberglöckchen des Mais im Grase säuseln,
Wellen rauschen, und Nachtigallen flöten:
Adelaide.
Einst, o Wunder! entblüht, auf meinem Grabe,
Eine Blume der Asche meines Herzens;
Deutlich schimmert auf jedem Purpurblättchen:
Adelaide.
Alone does your friend wander in the Spring garden,
Mildly encircled by magic light
That quivers through swaying, blossoming boughs,
Adelaide!
In the mirroring stream, in the snow of the Alps,
In the dying day's golden clouds,
In the fields of stars, your image shines,
Adelaide!
Evening breezes whisper in the tender leaves,
Silvery lilies-of-the-valley rustle in the grass,
Waves murmur and nightingales pipe:
Adelaide!
One day, o wonder! upon my grave will bloom
A flower from the ashes of my heart;
And clearly on every purple leaf will gleam:
Adelaide!
(translation by Emily Ezust)
Related articles