Since september 2013 I'm posting regularly in English in addition to Catalan. If you want to read the previous posts translated to English, please go to the blog in Catalan and use the automatic translator on the right column.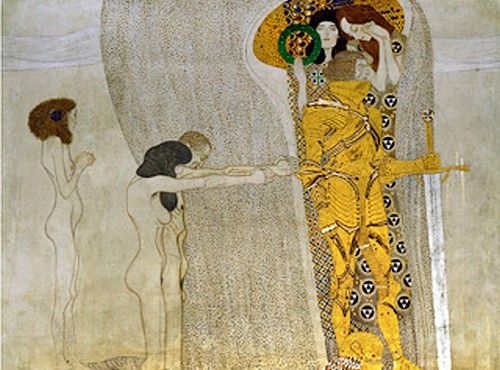 El cavaller daurat (fragment del fris de Beethoven) - G. Klimt
No, no us heu equivocat de blog, continuem dedicats al lied i avui dedicats a Gustav Mahler. I perquè parlem d'una simfonia? Una mica de paciència, hi arribarem.
Una bona part de la quarantena llarga de lieder que va escriure Mahler es corresponen amb la seva "etapa Wunderhorn", anomenada així perquè la seva font d'inspiració va ser Des Knaben Wunderhorn (La cornucòpia del noi), un recull de poesia popular alemanya publicat per Achim von Arnim i Clemens Brentano en tres volums entre els anys 1806 i 1808. El recull té més de set-cents poemes i si la tria de Mahler és representativa (perquè ja em perdonareu però no conec l'obra més enllà de la seva versió liederística) ens trobem davant un autèntic corn de l'abundància, no només pel nombre de poemes sinó per la riquesa en temes: hi trobem faules, històries sobrenaturals, de guerra, d'amor, espirituals, de condemnats a mort i fins i tot de sants.
Dels dos reculls de lieder Wunderhorn que va escriure Mahler el primer està escrit originalment per a veu i piano i el segon per a veu i orquestra. Mahler és, juntament amb Strauss, qui eixampla l'horitzó del lied i el converteix en simfònic, sense descuidar ni l'un ni l'altre el seu caràcter cambrístic. En el cas de Mahler, a més, el lied i la música simfònica estan lligats com no ho estan en cap altre compositor i així és com anem a parar a la seva tercera simfonia; no és ni molt menys l'única en la qual trobem aquesta relació però segurament sí és la que la té més forta.
A la tercera simfonia de Mahler, escrita entre 1895 i 1896, hi trobem:
un moviment, el tercer, que desenvolupa orquestralment una cançó. Es tracta d'Ablösung im Sommer (Relleu estival), pertanyent a la primera col·lecció de cançons de Mahler a partir de Des Knaben Wunderhorn.
un moviment, el cinquè, que converteix una cançó, aquesta del segon recull de cançons Wunderhorn, en una cançó per a contralt, cor de dones i cor de nens. Es tracta d'Es sungen drei Engel (Canten tres àngels).
un moviment, el quart, que està escrit per a veu i orquestra però que és una excepció dins de l'etapa Wunderhorn: el text en aquest cas és de Nietzsche, O Mensch! Gib acht! (Oh, home! Para atenció!).
un moviment, el primer, que Mahler va plantejar com a estudi previ a la composició d'una de les seves cançons preferides, Revelge. Compondre un moviment simfónic a partir d'un lied sembla un pas "lògic", un desenvolupament, però compondre una cançó a partir d'un moviment simfònic implica un complex procés de síntesi.
És a dir, que de sis moviments que té la simfonia quatre estan directament relacionats amb una cançó. Per si això no fos prou, al començament del sisè i últim moviment Mahler cita una preciosa cançó de Brahms, Feldeinsamkeit (Solitud al camp).
D'aquestes quatre peces de Mahler escoltarem
Ablösung im Sommer
(escrita entre 1880 i 1890). És una cançó amb bestioles que trobo prou enigmàtica. Un cucut mor en caure d'un salze, cal algú que el substitueixi en la tasca de fer passar el temps i sembla que l'opció perfecta és que ho faci el rossinyol. Això és bo? Dolent? Ni bo ni dolent? Ningú no es compadirà del cucut mort? Buscant interpretacions del text he trobat la que fan Pilar Vázquez y Elisa Rapado al seu
blog
: elles ho prenen com una iniciació, el pas de la infantesa a l'adolescència.
Sentim la cançó en la seva versió original per piano, interpretada per Christian Gerhaher i Gerold Huber.
Ablösung im Sommer 
Kuckuck hat sich zu Tode gefallen
An einer grünen Weiden,
Kuckuck ist tot! Kuckuck ist tot!
Hat sich zu Tod'gefallen.
Wer soll uns jetzt den Sommer lang
Die Zeit und Weil vertreiben?
Ei, das soll tun Frau Nachtigall,
Die sitzt auf grünem Zweige;
[Die kleine, feine Nachtigall,
Die liebe, süße Nachtigall!]
Sie singt und springt, ist allzeit froh,
Wenn andre Vögel schweigen.
Wir warten auf Frau Nachtigall,
Die wohnt im grünen Hage,
Und wenn der Kukuk zu Ende ist,
Dann fängt sie an zu schlagen!
El cucut ha mort en caure
del salze vert!
El cucut és mort! El cucut és mort!
Ha mort en caure.
Qui ens ajudarà ara
a passar el temps?
Ah, serà el senyor Rossinyol,
que s'asseu a les verdes branques;
El petit, el delicat rossinyol!
l'estimat, el dolç rossinyol!
Canta i fa saltirons, sempre està alegre,
quan la resta d'ocells calla.
Esperem al Senyor Rossinyol
que viu a les verdes bardisses,
i quan el cucut arriba a la seva fi
llavors ell comença a cantar!
Si teniu una estona més podeu escoltar el tercer moviment de la tercera simfonia interpretat per la London Symphony Orchestra dirigida per Valery Gergiev.