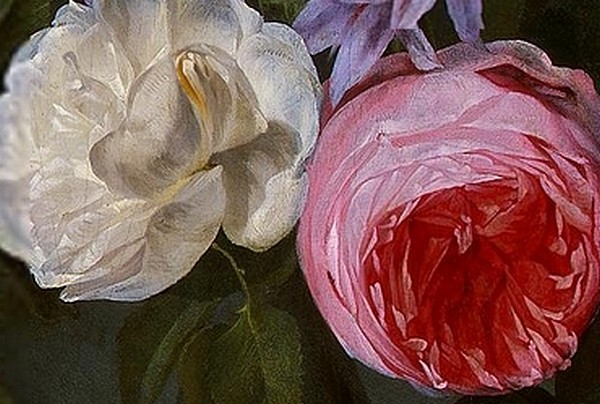 Roses and tulip in a glass (fragment) - J.P. van Thielen
"It's said that a fierce, terrible monster devastated the outskirts of Montblanc; he was able to walk, fly and swimm, and his breath stank so much that it poisoned the air and everybody who breathed it, even from far away, died. It wreaked havoc upon herds and people and the whole land was absolutely terrified."
This is the beginning of Saint George's legend according to the Catalan ethnologist Joan Amades, included in his work
Costumari Català
(collection of Catalan customs). Today it really takes an effort to think of the dragon as the incarnation of evil because we are used to seeing it represented in cute, fun images (if you were in Barcelona today, you would see it everywhere at rose stalls in the streets). It's even more difficult to understand why the knight Saint George showed up just to save the king's daughter, while allowing the dragon to happily devour the humble people who were offered in sacrifice, but that's how medieval legends go.
We have been told (though Amades doesn't say it) that the blood flowing from the dragon's wound became a rose tree, and we, Catalan people, carry on giving away roses on St George's day, following a tradition that became popular in the 15th century, according to a practice of the nobility. This is the third year I share roses with you; the first one was brought by
Strauss
,
Quilter
brought the second, and this year it is the turn of Haydn, with
Rose rot, Rose Weiss
(Red Rose, white Rose).
At the end of 1789, Joseph Haydn first travelled to England and stayed for two and a half years; in January 1794, he returned but this time, he just stayed for a year and a half. During those two visits, he started to collect Scottish and Welsh folk songs, arranging them with accompaniment of piano, violin and cello; he composed around two hundred fifty of them for three different publishers (William Whyte, George Thomson and William Napier) and we can find them in Haydn's catalog as Hoboken XXXIa (Scottish songs) and XXXIb (Welsh songs).
Rot Rose, Rose Weiss
is the German version of the Hob.XXXIb, no. 10, which original title is
Twyll yn ei Boch
(The dimpled cheek).
We would assume that the German version is a translation of the original English (all the songs are sung in this language), but when we read the two texts we realize that they have little in common. And so we come to the curious story of this song: Hermann Löns, a well-known writer during that time (he died at the beginning of the I World War), published a volume of poetry,
Der kleine Rosengarten, Volkslieder
in 1911. Sixteen years later, the musicologist Bernhard Engelke arranged the Scottish and Welsh songs by Haydn (I don't know whether all of them or just some) keeping the accompaniment for piano trio and replacing the original poems for the poems of Löns. That's how
Twyll yn ei Boch
became
Rose rote, Rose weiss
.
The Scottish and Welsh songs are hardly ever performed but we are lucky because Fritz Wunderlich recorded some of the German versions, including our today's song. We are listening to it accompanied by Heinrich Schmidt (piano), Walter Weller (violin) and Ludwig Beinl (cello); we are also listening
Twyll also hear yn ei Boch
performed by the tenor Jamie MacDougall and the Haydn Trio Eisenstadt.
Let me dedicate these red and white roses to the memory of a beloved friend; we first met on a St. George's Day and unfortunately, we won't be able to celebrate it together ever again. As a true Mozartian he loved Haydn's music, I think he would have liked the song I chose to remember him.
You have a happy Saint George's Day and get lots of roses!
Rose rot, Rose weiss
Rose weiß, Rose rot,
Wie süß ist doch dein Mund,
Rose rot, Rose weiß,
Dein denk ich alle Stund,
Alle Stund bei Tag und Nacht,
Daß dein Mund mir zugelacht,
Dein roter Mund.
Ein Vogel sang im Lindenbaum,
Ein süßes Lied er sang,
Rose weiß, Rose rot,
Das Herz im Leib mir sprang,
Sprang vor Freude hin und her,
Als ob dein Lachen bei ihm wär,
So süß es klang.
Rose weiß, Rose rot,
Was wird aus mir und dir?
Ich glaube gar, es fiel ein Schnee,
Dein Herz ist nicht bei mir,
Nicht bei mir, geht andern Gang,
Falsches Lied der Vogel sang
Von mir und dir.
(I'm afraid I wasn't able to find an English translation. Perhaps you know one and would be so kind as to share it with us.)
Twyll yn ei boch
What have I done that my Mary should fly me?
What is my guilt that with scorn she should eye me?
Tell me, ah! Tell the fond swain who adores thee,
And banish the sorrow of him who adores thee.
Is it a fault for thy beauty to languish,
To sigh and to look on a rival with anguish?
Is it a crime at thy presence to tremble?
Think, think of thy charms, then how hard to dissemble.
Thine are the lilies and thine are the roses
Which Flora, when dressed in full beauty discloses;
Sweet is the smile on thy dimpled cheek glowing;
Bright are the locks o'er thy fair forehead flowing.
Yet if a crime for thy hand to be sighing,
Yet if a crime for thy smile to be dying,
Great is my guilt -- not a mortal will doubt it, --
Yet let me plead that no swain is without it.