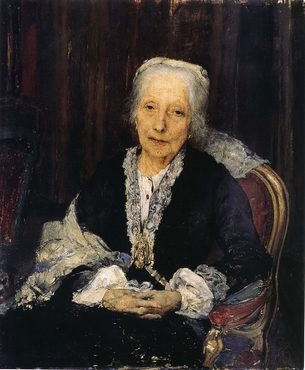 Retrat de Juliette Drouet (1883) - J. Bastien-Lepage
One day, during an interval, a friend mentioned that she didn't like some funny songs we had just listened, arguing that sense of humor doesn't suit Art Song. Before I was able to answer, another friend said: "Of course it does! Art Song speaks of life and cries but also laughs, as life does!" I would have answered something similar: Art Song, or Poetry, where Art Song stars, reflects life. If you're not all sure about that, let me tell you a story before I talk about this week's song.
Victor Hugo was thirty-three when he first met Juliette Drouet He had been married for ten years when he and his wife Adèle began to live separate lives; Juliette was twenty-five and had left a relationship with a sculptor to become an actress; The night they met, she was playing a short role in his
Lucrèce Borgia
. That was love at first sight, followed by a stormy period; He was very jealous and she was, what at that time was called, a courtesan. Then Hugo asked her (or urged her, depending on the source) to give up theatre and devote herself to him. He would be fully responsible for her maintenance. He also asked (or urged) her to stay at home so Juliette hardly socialized, except when she was with him. She became her secretary, she neatly wrote his texts, he accompanied him on his travels but when they were not together, they wrote to each other lots of letters (and when I say lots, I mean thousands).
They shared many happy times during their relationship, they took a trip every year to celebrate their anniversary (readers of Les Misérables: does 17th February 1833 ring a bell?), but they also shared misfortunes. Victor Hugo loved Claire, Juliette's daughter, as much as his own children and when the girl died, he joined the father at the funeral; as for Juliette, she followed the writer into exile in 1852 but they lived in different houses because Victor Hugo never left his wife (nor did Adèle, although she also had some lovers). Victor Hugo and Juliette Drouet loved each other deeply; so tell their letters, even the last ones. For fifty years, until Juliette's death, they carried a life so difficult to understand nowadays: He, in and out, his own way, having other lovers; She confined to her place, waiting for him and working for him.
In 1835, two years after meeting Juliette, Victor Hugo published his second collection of poems,
Les chants du crépuscule
. About 1860, a boy around fifteen called Gabriel Fauré did something that Victor Hugo
couldn't stand
: he chose one of those poems, dedicated to Juliette, to write a song; In fact, his first work,
Le papillon et la fleur
, op.1, n. 1. In sixty years, Fauré wrote more than one hundred mélodies; in his first song, so simple, still so tied to
romance
, we find, however, the charm and lyricism that we find in so many later works. Listen, enjoy it, pay attention to the lyrics and tell me if it's a reflection of life...
I dedicate this post to that friend who doesn't like laughing with songs; she loves
Le papillon et la fleur
. Clearly, one thing is laughing and another thing is smiling. For months, she asked me when I would post this song. For months, I answered that it would be the last song from my
buggy list
. Today, after a flea, a cockroach, a cicada, a cricket, a beetle, a snail, a bee, a grasshopper and a ladybug, a butterfly ends that exotic list; This closure will be in charge of Simon Keenlyside and Malcolm Martineau. .
Le papillon et la fleur

La pauvre fleur disait au papillon céleste
— Ne fuis pas !
Vois comme nos destins sont différents. Je reste,
Tu t'en vas !
Pourtant nous nous aimons, nous vivons sans les hommes
Et loin d'eux,
Et nous nous ressemblons, et l'on dit que nous sommes
Fleurs tous deux !
Mais, hélas ! l'air t'emporte et la terre m'enchaîne.
Sort cruel !
Je voudrais embaumer ton vol de mon haleine
Dans le ciel !
Mais non, tu vas trop loin ! — Parmi des fleurs sans nombre
Vous fuyez,
Et moi je reste seule à voir tourner mon ombre
A mes pieds !
Tu fins, puis tu reviens, puis tu t'en vas encore
Luire ailleurs.
Aussi me trouves-tu toujours à chaque aurore
Toute en pleurs !
Oh ! pour que notre amour coule des jours fidèles,
O mon roi,
Prends comme moi racine, ou donne-moi des ailes
Comme à toi !


The poor flower kept saying to the airborne butterfly:
"Don't fly away!
Our destinies are different: I stay put,
you travel!
Yet we love one another, we live without human beings,
remote from them;
and we resemble one another - some say that both of us
are flowers.
"But alas! the breeze carries you off, while the earth ties me down
- what a cruel fate!
I would like my breath to perfume your flight
in the sky!
But no, you travel too far! Visiting countless flowers,
you fly away,
while I remain alone watching my shadow circle
at my feet.
"You go, then you come back, then you fly off again
to shine elsewhere.
So every morning you find me
bathed in tears!
Ah please, so that our love may glide along faithfully
(oh my king!),
take root like me - or else give me wings
like you!"