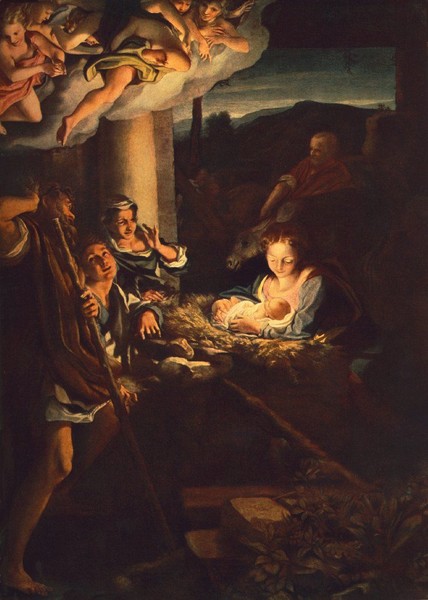 Nativity - A. Correggio
I hope you got into the Christmas spirit because today we're beginning the usual short series of three posts with songs related to these days; The next two will be in short format and after the Three Kings Day we will go back to normal.
I heard the songs I'm talking today in Catalunya Música a Christmas Eve, a couple of years ago. They caught my attention and I jotted down them in my notebook; They were the Dwadzieścia polskich kolęd (Twenty Polish Christmas Carols) by Witold Lutosławski, considered the great Polish composer of the 20th century along with Krzysztof Penderecki. The first version of this work, for soprano and piano, was written in 1946 and corresponds to a time when the composer was focused on traditional Polish music, mostly because it was a safe option. After making a living as a pianist during the war, trying to go unnoticed when playing forbidden composers as Chopin; now Lutosławski had to beware of the Zhdanov Doctrine, which regulated which artistic creations served the socialist ideals and which did not.
With regard to music, it was dangerous to move away from tradition to follow the path of innovation, especially when this innovation was "in order to gratify the individualistic emotions of a small group of select aesthetes." Lutosławski was interested in atonality but, as he said some time later, "in those days I could not compose as I wished so I composed as I was able." Approaching the traditional music was safer, it was about "compositions of the whole people, natural and without artifice", so the composer accepted commissions such as harmonizing Christmas seeking the best possible compromise between wishes and reality.
His task wasn't to collect songs before they were lost, but to work with already documented and published songs; I didn't know none of them before listening to his work, but according to what I found, there were and they are well-known; If you search the Internet for the Lutosławski's song I'm sharing, you will find easily the "original" traditional song. When some of the pieces were premiered, people were confused, because that tunes where "their" tunes, but the songs didn't sound like folksongs anymore, they had become concert compositions. The composer, for his part, was somehow satisfied, because he had been able to go beyond the pure harmonization and recreate the pieces as miniatures. Eventually, the songs sank into oblivion and Lutosławski continued to work around traditional music until one day Stalin died, the atmosphere became more relaxed and he and all the artists could create more freely.
In 1986 Lutosławski returned to those songs following a request of his publisher in the UK; he made some changes in the order and in the texts and arranged seventeen of them for soprano, female choir and orchestra. Three years later he added the three left songs and the complete cycle was premiered with texts in English. This was the version I heard on the radio, but today I suggest that you listen to a Christmas carol from the first version: Jezu, śliczny kwiecie (Jesus, lovely flower). It is a song that recreates the usual manger scene: the child is born in winter, his mother finds shelter in a manger and the angel calls the shepherds to go an honour him. We'll listen to that Christmas carol performed by Anna Radziejewska and Mariusz Rutkowski. I hope you like it and I wish all of you a Merry Christmas!
Jezu, śliczny kwiecie

Jezu, śliczny kwiecie,
zjawiony na świecie,
a czemuż się w zimie rodzisz,
ciężki mróz na się przywodzisz,
nie na ciepłem lecie,
nie na ciepłem lecie?
Jezu nie pojęty,
czemu nie z panię ty,
nie w pałacu złożony,
w lichej szopie narodzony,
i między bydlety,
i między bydlęty?
Śliczna jak lilija Panienka Maryja,
cała piękna jak róża,
nie szuka pańskiego łoża,
w żłobeczku powija,
W żłobeczku powija.
Osiołek z wołem stoją przed nim społem,
zagrzewają swego Pana,
upadają na kolana,
nisko biją czołem,
nisko biją czołem.
Anioł z nieba budzi najprzód prostych ludzi:
Pastuszkowie, prędzej wstajcie,
w szopie Pana przywitajcie,
co się dla was trudzi!
Co się dla was trudzi!
Pastuszkowie mali prędko się zebrali,
to z muzyką, to z pieśniami,
to z różnymi ofiarami
Panu cześć dawali,
Panu cześć dawali.
Jesus, lovely flower
appearing in the world,
why are you born in winter,
inflicting hard frost on yourself,
and not in the warmth of summer,
not in the warmth of summer?
Jesus, not to be comprehended,
why are you not of noble birth,
not lying in a palace,
but born in a poor stable,
and among beasts,
among beasts?
Fair as a lily is the Virgin Mary,
beautiful as a rose;
she seeks no lordly bed,
she swathes him in a little crib,
in a little crib.
The ox and the ass stand together before him,
they warm their Lord,
they fall to their knees,
they bow down low,
bow down low.
The angel from heaven rouses simple folk first of all:
"Shepherds, get up very quickly,
welcome the Lord in the stable,
which is worth the trouble,
worth the trouble!"
The humble shepherds quickly assembled;
with music, with songs,
with all sorts of gifts,
they honoured the Lord,
honoured the Lord.
(English translation by Naxos)