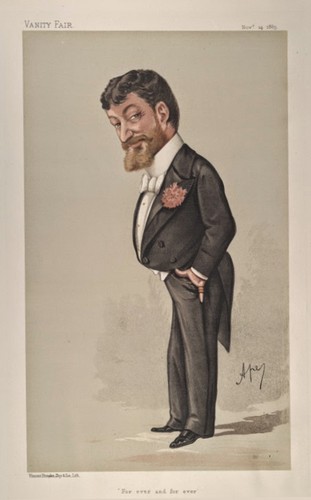 Paolo Tosti - Vanity Fair
We are in peak summer and it seems that anything has changed at Liederabend... Shouldn't summer be a time to relax and slow down our pace? Anyway, in two weeks' time, we're beginning four brief posts focused on the programme of the
Schubertiade Vilabertran
but today we could listen to something lighter than Lied.
Some time ago we spoke of French
romance
. The genre was born in the eighteenth century, at the French court, and after the revolution, it spread among bourgeois families. It had little impact outside the salons and it faded out when
mélodie
was born; In salons, however,
romances
were still sung because
mélodie
, intended to professional musicians, wasn't a real option. Such a fashionable entertainment in Paris became also fashionable in Rome and London, of course, were it was called
romanza di salotto
and
parlour song
. I mentioned before that today, we are leaving Lied aside and it's not just a language thing, it's also a matter of concept: these songs, in French, English or Italian, weren't originated from poetry, nor weren't inspired by traditional songs or hadn't artistic aspirations. Sometimes, they were written from a poem, occasionally, a famous poet became lyricist, but they used to be just songs. Sentimental, easy, beautiful songs, suitable for being performed by young people in the presence of their mothers and grandmothers.
Nobody expected the composers to be particularly gifted, and when a renowned composer wrote those songs, it used to be considered a waste of time. The names of most of them fell into oblivion; One of those composers of
romanze di salotto
and
parlour songs
, however, was all the rage at his time, and he bridged the gap between popular music and the greatest concert halls: Paolo Tosti. All of us have heard, at one time or another, a handful of songs by Tosti, sung by a long list of tenors that don't usually sing Art Song.
Since I usually tell stories of serious illnesses, premature deaths and other misfortunes, today I am happy to tell you, plain and simple, Paolo Tosti really reached the top. His work achieved huge success, he became fabulously rich and died at a relatively advanced age (according to his time) after having received major honours and having lived a life without great misfortunes. In 1870, at 24, Tosti went from Ortona, his home village, to Rome, where he hoped he would succeed.. He had received a good musical education, was a singing teacher and also sang with a tasteful, beautiful voice. Also, he had a natural gift to deal with people and had good friends that would help him to get into the more exclusive salons. So exclusive that not long afterwards, he became the singing teacher of Margherita of Savoy, later queen of Italy. In 1875, he travelled to England for the first time and in 1880, he settled in London when he was chosen by Queen Victoria as the singing master of the Royal Family. He composed many songs in English and Italian, signed a millionaire contract with the editor Casa Ricordi, was interested in the recovery of traditional Italian musical, wrote an important treatise on singing and in 1912, when he felt he was too old to keep serving King George V, Queen Victoria' grandson, Sir Paolo Tosti came back to Italy without having learned a single word in English.
The greatest singers of that time, such as John MacCormack, Enrico Carusso, Adelina Patti or Nellie Melba, sang Tosti's songs. Although most of his works were forgotten, especially English songs (we have at least some recordings), a few are still performed and are very well-known, from the most popular as the
canzone napoletaneMarechiare
or
A vucchella
to the most sophisticated romanze di salotto as
L'alba sepàra dalla luce l'ombra
or
Non t'amo più
.
I'm sharing with you one of the more famous romanze,
Vorrei morire
, with text by Leonardo Maria Cognetti. As I said, many tenors sang, and still do, these songs (surprisingly enough, sopranos don't). Today we're listening to Alfredo Kraus, accompanied by Miguel Zanetti. Enjoy!
Vorrei morire

Vorrei morir ne la stagion dell'anno,
Quando 'e tiepida l'aria e il ciel sereno,
Quando le rondinelle il nido fanno,
Quando di nuovi fior s'orna il terreno.
Vorrei morir quando tramonta il sole,
Quando sul prato dormon le viole,
Lieta farebbe a Dio l'alma ritorno
A primavera e sul morir del giorno.
Ma quando infuria il nembo e la tempesta,
Allor che l'aria si fa scura scura:
Quando ai rami un foglia pi`u non resta,
Allora di morire avrei paura.