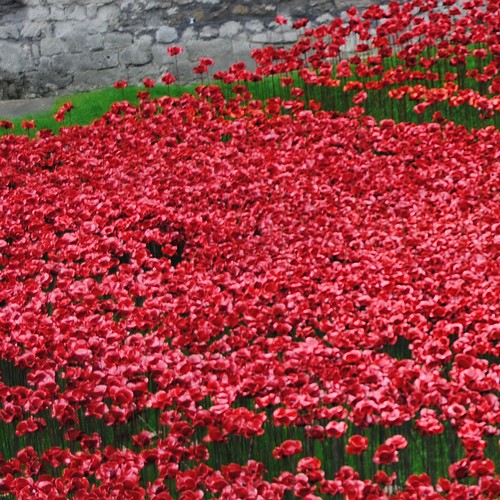 There are some composers, painters, writers, actors, you name it, that we especially like even though there're not among the most important. At one particular moment, they catch our attention and since then, we follow them with interest; They, eventually, become part of our top names and we even love them a little more because they are considered (please pay attention to the quotation marks) "minor" ones. I would say George Butterworth isn't a well-known composer outside the UK, but I fell in love with his music long time ago. That's why I dedicate the first post of August to him, when I was supposed to start my summer posts; Next Friday marks the centennial of his death and I didn't want to miss this date without a thought for him. So please let me share this week a song by George Butterworth and next week, I'll begin my posts around the
Schubertiade Vilabertran
.
This is not Butterworth's first time on Liederabend; I posted one of his songs,
The lads on their hundreds
, during my blog's first year and I also focused on his most famous song cycle,
A Shropshire Lad
, earlier on this year. So, although very briefly, I've talked about this composer, considered before the Great War, a promise of English music; sadly, he died on 5th August 1916 at the Battle of the Somme, having just turned 31 years old. He destroyed a part of his own work before leaving to the front, and the remaining corpus is so brief...
Today, we're listening to a less known song,
Requiescat
. It's based on a poem that Oscar Wilde dedicated to his sister Isola, who died of meningitis in 1867, when she was ten years old and Oscar, twelve. He was terribly saddened by the loss of the little girl; it seems that the writer always took with him, until his death, a lock of Isola's hair. Wilde wrote this poem at nineteen and it was later published in 1881. Don't you think it's a similar story to that of the poem
An
eine
Äolsharfe
, written by Mörike a few years after his brother August's death?
Butterworth wrote his song in March 1911 some weeks after his mother died. Julia Margaret Wigan, so was her maiden name, had been a professional singer; she was the first music teacher of young George and encouraged him to devote himself to music. The father, Alexander, like many other fathers then and now, wanted his son to commit to a serious profession; he wanted him to become a lawyer because he thought of music just as a pastime. However, first at Eton and later at the Trinity College in Oxford, his son excelled in sports and music while he went unnoticed in the rest of subjects. Shortly after his mother died, his father gave George permission to devote himself professionally to music and eventually, he felt very proud of his son's music. If I'm not wrong,
Requiescat
wasn't among the pieces Butterworth entrusted to his friend Ralph Vaughan Williams; it was his father who kept it at home, along with a couple of songs.
If you already know other songs by Butterworth, you will identify the same minimalism at
Requiescat
, the polished lines, both vocal and accompaniment. In any case, I hope you like this melancholic, delicate song, that we're listening performed by Roderick Williams and Iain Burnside. In memory of George Butterworth and those hundreds of thousand of men who died in that battle.
Requiescat

Tread lightly, she is near
Under the snow,
Speak gently, she can hear
The daisies grow.
All her bright golden hair
Tarnished with rust,
She that was young and fair
Fallen to dust.
Lily-like, white as snow,
She hardly knew
She was a woman so
Sweetly she grew.
Coffin-board, heavy stone,
Lie on her breast.
I vex my heart alone,
She is at rest.
Peace, Peace, she cannot hear
Lyre or sonnet,
All my life's buried here,
Heap earth upon it.