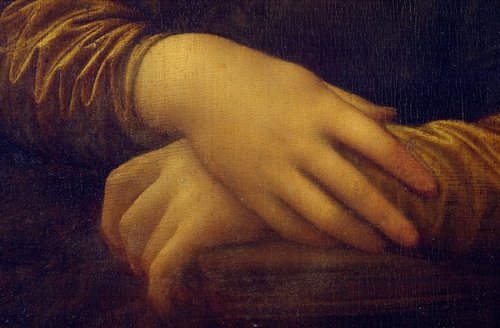 Mona Lisa. Portrait of Lisa Gherardini, wife of Francesco del Giocondo (excerpt) - Leonardo da Vinci
By 1933, Erich Korngold had spent several years mainly working on operettas; making some adaptations in collaboration with the theatre director Max Reinhardt. He was a bit fed up with that because so many trips and rehearsals prevented him from writing his own music. However, on the other hand, it was financially worthwhile; thank to that money, he could get married and, that year, he bought a house in the Alps which became his refuge. That summer, taking advantage of a break between operettas, the composer wrote a song cycle, Unvergänglichkeit, op. 27, with poems of Eleonore van der Straten, which was premiered in Vienna in 1937.

And who was Eleonore van der Straten? I've got no idea. She could be the same person I've found as Eleonore van der Straten-Stenberg (maybe one surname was added after her marriage?), but I'm not sure both Eleonore's birth dates match... If she was our Eleonore, I can only say that she lived between 1873 and 1960, that she published a book in 1915, Erntekranz - Geschichten und Gedichte, that Walter Benjamin briefly mentions her in one of his essays and that there are plenty web pages with her citations; according to these details, I would say she achieved certain fame, even though there's so little information about her. As always, any additional information would be very welcomed!

Our unknown Eleonore wrote those four poems that Korngold chose for his songs, a cycle that talks about how love remains despite difficulties and the passage of time. The first song, whose title is also Unvergänglichkeit (Immortality), is a little gem; if you don't know it, you'll have the opportunity to listen to it today, because it's the song I chose to share. His music is dreamy and it leads you to an atmosphere of intimacy, it's one of those contemplative songs that, as you know, I love so much... Don't miss its last words: "Deine edlen weißen Hände / Sind mir Unvergänglichkeit ". (Your precious white hands / Are, for me, immortality.) In addition, as we'll see, it's not one song but two.

The second song of the cycle talks about how time flows, the third about happiness and dreams; the title of the fourth says it all: Stärker als der Tod (Stronger than death) and the fifth closes the cycle by recovering the initial music. We know this idea from other cycles, An die ferne Geliebte and Frauenliebe und -leben, for example, where both Beethoven and Schumann use the prelude of the first song as postlude of the last one; that is, they return to the beginning to reinforce the idea of a cycle, of a circle. Korngold, however, goes further: he closes the cycle with the first song, repeated verbatim. That's to say, the first song is also the fifth song. I guess that Korngold wanted to take us back to that intimate moment and to emphasise the idea of immortality; in fact, the last word we hear is Unvergänglichkeit. All recordings I know, except the complete Korngold songs released by Naxos one year ago, observe this repetition.

We're listening to Unvergänglichkeit in the beautiful version of Sarah Connolly and Iain Burnside. I wish they inspire you to listen to the whole cycle (don't worry if you have little time, it only lasts around ten minutes), in order to listen to the song again, this time as the end of the work; You'll realize that the second time the song doesn't sound exactly the same, it's something special and difficult to explain... You'd better listen to the song... I hope you enjoy it!!
Unvergänglichkeit

Deine edlen weißen Hände
Legen meine Seel' zur Ruh',
Wenn sie meinen Scheitel segnen,
Schließ' ich meine Augen zu
Und sag' nur leise: Du!
Und Welten sinken in ein Nichts,
Die Meere rauschen dumpf und weit;
Deine edlen weißen Hände
Sind mir Unvergänglichkeit.
If you need an English translation please visit this
link