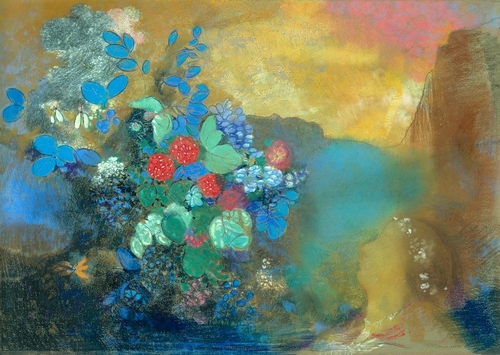 Ophelie au milieu des fleurs - O. Redon
Let me pose a game: if I say "Valentine's Day", what are your first thoughts? About Valentine's Day? About film noir? About Some like it hot? About Ophelia? About Ophelia and Brahms? If that's your answer, I hope you are aware that you're sicker with Art Song than you thought. Join the club!

Yes, Johannes Brahms wrote five songs based on the texts that Ophelia sings in the fifth scene of the fourth act in Hamlet; those songs are known today as Ophelia-Lieder, WoO22. It draws our attention that the whole cycle lasts no more than three minutes. We can understand this brevity better if we bear in mind that, in fact, Brahms didn't intend to write a song cycle but some incidental music, that is, music to be played during a play.

In 1873, Josef Lewinsky, a popular actor in Vienna who should have some relationship with Brahms in addition to mutual admiration, asked the composer to write Ophelia's songs for a single performance of Hamlet in Prague which took place on 22nd December that year. The actress who was to play the role of the unfortunate Ophelia was Olga Preicheisen, Lewinsky's fiancée (they got married that same year). It was the only time that Brahms accepted a commission for writing songs. After the performance, those Ophelia-Lieder were forgotten, Brahms didn't publish them. Their existence was known because Brahms recorded them in his catalogue, but the sheets were lost until the musicologist Karl Geiringer found them in 1934 and published them as a cycle the following year.

The context in which Ophelia sings her songs is well known. The weak, young woman, manipulated, coerced and subjugate by her father, her brother and Hamlet, has finally broken and lost her reason. In this long scene, Gertrude, Horatio, Claudius and later Laertes try to talk to her, and they only get incoherent answers. Sometimes, instead of answering, she sings. In her delirium, she mixes bawdy songs, that reflect his complex relationship with Hamlet, and mourning songs for his father Polonius who, as we know, has been killed by Hamlet. Ophelia will drown shortly after; Gertrude will try to explain her death as an accident but that won't avoid she's buried as a suicidal person.

The songs she sings are supposed to be traditional songs, and Brahms, who loved folk music, reflected in his melodies as well as in his simple accompaniments. In fact, they are so simple that maybe, at the play, Olga Preischeisen sang a cappella (as Ophelia sings, according to the text) and the accompaniment was used only during the rehearsals. The third song, Auf morgen ist Sankt Valentins Tag (The text German translation is by August Wilhelm Schlegel) is the only one that doesn't follow the general melancholic tone. If we would hear it without context, we might take it for what it is originally: a humorous song that is about a maid going into the bedroom of a man on Valentine's Day. In Ophelia's voice, however, it's an expression of the conflict caused by Polonius, Laertes and Hamlet.

Before listening to Ophelia, please let me tell you something: Next week, my post will be posted a few hours later than usual. The reason is that on Wednesday 22, the Vilabertran Schubertiade 25th edition is presented and as every year, I would like to tell you about the song recitals the very same day.

We're listening to Auf morgen ist Sankt Valentins Tag performed by Christine Schäfer and Graham Johnson. I encourage you to listen to the complete cycle, so beautiful in its simplicity; as I said, it will take you only three minutes... By the way, about my question at the beginning of this post, someone sick with Art Song could also have answered "I think about Ophelia and Strauss," but that's a story for another day...
Auf morgen ist Sankt Valentins Tag

Auf morgen ist Sankt Valentins Tag,
Wohl an der Zeit noch früh,
Und ich, 'ne Maid, am Fensterschlag
Will sein eu'r Valentin.
Er war bereit, tät an sein Kleid,
Tät auf die Kammertür,
Liess ein die Maid, die als 'ne Maid
Ging nimmermehr herfür.
Tomorrow is Saint Valentine's day,
All in the morning betime,
And I a maid at your window,
To be your Valentine.
Then up he rose, and donned his clothes,
And dupped the chamber door.
Let in the maid that out a maid
Never departed more.