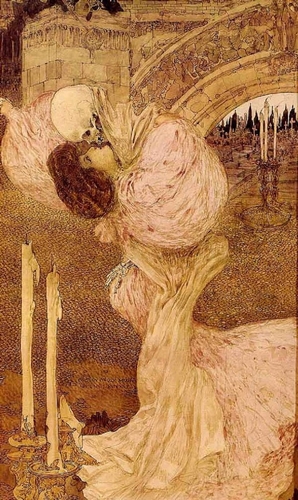 Danse macabre - G. A. Mossa
Lost in translation. That's what I thought when, just before a performance of
Der Tod und das Mädchen
(Death and the Maiden), a translation of the poem by Matthias Claudius was heard.
Tod
is a masculine noun;
mort
, the Catalan word for death, a feminine noun; as this point wasn't clarified, the original dialogue between a man (death) and a woman became a dialogue between two women. I told my friend J. that gender swap brought a twist to the story of seduction. And he said: what story of seduction? The conversation became general (that was a "Sopar Líric", a dinner concert at the
7 Portes
, one of the oldest restaurants in Barcelona) and we forgot about it. The following day, J. sent me a WhatsApp saying that my comment was most intriguing; we spent some time exchanging messages and I told him that I would write this post about that Schubert's lieder.
Our first topic of discussion was whether death personifications have gender. I would say that when looking at a skeleton dressed in rags, or wrapped in a cape, those who speak a Latin language perceive it as female (and talk about the woman with the scythe), and those who speak German as male (and talk about the man with the scythe). For cultural reasons, the word's genre assigns different categories to the allegories.
Our second point of discussion was whether the song really describes a seduction game. For me it's clear: the invitation to sleep in the gentleman's arms seems pretty explicit to me (I always imagine a handsome gentleman, better good-looking than a bag of bones). As far as I know, that's a quite generalized interpretation originated in dances of death so common in the Middle Ages; If you google a little, you'll find some paintings previous to that Lied where an ugly skeleton tries to seduce a young woman; I remember seeing a painting where death was represented as a knight luxuriously dressed, but I couldn't find it. There are also many paintings and sculptures after Schubert's Lied which represent death and a young woman in a loving attitude, like that by Mossa I chose to illustrate this post; as they are usually from the beginning of the 20th century, I would say they also have something to do with Freud and his Eros and Thanatos balance.
There was still another topic to debate: whether Herr Tod acts in good faith or cheats on the girl ("Like Don Giovanni? Yes, like Don Giovanni." J. and I share our love for Mozart's opera); after all, she can not refuse the offer. For me, it's not the same case; maybe their words are similar:
Gib deine Hand
(Claudius) /
Là ci darem la mano
(Da Ponte), but Schubert's music, in my opinion, leaves no room to doubt: it's calm, soothing, and, to my ears, seductive. On the other hand, Mozart's music tells me that his handsome gentleman is cheating on the girl: as soon as she accepts him, he forgets his aristocratic airs. Another argument in favor of Death's sincerity is the Schubertian context: As we know, (and
here
I explain it more extensively) death, so common in the lieder of Schubert, usually means consolation and rest. In this sense, those in favor of a non- seduction theory could read literally the last verse I mentioned before,
Sollst sanft in meinen Armen Schlafen!
, as some words trying to calm down the girl at death's door, like a father who cradles his daughter.
Beyond our own interpretations,
Der Tod und das Mädchen
is a great song, written with an amazing economy of means. Not only it's the best known song among the dozen that Schubert wrote from poems by Claudius (a member of the
group of Göttingen
) but also one of the most popular in his production. The music follows the poem's structure; first, we hear the voice of the scared maiden rejecting death; in contrast, death sings calmly, with a melody that remains often on the same note. The piano follows that structure too: while she sings, it's more agitated; when he sings, a few simple chords are repeated, the same pattern at every measure (long note, short note, short note). A song so musically austere and yet, so expressive!
Coming back to the (suspected) game of seduction, the performers naturally have much to say. If I had wanted to defend the theory of death being like Don Giovanni, I would have chosen the recording by Florian Boesch and Malcolm Martineau, do I hear a mocking tone here? But I chose, of course, a recording that fits my way of understanding that Lied: that of Wolfgang Holzmair and Ulrich Eisenlohr; if Herr Tod sings "
Sei gutes Nuts
" that way, he can not be a liar. And, definitely, he seduces.
The gender of death issue is not easy. I previously mentioned the dances of death; in Verges, a village 150 km far away from Barcelona, that tradition is kept and
death dances every Holy Thursday
; it's represented by five dancers, and I'm not sure it has a definite gender, but the dancers are men and boys. I asked an English friend (as English nouns haven't got any gender) if he thought of death as a man or as a woman, and he answered he had never thought about that. As always, I appreciate your contributions, especially if you are from Verges, English-speakers or art experts. And, of course, my dear J. holds his right to reply.
Der Tod und das Mädchen

Das Mädchen:
Vorüber, ach, vorüber!
Geh, wilder Knochenmann!
Ich bin noch jung, geh, Lieber!
Und rühre mich nicht an.
Der Tod:
Gib deine Hand, du schön und zart Gebild!
Bin Freund und komme nicht zu strafen.
Sei gutes Muts! Ich bin nicht wild,
Sollst sanft in meinen Armen schlafen!
The Maiden:
It's all over! alas, it's all over now!
Go, savage man of bone!
I am still young - go, devoted one!
And do not molest me.
Death:
Give me your hand, you fair and tender form!
I am a friend; I do not come to punish.
Be of good cheer! I am not savage.
You shall sleep gently in my arms.
(translation by Emily Ezust)