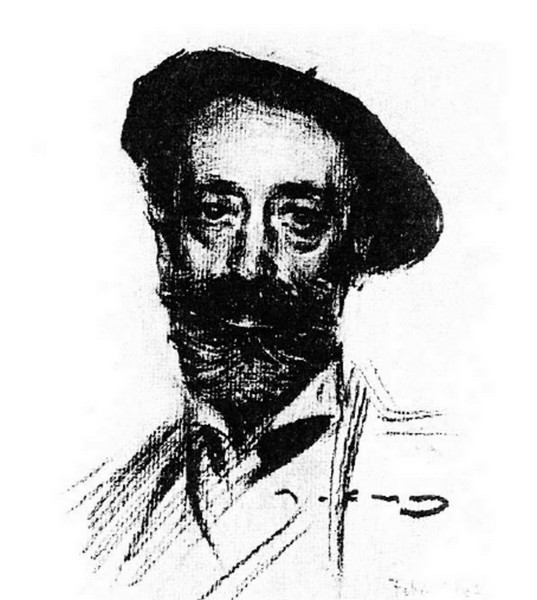 Portrait of Apel·les Mestres - R. Casas
This expression, "You shall not pass!", is known worldwide (and I think I'm not exaggerating with this "worldwide") as the motto of the defenders of the Republican government during the Spanish Civil War. We Catalan people also identify these words as the beginning of a poem widely spread during the war; I remember seeing in some book of History the reproduction of a pamphlet with the four verses. The poem, however, was not written during the civil war; In fact, its author, Apel·les Mestres, died at 82, precisely on July 19, 1936. The day after Franco's coup, the day after the war began.

This poem, entitled La cançó dels invadits (The song of the invaded), is part of a collection called Flors de sang (Flowers of blood), that Mestres wrote after the German invasion of Belgium in World War I. Some sources attribute the origin of the expression "You shall not pass!" to a French soldier, Robert Philippe, who pronounced it during the battle of Verdun ("On ne passe pas!"); This battle, however, began in February 1916, and Apel·les Mestres won an Englantine prize in the Floral Games of 1915 with this poem; how could the poet know the sentence of the French captain? On the other hand, Mestres and other important Catalan figures went to Perpignan to give their support to France precisely in February 1916; there, during a dinner with French authorities, he read the poem. Since it was very successful and soon became musicalized, also in French, another theory about the origin of the expression is that the military man knew the song. As always, I would be very grateful if some kind reader could clarify this point. In any case, Mestres was invested as "Chevalier de la Légion d'Honneur" for this poem and his support during the war.

The poem, of course, was also well-known in Catalonia when the civil war began, that's why You shall not pass! became the motto of the Republican faction. Since then, the expression has often been used in situations where the civil rights were endangered, real or fictional situations (Goscinny did it in 1969 in Astérix in Spain, when the child Pepe faces up to Julius Caesar armed with a sling and shouting "You shall not pass!", and we all remember Gandalf (the great Ian McKellen) shouting "You shall not pass!" in Peter Jackson's The Lord of the Rings. And it's used to this day.

Among the musical versions of La cançó dels invadits, I would like to share with you that of Joan Comellas, Catalan composer who lived between 1913 and 2000. Comellas was a member of several cultural groups such as Els vuits (The eights) that also included the painter Albert Ràfols Casamada and the poet Jordi Sarsanedas, or the Círculo Manuel de Falla (established in 1947) described by the composer Josep Maria Mestres Quadreny as "a sort of circle where composers and performers met every Saturday at the French Institute of Barcelona". A space of freedom where the silence imposed outside could be broken.

I don't think Comellas and Mestres ever met, but some coincidences between them caught my attention. Both had restless spirits and were painters in addition to composer or writer (Comellas was also sculptor and ceramist). Mestres spent many years in Caldetes, a village very close to Masnou, where Comellas lived, and, curiously enough, the composer also died on July 19th. Comellas was an eclectic composer; according to his words, his not so wide education allowed him to write in a more free style. He composed many songs; No passareu! is included in the cycle Lírica catalana, op. 14. It's a very short song, which includes only the first stanza of Apel·les Mestres' poem. I couldn't find an English translation so (please forgive me) I translated myself. The performers are Inès Moraleda and Mac McClure.
No passareu!

No passareu!, i si passeu,
serà damunt d'un clap de cendres;
les nostres vides les prendreu,
nostre esperit no l'heu de prendre.
Mes no serà! Per més que féu,
¡no passareu!
You shall not pass! and if you pass,
it will be above a patch of ashes;
You will take our lifes,
you won't take our spirits.
But that won't be! No matter what you do,
You shall not pass!