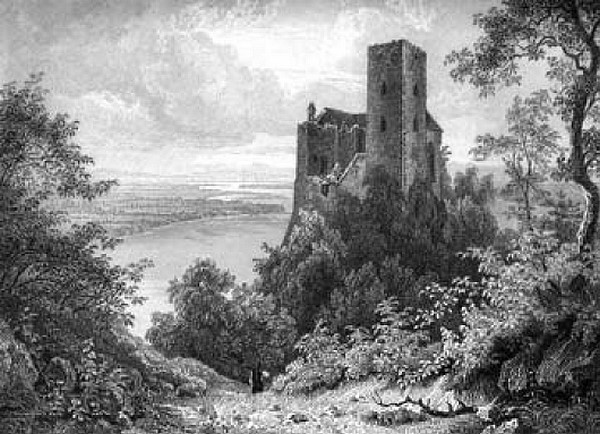 Castell de Greifenstein, al Danubi. Il·lustració de l'Almanac Vesta (1835)
No, it's not that Captain Obvious came to remind us that Schubert wrote songs. The title refers to an occasion, shortly after Schubert's death, when the words "song writer" were used in a contemptuous way.
In that time, when an important musician died in Vienna, his friends (often also musicians) used to organize a Requiem Mass in his memory. It was done when Gluck, Haydn, Salieri and Beethoven died. Schubert's friends wanted to perform Anselm Hüttenbrenner's Requiem (the same piece performed in Beethoven's honour) in the Augustiniankirche, one of the most important churches in Vienna. They suggested the renowned singer Ludwig Tietze to sing the tenor's part but foolishly, he refused. According to Joseph Hüttenbrenner, the composer's brother, Tietze opposed a Requiem, only merited by great composers, while Schubert had just been a fine song writer. Most surprising is that the tenor, although he didn't belong to the
Shubert's closest circle
, knew him well enough and had been one of his favourite singers; Tiezte often sang his lieder, that's why he was asked to sing the Requiem Mass.
Tietze went down in history because of those words, that gives us a crystal clear understanding of the little recognition that lieder enjoyed those days (sixty years later, Hugo Wolf was still underrated because he was a song writer) and how people, even friends, were unaware of Schubert's great work (songs, but also symphonies, quartets, sonatas,...) Today, we value Schubert as a great composer, with an extensive and brilliant work, and his songs are benchmark. Hence, the name of the seminar that begins today (barring some last-minute circumstances) at
La Central: Franz Schubert, song writer.
The first seminar at the same venue which I gave last winter, was an introduction to Lied; the second one had to be devoted to Schubert, because Lied cannot be understood without him. Lied already existed before Schubert but, at the same time, was born with Schubert. This apparent contradiction is, in my opinion, the key to the value of his work: in his modest room at his family home, a seventeen young man revolutionizes Lied, a gentle and pleasant piece of music (and often valuable from a musical point of view) that turns into the vehicle to the most sincere expression of the most intimate feelings. And, probably, he just does not know it. If we add quality, quantity and beauty to this change of concept, it results in an extraordinary work (and on Liederabend, we've enjoyed so far of lots of pieces of that evidence!)
This evening, when the course begins, one of the first things we'll look at is a Europe map. When Schubert was born, in 1797, the Holy Roman Empire still existed. Shortly after, Napoleonic Wars took place; Archduchy of Austria lost and Napoleon settled in the Schönbrunn Palace for a while. Then the Era Metternich came and society had to live together with censorship, suspicion and spies everywhere. Meanwhile, music continued in Vienna. It is Beethoven and Rossini's moment, but the time of virtuosity is approaching: the child prodigy Liszt, Paganini.
In this context, little Franz enters the Konvikt boarding school where he will meet some of the most important people in his life, and composes his first works, until
Gretchen am Spinnrade
arrives in 1814. Then
The year of miracles
will come round, when Schubert composes more than three hundred songs; from 1817, he will struggle to live on his music. And when it seems that he is about to achieve it, in 1823, the great crisis: the disease. I will live for five more years. That 1823 is, besides, the year of
Die schöne Müllerin
, and 1827, the year before his death, that of
Winterreise
, his two great cycles. As you can see, many things to explain within six weeks and plenty of music to accompany it...
This week I'm sharing the first Schubert's Lied. We'll listen this afternoon,
Auf der Donau
, performed by Wolfgang Holzmair and Gérard Wyss. It's a great song, but there is more to it than its beauty...
Auf der Donau

Auf der Wellen Spiegel
Schwimmt der Kahn.
Alte Burgen ragen
Himmelan;
Tannenwälder rauschen
Geistergleich -
Und das Herz im Busen
Wird uns weich.
Denn der Menschen Werke
Sinken all';
Wo ist Thurm und Pforte,
Wo der Wall,
Wo sie selbst, die Starken?
Erzgeschirmt,
Die in Krieg und Jagden
Hingestürmt.
Trauriges Gestrüppe
Wuchert fort,
Während frommer Sage
Kraft verdorrt.
Und im kleinen Kahne
Wird uns bang -
Wellen droh'n, wie Zeiten,
Untergang.
Upon the waves' mirror
floats our boat;
Old castles tower up
toward heaven,
Pine forests rustle
ghost-like,
And the hearts in our bosoms
melt.
For man's work
fails ever:
Where is tower, where gate,
where wall,
Where are they, these armoured
strongholds,
That were besieged
in war and in hunt?
Sad undergrowth
proliferates,
While the strength of pious words
fades:
And in the small boat,
we become timid:
Waves, like Time, threaten
impending death.
(translation by Emily Ezust)