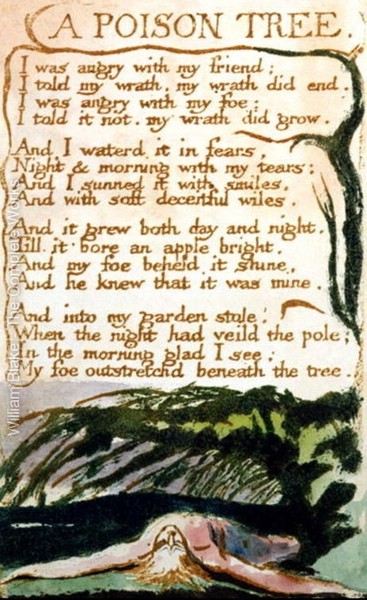 A man is furious with his enemy. He doesn't say a word because he only talks to his friends. His anger grows, and he does nothing to avoid it, on the contrary: day by day, he nourishes it with his tears and his false smiles. Eventually, it bears fruit: an apple as appetizing as poisonous. Because hatred poisons whatever it touches. The man knows that his enemy will desire that apple. He won't wait long until he discovers, pleased, his corpse in the garden.
Songs often talk about love, sadness, hope, loneliness, peace, sometimes recount funny stories and more often, terrible dramas. We see ourselves reflected in these situations because we have experienced them, or we empathize with them. And then, there's a song that speaks of hate, such as Benjamin Britten's A
Poison Tree
, from a poem by William Blake published in 1794 in the collection
Songs of Experience
(as always, you have the text below the audio player, but this time, it also heads the article, illustrated by Blake himself).
For me, it's a hard song to listen to, not only because do I not empathize; also, because hate frightens me. It frightens me the way people are blinded, barbarized and destroyed by it, and it frightens me that it's so commonly found in our lives. I must admit that Britten did a great job with the poem because the song shows the feelings of the man harshly; the repetitions of the sentence
my wrath did grow
become increasingly threatening and the triumph heard in the verse
In the morning glad I see
is devastating. Whenever I've heard
A Poison Tree
in a recital, a profound impression was made on me, I even remember being startled. In fact, I'm thinking of the second version; Before, I talked about a Britten song when there are actually two. Blake is one of the poets more present in the composer' songs, since his teens, and in 1934 he musicalized this poem; This first version, however, was released after the composer's death. The second time he used the poem was thirty years later, in 1965, when it was included in the
Songs and Proverbs of William Blake
.
I told you last week about how composers choose his poems; this cycle is pretty unusual though: Britten didn't choose the texts; tenor Peter Pears did it. Maybe Britten knew he would like Pears' choice, or maybe he thought it would be a challenge to compose from texts he hadn't chosen, I ignore it. The result is a very demanding cycle for the singer, both for its score and its emotional content; There are seven songs, each of which is preceded by a proverb; they reflect on the society of that time, after Blake reflected on his own one; We also should reflect on ours, fifty years after Britten's work.
We first heard a song from this series almost six years ago, shortly after Dietrich Fischer-Dieskau's death, because Britten wrote
Songs and Proverbs of William Blake
for his friend Dieter
. I had been posting for only three months, and I warned you that the song,
The Chimney-Sweeper
, wouldn't be as easy to listen as the previous; up until then, we had left just once the familiarity of the 19th century. But now, we've heard hundreds of songs, from every time, so there's nothing to warn. If you were reading back then and have good memory, you may compare your feelings then and now.
Songs and Proverbs of William Blake
is one of those cycles we should always listen complete because when you separate a song you are losing some of its strength; in fact, it's usually performed as a whole, without pauses between the pieces. But we've allowed ourselves to do so with Winterreise, so we can do it with any other cycle... Enjoy
A Poison Tree
, as long as you understand "enjoy" in a broad sense; I remember that someone described this song as a chill. As we did with
The Chimney-Sweeper
, we're also listening to its Proverb, the sixth, a really short one. I chose to share with you a live version, that of Simon Keenlyside and Malcolm Martineau.
Proverb VI & A Poison Tree

Proverb VI

The bird a nest, the spider a web, man friendship.
A Poison Tree

I was angry with my friend:
I told my wrath, my wrath did end.
I was angry with my foe:
I told it not, my wrath did grow.
And I water'd it in fears,
Night and morning with my tears;
And I sunned it with smiles,
And with soft deceitful wiles.
And it grew both day and night,
Till it bore an apple bright.
And my foe beheld it shine,
And he knew that it was mine.
And into my garden stole
When the night had veil'd the pole,
In the morning glad I see
My foe outstretch'd beneath the tree.