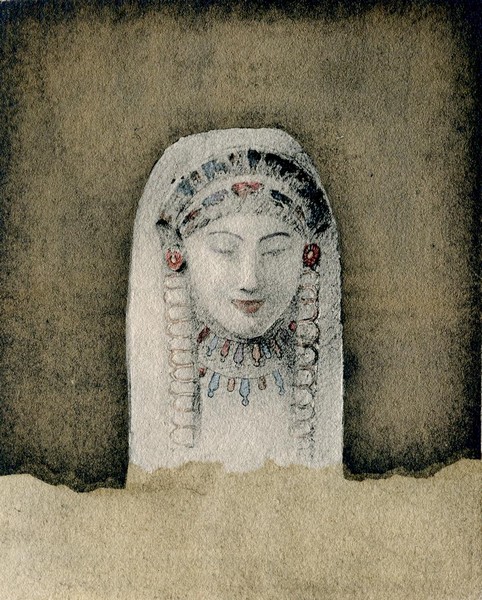 Retrat de Bilitis - P. A. Laurens
In 1895, the French translation of the work of a Greek poet from the VI century b.C. was published: Les chansons de Bilitis. Traduits du grec pour la première fois par P.L. The translator P L was (as unveiled in the second edition, in 1898) Pierre Louÿs, writer and poet, who had previously published other translations of works from the classical era. The poems had been found in Bilitis's tomb, discovered by the German G. Heim; the verses were engraved on its walls. Heim had published his discovery in 1894, in Leipzig: Bilitis sämtliche Lieder, zum ersten Male herausgegeben und mit einem Wörterbuche versehen (Complete songs of Bilitis, first published and provided with a dictionary). Louÿs's version wasn't complete; the not-yet translated poems were included in an appendix. Seven more were also mentioned, but, as the translator explained in a letter, he couldn't publish them until the law allowed it. With these words, Louÿs suggested that some of the poems were too sexually explicit. That was the subject of poems, the poet's love life, focused in three moments: her first youth, when she loved the shepherd Lykas; The years she spent in Lesbos (in Safo's times), where she loved Mytilène, and her maturity as a courtesan in Cyprus. In addition, the volume included a biography of Bilitis and the three epitaphs found in her sarcophagus.
As you may know and as it was revealed in a new poems' edition in 1910, Bilitis, her tomb, her epitaphs, her poems or the German scholar never existed. Everything had been an invention of Pierre Louÿs, he had written the poems. He could be very pleased with his masquerade: everyone, including the most prestigious Hellenists of the time, had fallen for it. I couldn't find out the reasons for this literary farce, which, on the other hand, wasn't the first one and I guess, wasn't the last one either. Maybe he wanted to prove his deep knowledge of the culture he had supplanted, maybe it was just a joke, or maybe he thought that eroticism was best accepted when it came from distant places or times.
Bilitis never existed, but the poems told real experiences. That's the dark part of this story. There are situations linked to a sociocultural context, and I know it's wrong to judge from our present context, but I think that the civilized European men of the late 19th century were perfectly aware of unequal and exploitative transactions. The same that some other civilized European men who work nowadays for some NGO's and, shame on them, still try to justify it. The story was roughly as follows: in the spring of 1894, Louÿs, in his way to Bayreuth, stopped at Switzerland to visit his friend, the poet André Gide, who had just returned from Algeria. Gide told him about a tribe where girls used to prostitute themselves to earn their dowries. He had been fascinated by one of those teens, Meryem bent Ali, with such extraordinary sexual abilities that he had put aside his homosexuality for a while. Gide had met the girl at her 16 through another common friend, painter Paul-Albert Laurens, who was the one who had "discovered" Maryem and had "transferred" her to him. Now, Gide "transferred" the girl to Louÿs, who went to Algeria instead of Bayreuth. He had already started writing Bilitis' poems, but it seems that he rewrote them during the months he stayed with Meryem (he wrote to his friend Debussy in those days that she had "the most depraved moral").
In May 1897, the magazine L'Image ordered a song to Debussy, and the composer suggested his friend to use one of the Bilitis' songs, La flûte de Pan. Louÿs asked him to write a song from an unpublished poem, La chevelure. As soon as the poems of the first edition and his relationship with Maryem were finished, he went on writing more Bilitis' poems, this time inspired by some other women. La chevelure, in particular, by Marie de Régnier. Debussy accepted and wrote the song from the manuscript; In fact, he wrote both of them, but in October issue of L'Image, La chevelure was published. Finally, he decided to write a third song, Le tombeau des Naïades, which he ended in March 1898. Thus, his cycle Les chansons de Bilitis was closed, premiered two years later, in March 1900. Making a parallel with Louÿs' book, the cycle tells three phases of love: the attraction, the culmination and the end of the relationship. After the reorganization made by the poet, the three poems included in the song cycle were published in the second edition of the book in the first part, Bucoliques à Pamphylie, there were numbers 30, 31 and 46 (the last one).
At La chevelure, Bilitis tells us about a dream that Lykas had. She starts by saying: "Il m'ha dit:" (He told me); then she narrates the dream and the poem ends with Bilitis' words again: "Quand il eût achevé..." (When he finished...). In the 1914 edition, Louÿs said about this poem: "Paris, 189 [?]. To conceal the name [of my lover] better, I do not give the date. Everything is true, down to the last detail." The pastor's dream reminds us of the scene of the long head of hair at the wonderful Pelléas et Mélisande and the way that Debussy conceives the music reminds us of it too. He sets a slow tempo ("assez lent") in the initial and final measures, when Bilitis speaks; In the central part (almost the whole song), it asks for a slightly faster tempo ("moins lent") As for the dynamics, Bilitis begins her story "piano, very expressive and passionately concentrated", and it changes until two strong measures in forte arrive, at the words: "ou que tu entrais en moi comme mon songe" (or you were entering me like my dream." All in all, we feel that's a very intense moment told with something like moved modesty; It's a very suggestive song.
And now let me explain why today I chose this song. The music magazine Ritmo asked to pianists Antón Cardó, Aurelio Viribay and Elisa Rapado and to myself to choose "our ten songs cycles". All in all, we chose thirty-two different ones; I jotted down those ten which haven't been introduced yet and, since one of them was by Claude Debussy, I thought that talking about it was a good way to start our Debussy Year (this year marks 100 years since his death); Some other day, we'll talk about another one of those cycles; At the moment I leave you with Véronique Gens and Roger Vignoles, our performers of La chevelure.
La chevelure

Il m'a dit: « Cette nuit, j'ai rêvé.
J'avais ta chevelure autour de mon cou.
J'avais tes cheveux comme un collier noir
autour de ma nuque et sur ma poitrine.
« Je les caressais, et c'étaient les miens ;
et nous étions liés pour toujours ainsi,
par la même chevelure, la bouche sur la bouche,
ainsi que deux lauriers n'ont souvent qu'une racine.
« Et peu à peu, il m'a semblé,
tant nos membres étaient confondus,
que je devenais toi-même,
ou que tu entrais en moi comme mon songe. »
Quand il eut achevé,
il mit doucement ses mains sur mes épaules,
et il me regarda d'un regard si tendre,
que je baissai les yeux avec un frisson.
He told me: "Last night I had a dream.
Your hair was around my neck,
it was like a black necklace
round my nape and on my chest.
"I was stroking your hair, and it was my own;
thus the same tresses joined us forever,
with our mouths touching,
just as two laurels often have only one root.
"And gradually I sensed,
since our limbs were so entwined,
that I was becoming you
and you were entering me like my dream."
When he'd finished,
he gently put his hands on my shoulders,
and gazed at me so tenderly
that I lowered my eyes, quivering.
(translation by Peter Low)