We started last year a collaboration with the Master's Degree of Lied-ESMUC. This week, our guest student is Al Dresden Ramos, who presents us Abschied, by Hugo Wolf; the performers are baritone Hermann Prey with pianist Leonard Hokanson. Thank you very much, Al!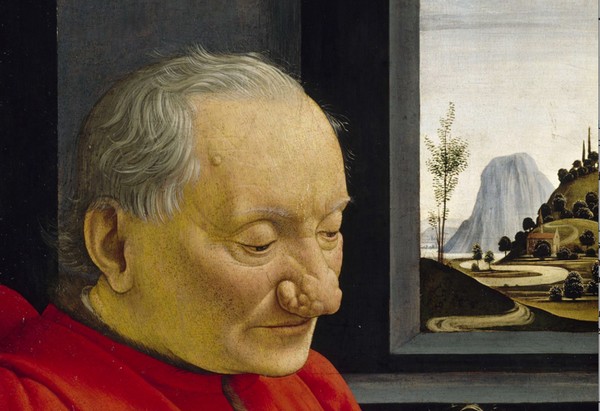 An Old Man and His Grandson (detail) - D. Ghirlandaio
Erase un hombre a una nariz pegado,
erase una nariz superlativa,
erase una alquita medio viva,
erase un peje espada mal barbado;
(from the poem "A Un Hombre De Gran Nariz" by Spanish poet Francisco de Quevedo "A un hombre de gran nariz", de Francisco de Quevedo)
According to Susan Youens, an author and musicologist, Hugo Wolf and Eduard Mörike would be like an "odd couple". They would have disliked each other had they met, as Wolf indeed admitted in his letter to Melanie Köchert after reading a selection of Mörike letters saying, "A certain antiquated tone is all too prominent… I suspect we would not have gotten along well after all". Hugo composed the "Mörike Lieder" in 1888 while he was in the vacation house of the Werners family in Perchtoldsdorf. This year happened to be the turning point of his career from being unsuccessful to amazingly productive and his works including the "Mörike Lieder" also marked the beginning of his most abundant mature period.
After finishing my Master's degree in Classical Performance (Voice) and Master's degree in Opera in Conservatori del Liceu, I was asking myself what will I do next? I was reflecting about how knowledgeable I really am with regards to the field I am hooked on which is classical singing. Then, an information came to me that ESMUC is offering the course Master's Degree in Advance Studies in Lied, Spanish and Catalan Song "Victoria de los Angeles" and that I thought was the big answer to all my questions. I must admit that my lieder repertoire was not that broad at that time and also I had the craving of deepening my understanding about this type of classical song and that is what this course is offering.
True enough, in the classes we had, I got the opportunity of "meeting" other composers that I know already but had not yet dared to venture into their musical works and one of those was Hugo Wolf. According to a dissertation I've read by Elizabeth Lee, the lives of Mörike and Wolf may have some similarities like love affairs, heartbreaks, and struggles finding their purposes in life but what interests me the most was their contradicting tastes in music. Mörike lived in the age and ideas of the Enlightenment and was greatly drawn into the music of Mozart, while Wolf in the other hand was driven by the views of modernization and that steered him to follow the likes of Wagner. These contradicting perceptions I think make Wolf's Mörike-Lieder such an enthralling collection.
"Abschied" is the last song in Mörike-Lieder book and also for me is one of the most interesting songs from the collection considering its theme and subject. The song is about a man sharing his experience with a strange person who just came into his house and volunteered to be his critique. He started criticizing his nose for its enormous size and then continued mentioning other unlikely things about him. The man tried his best to control his temper and still be respectful to the critique but when he finally decided to leave, the man cheerfully guided him to the stairs and with so much joy, he gave him a small kick on his back and he rolled down. That was like his victory and great revenge!
When I first listened to the song, my impression was it is really difficult. First, with all the chromatics and dissonances in the vocal line and second, putting it together with the pianist. Added to that is the demand of the piece to portray to persons (the man and the critique) in the singing voice. I was really doubtful if I could do it as I am not used to this kind of repertoire but I challenged my self.
The process of learning the piece went really exciting and fun because I have discovered new things that my voice could do and also internalizing the characters. The piano part added color and helped me a lot in painting the scenario of the piece. I also liked so much the last part when the music changes into a waltz tempo (similar to the Viennese waltz) where it perfectly matched the text and certainly the mood of the man after getting his revenge to the critique. All I can say is that this song is a perfect conclusion and finale of a recital.
To end this, I would like to say that indeed, the Master's degree in Lied filled up a blank space in my musical knowledge. It opened my mind not only to new information but also to new challenges that contributed to my growth as a classical artist. My deepest thanks to all my professors and classmates who made the whole journey much fun and memorable.
Abschied

Unangeklopft ein Herr tritt Abends bei mir ein:
»Ich habe die Ehr', Ihr Rezensent zu sein!«
Sofort nimmt er das Licht in die Hand,
besieht lang meinen Schatten an der Wand,
rückt nah und fern,
»Nun, lieber junger Mann, sehn Sie doch
gefälligst mal Ihre Nas' so von der Seite an!
Sie geben zu, daß das ein Auswuchs is'.«
Das? Alle Wetter - gewiß! Ei Hasen!
ich dachte nicht, all' mein Lebtage nicht,
daß ich so eine Weltsnase führt' im Gesicht!
Der Mann sprach noch Verschiedenes hin und her,
ich weiß, auf meine Ehre, nicht mehr;
meinte vielleicht, ich sollt' ihm beichten.
Zuletzt stand er auf; ich tat ihm leuchten.
Wie wir nun an der Treppe sind,
da geb' ich ihm, ganz frohgesinnt,
einen kleinen Tritt, nur so von hinten aufs Gesäße mit –
alle Hagel! ward das ein Gerumpel,
ein Gepurzel, ein Gehumpel!
Dergleichen hab' ich nie gesehn,
all' mein Lebtage nicht gesehn
einen Menschen so rasch die Trepp' hinabgehn!
Without knocking, a gentleman comes visiting me evening:
"I have the honor to be your critic!" [he says.]
Immediately he takes the light in his hand,
gazes long at my shadow on the wall,
stepping close and then stepping back:
"Now, my good young man, kindly see how your nose looks from the side!
You must admit that it is a protuberance."
This? Good gracious - so it is! My word!
I never imagined - my whole life long –
that such a world-sized nose I bore on my face!
The man said various other things about this and that,
and on my honour, I remember no more;
perhaps he thought I should give him a confession.
Finally he stood up and I lit his way out.
As we stood at the top of the stairs, I gave him, cheerfully,
a small kick from behind, on the backside, and by hail!
what a jolting, tumbling, and hobbling!
The equal have I never seen, my whole life long,
of a man going so quickly down the stairs!