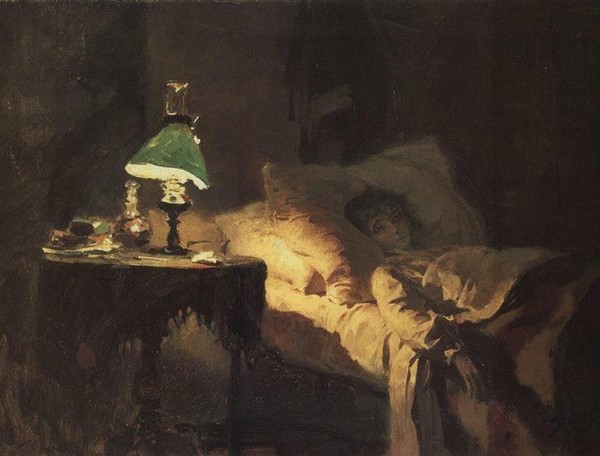 The ill woman - V. Polènov
My dearest all, I'm still on holiday, but I'm thinking of you and I've been looking for the usual musical postcard to send you. I must admit I was getting on my nerves because I couldn't find any (and I was sure there were plenty) when I came across a Lied that I jotted down on my notebook long time ago. The pianist was Leonard Bernstein and we never had listened to him playing the music of another composer. So I decided that this year, instead of sending you a postcard, I would pay homage to him, once more. When everything was ready, something came into my mind: "I would say that Christa Ludwig..." And... yes! So finally, we also have a musical postcard, thanks to my subconscious mind, I guess.
That Lied I heard was Immer leiser wird mein Schlummer, written by Johannes Brahms in 1886 from a poem by Hermann Lingg and published as Op. 105/2. The two verses explain a terrible story, both because what they say and what we imagine, and Brahms knew how to to make the most out of such poems... Just listen and read!
Greetings from ...
Immer leiser wird mein Schlummer

Immer leiser wird mein Schlummer,
Nur wie Schleier liegt mein Kummer
Zitternd über mir.
Oft im Traume hör' ich dich
Rufen drauß vor meiner Tür:
Niemand wacht und öffnet dir,
Ich erwach' und weine bitterlich.
Ja, ich werde sterben müssen,
Eine Andre wirst du küssen,
Wenn ich bleich und kalt.
Eh' die Maienlüfte weh'n
Eh' die Drossel singt im Wald:
Willst du mich noch einmal seh'n,
Komm, o komme bald!
My slumber grows ever more peaceful;
and only like a thin veil now does my anxiety
lie trembling upon me.
Often in my dreams I hear you
calling outside my door;
no one is awake to let you in,
and I wake up and weep bitterly.
Yes, I will have to die;
another will you kiss,
when I am pale and cold.
Before the May breezes blow,
before the thrush sings in the forest:
if you wish to see me once more,
come, o come soon!
(translation by Emily Ezust)