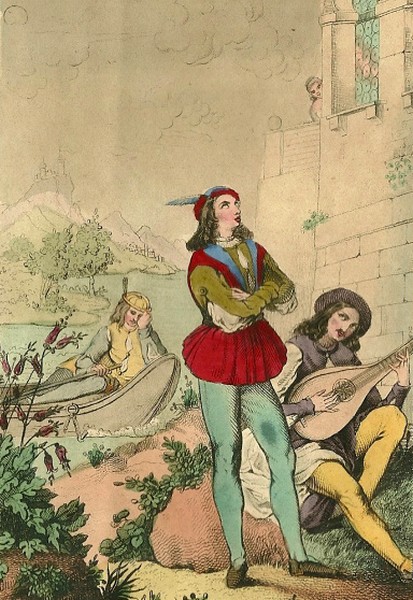 Illustration from Canti toscani - N. Tommaseo
A rispetto is a Tuscan poetic form, usually composed of six or eight hendecasyllabic verses, although the extension may vary between four and ten lines. A Rispetto talks about love, it's a respectful greeting (hence the name) to the loved one. The form spread during the thirteenth century and reached its peak during the second half of the fifteenth century, when it was widely cultivated by Angelo Poliziano and, to a lesser extent, by Lorenzo de' Medici.
Despite their Italian origin, the rispetti we heard so far here are in German: most songs from Hugo Wolf's Italienisches Liederbuch use this poetic form. Among the four that I shared, there are some refined (the nature that we associate with the distinguished names from the Renaissance I mentioned) like the delicate Was für ein Lied soll ich gesungen werden; other, however, are as mocking as Schweig einmal still, dub garst'ger Schwätzer dort!; When poetic forms become popular, they become impregnated with irony and sense of humor.
Wolf uses the version made by Paul Heyse of Niccolò Tommaseo's Canti popolari toscani, corsi, illiric, greci, published in 1841. The linguist Tommaseo, one of those wonderful men capable of constructing a dictionary, the Dizionario della Lingua Italiana, was born in Dalmatia in 1802; we can imagine the complicated sociopolitical circumstances which he experienced. He was culturally Italian, but he was also very interested in the Balkan culture, that's why his popular song collection included such a large geographical area.
Today we're listening to one more rispetto collected in the Canti toscani, this time, however, in the original language and musicalized by Ermanno Wolf-Ferrari (no relationship between him and Hugo Wolf). Wolf-Ferrari was born in Venice in 1876 and died in the same city in 1948; his father, the German painter August Wolf, went from art museum to art museum during his education days, until he arrived at Venice; then, he married Emilia Ferrari and settled there. Ermanno debated between becoming a painter or a composer, while he completed his education in Venice, Rome and Munich; finally, he chose the music. We don't know what would have happened if he had decided in favour of painting, but despite having composed more than a dozen operas, a similar number of symphonic and chamber works, a cantata and three songs collections, his only work in the repertoire is the opera Il segreto di Susanna, from 1909. The first two song collections, of four songs each, are from 1902, the Rispetti op. 11 and 12; The last collection is the largest, forty-four pieces published under the title Canzionere, op. 17, in 1935.
E tanto c'è pericol is the third rispetto from op. 11, a beautiful song, musically more attached to German style than to Italian style, that speaks about eternal love in the hyperbolic way of this form of poetry. I first heard it in a recital of Piotr Beczała and Helmut Deutsch and it called my attention; I would have liked to share their version, but I didn't find it, so I chose another one among the few recordings available, that of Yvi Janicke and Bruno Canino. Ermanno Wolf-Ferrari is our fourth Italian composer if I'm not wrong. He's added to our list of "sole" composers with this charming song.
E tanto c'è pericol

E tanto c'è pericol ch'io ti lasci
quanto in mezzo del mar fare un giardino.
a torno a torno un muricciuol di sassi
ed in quel mezzo porvi un gelsomino.
E quando il gelsomin sarà fiorito
allora il nostro amor
il nostro amor sarà finito!
If you need an English translation please visit this
link