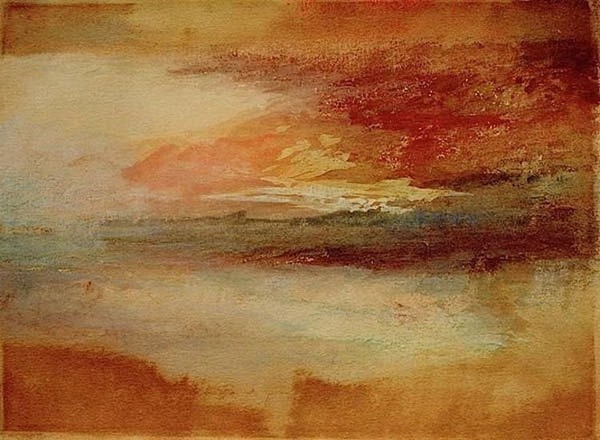 Sun setting - W. Turner
In June 1825, Schubert received a letter from his father explaining that his family knew he was doing well, but nevertheless, they regretted not hearing from him; He and his mother (actually, his father's second wife) asked him to write and explain how things were going for him. He answered a month and a half later, but at least, he wrote a long letter. Among other things he explained that his latest songs on texts by Walter Scott's Lady of the Lake were warmly accepted, and many people were surprised at his piety in Ellens Gesang III, the hymn to the Holy Virgin. He made an interesting remark: "I believe that this comes of the circumstance that I never force myself into a devout attitude and never compose such hymns or prayers unless I am involuntarily overcome by religious feeling, but in that case, it usually happens to be the genuine spirit of devotion."
Schubert wrote about fifty religious Lieder, most of them between 1812 and 1820 (that is, when he was 23); After that year, he only wrote seven more, five of which in that year, 1825. We don't know why he went back to religious poems, even so briefly. Our only hint relates to his health as that was a good year for him, after the setback of the previous one; In February, Moritz von Schwind wrote to Franz von Schober: "Schubert is in good health", which might have lasted for a long time.
Another of those five Lieder belonging to 1825 is Im Abendrot, written probably between January and February, given that the other song with a poem by Karl Lappe, Der Einsame, was published on the Wiener Zeitschrift on March 12. Der Einsame talks about the simple satisfaction of a man who meditates in front of his fireplace before going to sleep; the voice we hear in Im Abendrot could be in fact of that man watching through the window as night falls.
The poem describes how the beauty of the evening glow makes evident the presence of God. The first line, "O wie schön ist deine Welt" [O how beautiful is your world] is linked to the first words of the stanza from Die Götter Griechenlands by Schiller that Schubert musicalized: "Schöne Welt, wo bist du?" [Fair world, where are you?]; Now, however, it seems that that feeling of loss is no longer there. The first stanza expresses admiration in front of that burst of beauty, which is also admiration for God; The second verse erases any doubt that could have darken confidence in this God that reveals himself in nature, in a poem pretty close to pantheism.
Schubert conveys the emotion of those moments in a song that it is practically perceived as a hymn, calm and apparently simple. In the first stanza, the music of the first two verses is repeated in the third and fourth ones, while the fifth and sixth ones repeat a new phrase that sticks to the same serenity (in fact, Schubert follows what the rhyme marks: ABABCC). In the second stanza, there are the three questions that the poetic voice puts to itself, which are reflected in the vocal line with faster changes. After the certainty of the answer, the same music that closed the first stanza returns at the last two verses of the second one.
We shouldn't let us be misled by this apparent simplicity; It's often said that Im Abendrot is one of the most difficult Lieder by Schubert for singers. We're listening to it performed by Fritz Wunderlich, who used to make things seem really easy, accompanied by Hubert Giesen. In a few days, on Tuesday 4th of December, we will have the opportunity to enjoy it in the song recital by Manuel Walser and Alexander Fleischer, in the Schubert Lied series. Apart from this gorgeous Lied, there are some others that we have heard so far so, as always, I'm listing them, just in case you want to review them:
Im Abendrot

O wie schön ist deine Welt,
Vater, wenn sie golden strahlet!
Wenn dein Glanz herniederfällt,
Und den Staub mit Schimmer malet;
Wenn das Roth, das in der Wolke blinkt,
In mein stilles Fenster sinkt!
Könnt' ich klagen, könnt' ich zagen?
Irre seyn an dir und mir?
Nein, ich will im Busen tragen
Deinen Himmel schon allhier.
Und dies Herz, eh' es zusammenbricht,
Trinkt noch Gluth und schlürft noch Licht.
O how beautiful is your world,
Father, when she shines with golden beams!
When your gaze descends
And paints the dust with a shimmering glowing,
When the red, which flashes in the clouds,
Sinks into my quiet window!
How could I complain, how could I be afraid?
How could anything ever be amiss between you and me?
No, I will carry in my breast
Your Heaven for all times.
And this heart, before it breaks down,
Shall drink in the glow and the light.
(translation by Emily Ezust)
Related articles