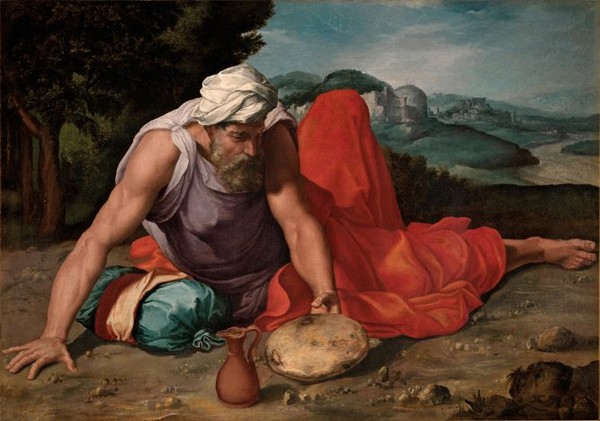 Elijah - Danielle da Volterra
I'm talking lately about Lied with two friends who are just beginning to get interested in the subject. We have gone together to some recitals, they are curious and ask many questions. One of the good things of these conversations is that they pose very naturally questions that we Lied lovers take for granted. One day, I explained to my friend that we often find several songs with the same text and he was really surprised; If I understood him, it was as if, let's say, The Beatles had made two different songs with Eleanor Rigby lyrics. After thinking a moment, he saw the point: the same poem draws the attention of two different composers that, of course, write two different songs. Then I was confused by his question: "And the other way around? Are there songs that have the same music and different poems?
This used to happen relatively often in opera. Who would realize, four years later and 1,500 km away, that Rinaldo's aria "Lascia ch'io pianga" shares its music with another Haendel's aria, "Lascia la spina"? Not to mention Rossini's skill with recycling But, a Lied? A composer who chooses a poem to musicalize it and reuses the music suggested by another poem? Why should he? I opened my mouth to answer and said, "Yes, there is (at least) one case." Because at that moment I remembered the last two Kerner Lieder. And we agreed that I would write about them.
Zwölf Gedichte von Justinus Kerner is the last cycle that Robert Schumann wrote during his Liederjahr, between November and December 1840, after his marriage with Clara. It's one of the least known, but since it is also one of my favorites we heard so far some Lieder. It's a wanderer cycle. The wanderer tells us of several people he misses (a dead friend at Auf das Trinkglas eines verstorbenen Freundes or his beloved in Stille Liebe) and he expresses his sorrow at Stille Tränen, when the end of the cycle approaches; that's one of the saddest songs we can hear in a recital.
Then, at Wer machte dich so krank (Who made you so ill?) the music shows us that the wanderer is losing strength while he tells us who's responsible for his grief: men. At the last song of the cycle, Alte Laute (Old sounds), the wanderer addresses his heart and reminds it that some time ago men made him ill and nature cured him (we heard that song, Erstes Grün). But now that's not possible anymore and he feels lost. This song has the same music that the previous one, and the effect is amazing, as if we listened to an echo.
Probably, the unusual effect is because we know that there are two songs, not a strophic one, and the pause that singer and pianist do, as short as it is, remarks it. I don't know any references that explain why Schumann repeated the music; I really would know more about this brilliant idea. In fact, the two songs are not identical, but the differences are minimal (some details in the vocal line and the accompaniment or the brief prelude) and we feel that we're listening to the same music.
At the last verses of the poem, the wanderer realizes that he can't go ahead. The last words of the cycle are: "Und aus dem Traum, dem bangen | weckt mich ein Engel nur. "( And from this dream, this fearful nightmare, only an angel will awaken me.) There are several interpretations of this angel. The most usual is that it's the death, which will bring the wanderer the rest he needs. I have always resisted to believe this meaning; there isn't any other option, any hope left? Maybe the angel is this, a hope that will return the wanderer to life.
Or maybe it's a miracle. The Old Testament tells us of the despair of Elijah in the desert, where he has fled from a certain death:
But he himself went a day's journey into the wilderness, and came and sat down under a broom tree. And he prayed that he might die, and said, "It is enough! Now, Lord, take my life, for I am no better than my fathers!" Then as he lay and slept under a broom tree, suddenly an angel touched him, and said to him, "Arise and eat."
First book of Kings, 19, 4-5
The angel says "arise and eat"; that's to say, "live." With the water and bread he brought, Elijah can go ahead. Every time I hear the Kerner Lieder I wish that the angel is the hope that the wanderer needs.
We're listening to the last two lieder of the cycle, Wer machte dich so krank and Alte Laute performed by Wolfgang Holzmair and Imogen Cooper.
Wer machte dich so krank

Daß du so krank geworden,
Wer hat es denn gemacht? --
Kein kühler Hauch aus Norden
Und keine Sternennacht.

Kein Schatten unter Bäumen,
Nicht Glut des Sonnenstrahls,
Kein Schlummern und kein Träumen
Im Blütenbett des Tals.

Daß ich trag' Todeswunden,
Das ist der Menschen Tun;
Natur ließ mich gesunden,
Sie lassen mich nicht ruhn.
That you are so ill -
who has then caused this?
No cool breath from the North,
and no starry night.

No shadow under the trees,
no heat from sunbeams,
no slumber and no dream
in the blossom bed of the valley.

That I bear fatal wounds,
this is the deed of men:
Nature would let me be well,
but they do not let me rest.
(translation by Emily Ezust)
Alte Laute

Hörst du den Vogel singen?
Siehst du den Blütenbaum?
Herz! kann dich das nicht bringen
Aus deinem bangen Traum?

Was hör' ich? alte Laute
Wehmüt'ger Jünglingsbrust
Der Zeit, als ich vertraute
Der Welt und ihrer Lust.

Die Tage sind vergangen,
Mich heilt kein Kraut der Flur;
Und aus dem Traum, dem bangen,
Weckt mich ein Engel nur.
Do you hear the bird singing?
Do you see the blossoming tree?
Heart! can this not rouse you
from your fearful dream?

What do I hear? Old sounds
of a mourning, youthful breast,
from that time when I trusted
the world and its joys.

Those days are gone.
I will be healed by no meadow herb;
And from this dream, this fearful nightmare,
only an angel will awaken me.
(translation by Emily Ezust)