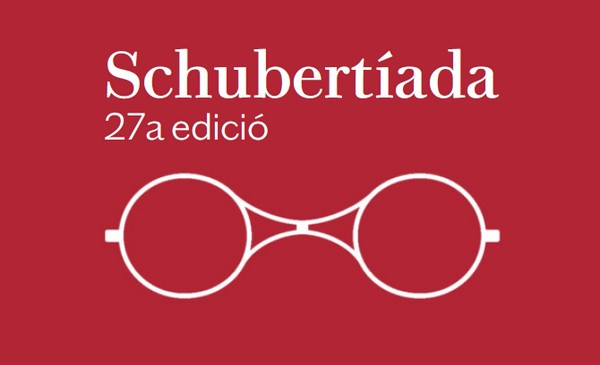 This week, I delayed the post until today because I wanted to talk about the Schubertíada, the 27th season has just been announced. Five of the concerts were announced in December and one more some days ago, and now, we know the whole season. We'll have great artists and great programmes!
The Schubertíada Vilabertran will last from 17 to 31 August, and there will be nine song recitals: one at the first weekend, five the second week (which we already know as "great week") and three at the third, last weekend. I mentioned last year that the general trend was recitals with many composers, often five or six; this year the trend is... Schubert. We'll have five all-Schubert programmes; the three great cycles and two selections:
The rest of the recitals of Vilabertran, with one exception, don't include any Lied by Schubert; those of you that don't like the apple of my eye should be happy that there won't be "interferences". These programmes are, in addition, perfect to listen to less-known repertoire.
Those were the nine recitals in Vilabertran. We will have five more in Barcelona; pay attention to Christian Gerhaher and Gerold Huber, of course, and pay also attention to the Schubert Lied series. Please let me recommend you the only (sigh!) baritone this season, Konstantin Krimmel, which will be accompanied by Doriana Tchakarova; I recently listened to him in some song competitions and he sounds really interesting. Katharina Konradi and Eric Schneider, Natalia Labourdette and Anastasiya Timofeeva and Sheva Tehoval and Daniel Heide will complete the series.
Finally, let's go to the Basque Country; the Schubertíada goes back to Valdegovía, and two out of four concerts will be song recitals. Don't miss soprano Fatma Said,accompanied by Roger Vignoles, everybody is talking about her; Don't miss either the beautiful programme of Natalia Labourdette and Victoria Guerrero.
As usual, you'll find the completed (and ordered) information on the Schubertíada website. Take your diary and choose your concerts; of course, don't overlook the chamber concerts! For once, allow me a non-song recommendation: don't miss the piano concert of the great Nicholas Angelich.
To finish this long post we have a short song, a sampling from Spanisches Liederbuch. Many years ago (five, to be precise) we listened to a wonderful duo by Schumann, In der Nacht, included in his cycle Spanisches Liederspiel. Hugo Wolf also musicalized this poem, whose story I tried to explain briefly; Today we'll listen to this Lied, Alle gingen, Herz, zur Ruh, performed by Wolfgang Holzmair and Russell Ryan.
Alle gingen, Herz, zur Ruh

Alle gingen, Herz, zur Ruh,
alle schlafen, nur nicht du.
Denn der hoffnungslose Kummer
scheucht von deinem Bett den Schlummer,
und dein Sinnen schweift in stummer Sorge
seiner Liebe zu.
¡Todos duermen, corazón,
todos duermen y vos, non!
El dolor que habéis cobrado
siempre os terná desvelado,
qu'el corazón lastimado
recuérdalo la pasión.