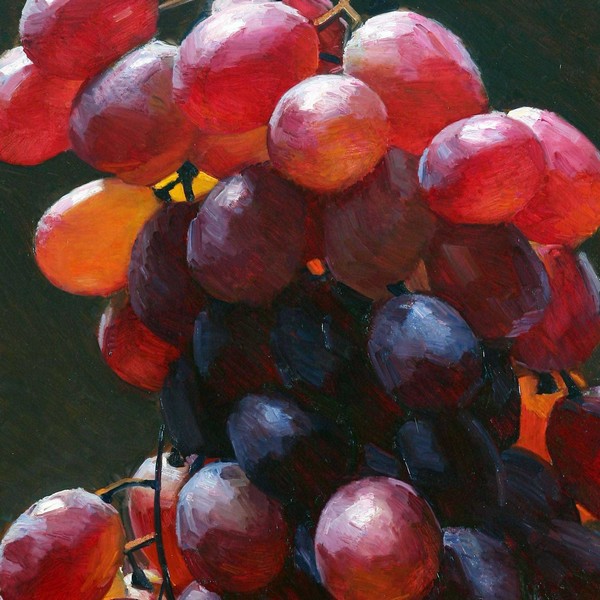 Grapes (fragment) - Robert Hannaford
We have no pianist this week. Neither orchestra nor guitar nor harp nor other accompaniment. When I edit the article I will add only three of the four usual tags: composer, poet and singer; the accompanist tag will remain empty because this week we will have voice a cappella. As you know, it's very unusual; art song is sung with accompaniment. I would say that solo voice has to do with the most contemporary song, that composed in the last decades.
In our case, almost four decades ago, because Jószef Attila-töredékek (Fragments of Attila Jószef) is a cycle from 1981. György Kurtág composed it when he was 55 years old, he is now 93 and is happily still composing; his first opera was released just a few months ago. When he wrote the Fragments, he had already written many songs, but this was the first solo voice cycle.
Kurtág chose poems by Attila Joszef who, despite his premature death at thirty-two, is considered one of the most important Hungarian poets. He was born in 1905 in an extremely poor family. His mother's death when he was fourteen marked him deeply and she became a symbol of the working class in his poetry (he is often called the proletarian poet, because of his involvement with communism); some years later he would write, referring to the publication of his first book at seventeen: "I was considered a child prodigy, although it was actually an orphan child."
He died in 1937 run over by a train. Some people say for sure that he committed suicide; Some people think that it was an accident. Anyway, he had tried to kill himself on several occasions since he was a teenager. The next year, his friends published a selection of his poetry and I assume, since I wasn't able to check it, that this collection includes the Fragments, that rarely have more than four or six verses and are written in the 1930s. Kurtág chose twenty among them for his cycle, that talks mainly of death and the difficulties of artistic creation. One of the characteristic features of the composer is the ability to synthesise, and this cycle is a good example: it lasts fifteen minutes and most songs are shorter than a minute.
These pieces for solo voice remind me, in some way, of traditional song, but especially of medieval song; I don't know if composers think about a return to those distant times. The solo voice inevitably catches us; It has something fascinating, somehow mystical, and we already know that lied lovers tend to be introspective (at least, in a musical sense).
I'm writing about the Fragments of Attila Jószef because soprano Katharina Konradi will sing some of its songs in her recital in Vilabertran, she will combine them with Robert Schumann's opus 107. If you attended last year Mojca Erdmann and Gerold Huber's recital, you may remember that the soprano also sang some songs for solo voice. The link between two lieder, Helena and Die Nacht, really moved me. Aribert Reimann's Lied transformed that of Richard Strauss; Once again, it was proved how songs change when we listen to them isolated or with a new context.
That is why I suggest that you do an experiment: listen to the no. 11 of the Fragments, Oly lágy az este (The evening is as soft) and then listen to it again, this time followed by Abendlied, by Schumann, as Katharina Konradi will sing them. We will listen to Oly lágy az este sung by Adrienne Csengery, the soprano who premiered the cycle. Since I have not found Abendlied also sung by her, I'm going back to the version we heard a while ago, with Florian Boesch i Malcolm Martineau; I think that despite the change of voice (and tessitura) you can notice the so special effect when listening to both songs together.
Oly lágy az este

Oly lágy az este, mint egy szöllõszem,
gurul puhán emlékeim között.
Egy szõke est. De már nem emlékszem,
The evening is as soft as a grape,
rolling gently among my memories.
A blond evening. But I can`t remember...
Abendlied

Es ist so still geworden,
Verrauscht des Abends Weh'n;
Nun hört man aller Orten
Der Engel Füsse geh'n.
Rings in die Tiefe senket
Sich Finsterniss mit Macht;
Wirf ab, Herz, was dich kränket
Und was dir bange macht!
Nun steh'n im Himmelskreise
Die Stern' in Majestät;
In gleichem, festem Gleise
Der goldne Wagen geht.
Und gleich den Sternen lenket
Er deinen Weg durch Nacht;
Wirf ab, Herz, was dich kränket
Und was dir bange macht!
It has become so quiet.
The evening breeze has rustled itself out.
Now one hears everywhere
The footsteps of the angels.
All around darkness sinks
Powerfully into the depths;
Cast off, heart, what grieves you
And what makes you anxious!
Now all about the heavens
The stars stand in majesty.
Along the old, firm pathway
The golden carriage [the moon] is travelling.
And like the stars, it directs
Your way through the night.
Cast off, heart, what grieves you
And what makes you anxious!
(translation © Sharon Krebs)