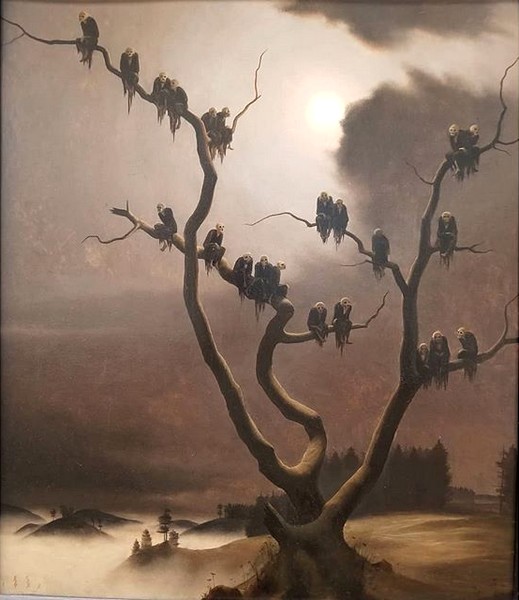 Ghosts on a tree – F. Sedlacek
The second edition of Horace Walpole's The Castle of Otranto (first published in 1764) was subtitled "a Gothic novel". Romanticism embraced this new genre with great enthusiasm and bookshelves began to fill up with freshly printed supernatural episodes, a trend that lasted until the Victorian era (I must admit that gothic novel is also well represented on my bookshelves).
The poem Der Geistertanz by Friedrich von Matthisson, which has a subtitle, Horace's quotation "Pulvus et umbra sumus" [We are dust and shadow], was written in 1797 also seems influenced by that Gothic atmosphere, in fact, not even the abandoned abbey is lacking. The scene described is suitable for this week's All Saints' Day: Midnight strikes and spirits dance around graves and rotten bones; the dogs feel them and howl; Even crows avoid the cemetery. So far it seems the usual ghost story, but in the last two stanzas, the spirits address those dead hearts, which when they lived, made them suffer and say goodbye with joy. This is the particular poem's detail: souls don't suffer instead they are happily dancing and joking.
I would say that Schubert focused on this poem's flash of humour and composed a relaxed song, as if the dancers were peasants instead of ghosts; it's even a fun song. I can not help but visualizing a Tim Burton's scene when I hear it (this atmosphere doesn't quite fit the unpleasantness conveyed by the painting which illustrates this post, but still, I can see something Burtonian in this tree with vulture-ghosts).
This is one of the most uncharacteristic songs that Schubert wrote about death. The version we're listening, catalogued as D. 116, was composed on October 14, 1814, only five days before Gretchen am Spinnrade (which, remember, is D. 118; Schubert was really active those days). It is, however, the song's third version; The first two were composed in 1812 when the composer was fifteen and wrote his first works during boarding school. These two first attempts of Der Geistertanz, D. 15 and D. 15A, were unfinished, but he didn't give up on the project and it was brilliantly completed two years later. He still returned to the poem once more, in November 1816; This time he wrote a version for two tenors and three basses, usually sung by a male choir, the D. 494.
Who says Schubert didn't have some sense of humour? These happy, naughty ghosts of Der Geistertanz show otherwise. Listen to them incarnated (literally) by Thomas Meglioranza and Reiko Uchida.
Der Geistertanz
Die bretterne Kammer
Der Toten erbebt,
Wenn zwölfmal den Hammer
Die Mitternacht hebt.
Rasch tanzen um Gräber
Und morsches Gebein
Wir luftigen Schweber
Den sausenden Reih'n.
Was winseln die Hunde
Beim schlafenden Herrn?
Sie wittern die Runde
Der Geister von fern.
Die Raben entflattern
Der wüsten Abtei,
Und flieh'n an den Gattern
Des Kirchhofs vorbei.
Wir gaukeln und scherzen
Hinab und empor
Gleich irrenden Kerzen
Im dunstigen Moor.
O Herz, dessen Zauber
Zur Marter uns ward,
Du ruhst nun in tauber
Verdumpfung erstarrt;
Tief bargst du im düstern
Gemach unser Weh;
Wir Glücklichen flüstern
Dir fröhlich: Ade!
The wooden chamber
Of the dead quakes
When midnight lifts the clock's hammer
Twelve times.

We dance rapidly around graves
And mouldering bones,
We airy hovering ones
Dance our whirling roundelay.

Why do the dogs whine
Beside their sleeping masters?
They sense the circle
Of dancing spirits from afar.
The ravens fly out from
The desolate abbey,
And flee past the fences
Of the churchyard.

We lark about and jest
Going downward and upward
Like errant candles
In the misty moor.

Oh heart! whose charm
Became a torture to us,
You rest now, frozen
In a mute muffled state.

Deep within the gloomy chamber
You concealed our pain;
We happy ones joyfully
Whisper to you: Adieu!
(translation by Sharon Krebs)
Articles relacionats