Since September 2013 I'm posting regularly in English in addition to Catalan. If you want to read this post translated to English, please use the automatic translator on the right column.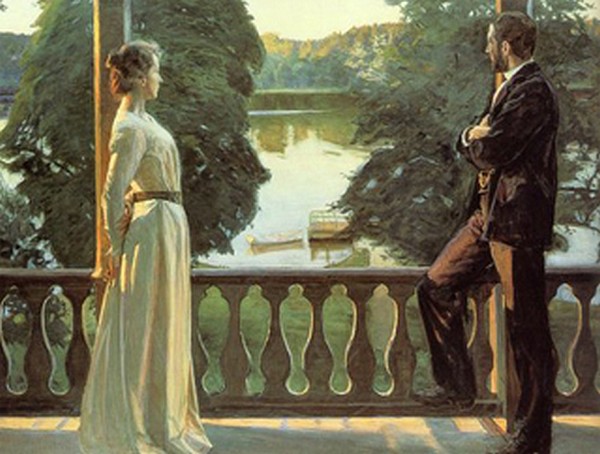 Capvespre de l'estiu nòrdic - S.R. Bergh
Un home enamorat. Un dubte que esquerda la seva felicitat: i si fos un somni? i si no fos per sempre? La por davant les coses terribles que poden passar. L'alleujament en veure la resposta dels estels.
Més o menys, aquest seria el resum del sonet
An die Geliebte
(A l'estimada) d'Eduard Mörike. Un poema bellíssim, on l'amor gairebé és una experiència mística. La contemplació de l'estimada i la pau que produeix, la presència d'un àngel, la pregària dirigida al cel... elements religiosos que no ens sorprenen si tenim en compte que Mörike havia estudiat teologia i pel temps que va escriure el poema (1830) era pastor a una parròquia luterana. Religiositat amarada de Romanticisme, amb la nit, el seu misteri i el seu consol.
A partir d'aquest poema Hugo Wolf escriu el 1888 una cançó també bellíssima, el no. 32 dels seus Mörike-Lieder. Malgrat que la mètrica del poema sembla suggerir una forma més aviat estròfica per la cançó, Wolf escriu un lied
durchkomponiert
(parlàvem dels dos tipus de cançó
la setmana passada
) i trenca l'estructura del sonet.
La melodia de la primera estrofa varia molt lentament i només s'obre per a ressaltar tres paraules:
stumm
(silenciós),
heilgen
(sagrat) i
Engel
(àngel); Wolf respecta i subratlla subtilment l'èxtasi de l'enamorat. El dubte que el desvetlla a la segona estrofa el sentim també a la veu, especialment tot just després de la paraula
Traum
(somni), que porta l'anotació
zart
(tendre, delicat).
Wolf uneix la tercera estrofa amb part de la quarta; el trèmolo del piano reforça la tensió de la veu, cada frase més amunt que l'anterior, enlairant-se cap al cel al qual s'adreça. I llavors, després d'un moment d'incertesa, l'última frase: l'emoció del poeta i les imatges dels estels somrients i el seu cant de llum queden perfectament dibuixades i poc ens falta a nosaltres per caure també de genolls de pura admiració.
Una cançó esplèndida en una interpretació esplèndida, la de Simon Keenlyside i Malcolm Martineau:
An die Geliebte
Wenn ich, von deinem Anschaun tief gestillt,
Mich stumm an deinem heilgen Wert vergnüge,
Dann hör ich recht die leisen Atemzüge
Des Engels, welcher sich in dir verhüllt.
Und ein erstaunt, ein fragend Lächeln quillt
Auf meinem Mund, ob mich kein Traum betrüge,
Daß nun in dir, zu ewiger Genüge,
Mein kühnster Wunsch, mein einzger, sich erfüllt?
Von Tiefe dann zu Tiefen stürzt mein Sinn,
Ich höre aus der Gottheit nächtger Ferne
Die Quellen des Geschicks melodisch rauschen.
Betäubt kehr ich den Blick nach oben hin,
Zum Himmel auf - da lächeln alle Sterne;
Ich knie, ihrem Lichtgesang zu lauschen.
Quan, profundament calmat per la teva presència,
gaudeixo en silenci del teu sagrat valor,
és quan sento el suau alè
de l'àngel que viu en tu.
I un somriure sorprés i interrogant aflora
als meus llavis, em pregunto si no serà un somni,
si ara en tu, per a la meva eterna felicitat
el meu desig més íntim, l'únic, s'ha acomplert.
Els meus sentits s'enfonsen en la foscor,
sento en la nocturna distància de la divinitat
la remor melòdica de la font del destí.
Atordit, alço la mirada
cap al cel: allà tots els estels somriuen;
m'agenollo per escoltar el seu cant de llum.