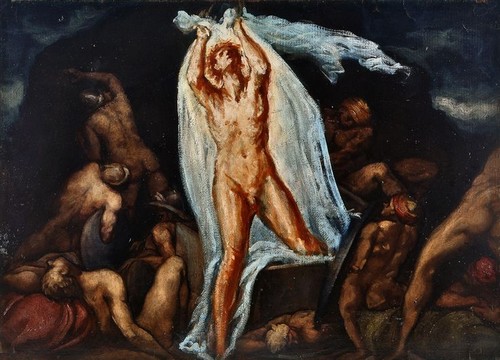 Ressurrecció - É. Bernard
A l'entrada de la setmana passada sobre
George Butterworth
vaig esmentar diverses vegades Ralph Vaughan Williams, la seva amistat i el seu interès comú per la música tradicional anglesa. Les seves carreres van anar en paral·lel fins a la guerra; Vaughan Williams era tretze anys més gran que Butterworth però havia començat a compondre més tard i, si fa no fa, les seves primeres obres van arribar alhora. Si Butterworth no hagués mort tan jove, hagués tingut tan d'èxit com el seu amic?
Mentre preparava l'article vaig topar-me amb les
Five Mystical Songs
de Vaughan Williams, compostes el mateix any que les cançons d'
A Shropshire Lad
de Butterworth, i vaig pensar que estaria bé recuperar-les aquesta setmana, després que en parléssim i n'escoltéssim una fa quatre anys, també per Pasqua.
Aquest cicle va ser una obra encarregada pel Three Choirs Festival i es va estrenar a Worcerster el 1911, l'any següent que el compositor estrenés altres dues obres que avui dia són més conegudes:
A Sea Symphony
i la
Fantasia sobre un tema de Thomas Tallis
. Els versos de les cançons són de George Herbert, nascut el 1593 en una família noble; va destacar pel conreu de la poesia i la música i durant un temps s'hi va dedicar a la Universitat de Cambridge, abans de ser requerit com a membre del Parlament. Però la seva vocació era religiosa i als trenta-sis anys va deixar la seva vida còmoda per a ser el rector d'una parròquia rural; tres anys després va morir de tuberculosi. Els seus poemes, aproximadament cent seixanta, es van publicar pòstumament aquell mateix 1633 en un volum anomenat
The Temple
; va fer-se tan popular que seixanta anys després ja se n'havien fet tretze edicions.
Vaughan Williams va triar quatre poemes de Herbert (un d'ells desdoblat en dues cançons) per compondre el seu cicle, que en la primera versió és per a baríton, cor i orquestra. Més tard el compositor en va fer altres versions, reduint l'orquestra a piano i quintet de corda o piano sol i suprimint el cor; quan vam compartir la primera cançó del cicle,
Easter
, ho vam fer en la versió per a veu i piano, que li dona un caràcter més íntim. Avui compartirem la penúltima,
The Call
, en la seva versió original; en aquest cas, però, no hi intervé el cor, que es reserva per a l'Antífona final.
El primer vers de
The Call
(La crida),
Come, my Way, my Truth, my Life
(Vine, el meu camí, la meva veritat, la meva vida, parteix de Joan 14:6:
"Jesús li respon: jo sóc el camí, la veritat i la vida. Ningú no arriba al Pare si no és per mi."
A partir d'aquest començament, Herbert elabora tres estrofes i una estructura que convida a la cançó estròfica, tal i com fa el compositor. A The Call, com passava amb With rue my heart is laden, se sent també la influència de la música tradicional, en aquest cas en un segon pla respecte la influència més marcada dels himnes anglicans, que no deixen d'estar també (si no vaig errada) fortament arrelats a la terra.

Espero que us agradi aquesta cançó que no deixa de ser una celebració de la vida i l'amor; sentirem The Call interpretada per Bryan Rayner Cook i The London Philharmonic dirigit per Bryden Thomson.

Que tingueu una bona Pasqua!
The Call

Come, my Way, my Truth, my Life:
Such a Way, as gives us breath:
Such a Truth, as ends all strife:
Such a Life, as killeth death.
Come, my Light, my Feast, my Strength:
Such a Light, as shows a feast:
Such a Feast, as mends in length:
Such a Strength, as makes his guest.
Come, my Joy, my Love, my Heart:
Such a Joy, as none can move:
Such a Love, as none can part:
Such a Heart, as joyes in love.
Vine, el meu camí, la meva veritat, la meva vida:
tanta vida que ens dóna l'alè,
tanta veritat que acaba tots els conflictes,
tanta vida que mata la mort.
Vine, la meva llum, el meu festí, la meva força:
tanta llum que mostra el festí,
tant de festí que es va fent gran,
tanta força que tria els seus convidats.
Vine, la meva joia, el meu amor, el meu cor:
tanta joia que ningú no la mot moure,
tant d'amor que ningú no el pot dividir,
tant de cor que la seva joia és l'amor.