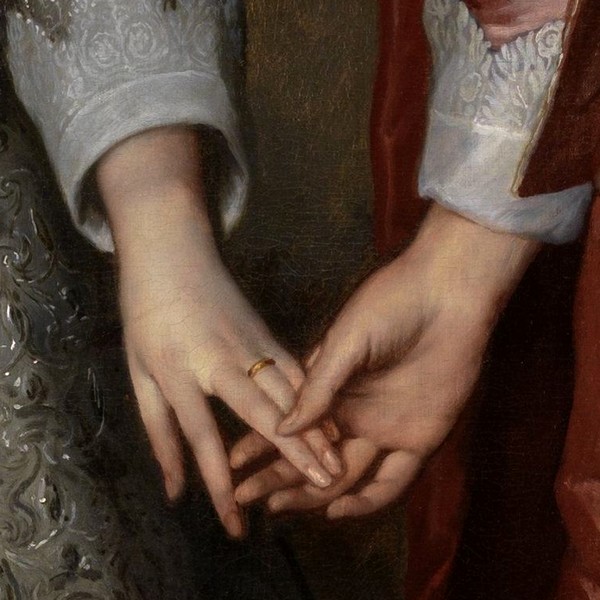 William II, Prince of Orange, and his Bride, Mary Stuart (fragment) - A. van Dick
Lied loves forests, meadows, mountains, rivers, the night, the moon, the stars. Lied loves, above anything else, wandering around. Lied loves all these things that have now become an unattainable luxury for all of us. We are in quarantine, at home, with the fridge full of food, all the supplies working, compulsively interacting with our screens. Even in the worst of times, we are the privileged first-world people.
Despite these material comforts that most of us enjoy, we are inevitably distressed. In fear of becoming infected, in fear of infecting someone. Worried about the most vulnerable people around us, while those horrific figures on deaths keep arriving. Outraged by the ineffectiveness and the irresponsibility of those who should take steps to reduce the number of infections, and don't. Afraid of the economic consequences of this disaster. Not knowing how long the house confinement will last but presuming it will be long. Giving up on exciting plans and cancelling projects that we had worked so hard on. Some by ourselves, others within a crammed apartment. Some trying to telework, others necessarily unemployed, many doing their best so as the essential services keep functioning. Grateful for the generosity of so many and the good humour (despite all) of the majority, and trying to ignore the sheer meanness of a few.
In this time of uncertainty, what song could I share with you? There are a few which talk from their home security or watcing the world through the window. We had already listened to some of them: Der Einsame, Im Abendrot and Am Fenster. I was about to talk about a fourth one when I thought of one of the oddest and most difficult things that the Covid-19 forces us to do: we cannot touch each other. We can't kiss our parents or crush our nephews and nieces, we can't hug our friends, even the police stops those couples holding hands on their way to somewhere. We need even the smallest affectionate gesture, and we are banned from it. And then, I remembered a little song by Frank Bridge: Thy hand in mine.
Unlike contemporaries such as Vaughan Williams, Quilter or Butterworth, Bridge composed mostly instrumental pieces and paid little attention to songs. He wrote about fifty, most of them between 1901 and 1908, before he was thirty. After that there was a silence until 1912; Between this year and 1925 he wrote his last fifteen. As you can see, it's a really sparse, short production and it's a real shame because some pearls can be found among them.
He wrote only two songs in 1914, and the following arrived in 1917, the only one that year. These three songs are also the only ones with poems by Mary Elizabeth Coleridge, a Victorian poet we mentioned a while ago because of a Hubert Parry's song. Coleridge was known as a novelist; she published five novels that she signed by hiding her female name behind initials. He also published two poem collections; in this case she used a pseudonym. She said she didn't want to tarnish the family name, as she was a descendant of Samuel Coleridge, one of the fathers of English Romanticism. The circulation of these two books was very short, but still, most of the copies weren't sold. This didn't discourage publisher Henry Newbolt, who, shortly after the writer died in 1907, published an anthology of her poems, including those already published and a wide selection of unpublished ones. This collection was so successful that four reprints were made within one month; Coleridge's prestige as a novelist made her readers pay attention to her poetry as well.
Bridge found the poems for his three songs in this collection; the no. 202, titled Song, begins with the words Thy hand in mine and speaks with simplicity and brevity of walking through life holding hands. Bridge's song is refined and subtle, small and intimate, touching in its apparent simplicity, tender in the version of Simon Keenlyside and Malcolm Martineau that I'm suggesting.
Stay safe, take care of yourself and your beloved ones.
Thy hand in mine
Thy hand in mine,
And through the world we two will go,
With love before us as a sign,
Our faces set to ev'ry foe.
My heart in thine,
Through life, through happy death the same,
We two will kneel before the shrine,
And keep alight the sacred flame.
Articles relacionats