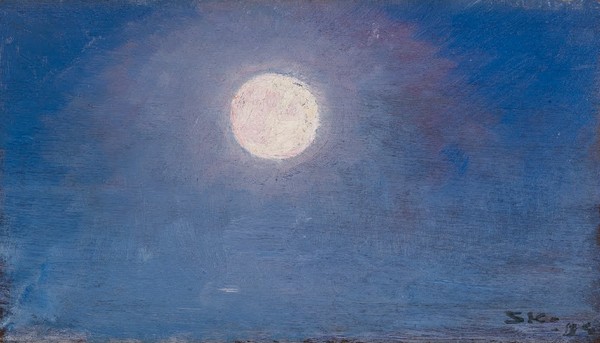 Lluna plena - P. S. Krøyer
George Gordon Noel Byron's poetry soon had some extensive dissemination in Germany; some translations were distributed, and he also had some protectors such as Goethe, Heine and Müller, who was also the poet's biographer. Despite all of this, Lied composers were barely interested in Lord Byron. The exception was Carl Loewe, who put into music about twenty of his poems, but apart from these, just a few scattered Lieder are found, the best known of which is Mein Herz ist schwer, the no. 15 of Robert Schumann's Myrten. The rest are hardly performed in song recitals and few recordings are availabe, so we're missing songs as valuable as the one I'm suggesting this week, Sonne der Schlummerlosen [Sun of the sleepless].
Hugo Wolf was one of those sleepless. Throughout his life, he suffered many periods in which he wasn't able to sleep, and it's not hard to imagine that when he composed this song, he didn't sleep properly either, because he was physically and mentally exhausted. By April 1986, he had finally finished his splendid Italienisches Liederbuch, having finished his opera Der Corregidor four months earlier, and he was again in despair because he wasn't able to compose. His publisher urged him to publish, since his prestige as a Lieder composer would help to promote his opera, and every new Lied should have been a real torture.
He didn't write a song until that October, and he published it with two more songs, also with poems by Robert Reinick, composed eight years earlier; the next two songs, with Lord Byron's poems, (one of them Sonne der Schlummerlosen) were written in the last days of December. He published them with two songs, one with a poem by Heine and one with poem by Shakespeare also composed in 1888 and 1889; this disparity shows how hard those times were for Wolf. It wasn't a problem of quality, as Sonne der Schlummerlosen or the Michelangelo-Lieder (his last, written the next March) prove. It was, simply and sadly, that he wasn't able to compose.
Sonne der Schlummerlosen talks about memories of happy moments which the poet compared to the moon: "distinct, but distant" (Lord Byron wrote this poem on September 8, 1814, the day before his proposal; I suppose it would be hasty to draw conclusions). Wolf's Lied, which follows Otto Gildenmeister's translation, reflects the coldness of the moon, the transparency of its light, and the time, that seems motionless when you aren't able to sleep. And at the same time, it becomes a serene song, which doesn't convey at all the anxiety of a sleepless night.
When he chose Sonne der Schlummerlosen, Wolf coincided with Loewe, Mendelssohn and Schumann. In fact, the lieder of these composers with poems by Lord Byron came from the same collection, the Hebräische Gesänge. We might think that these poems aroused the interest of the composers because they were more musical than others, and we would be right, because the original collection, the Hebrew Melodies, wasn't originally a poetic work; these texts were conceived as song lyrics.
Let's go to England, in the early 19th century. There, we find Isaac Nathan, a young man born in Canterbury, destined to be a rabbi, who instead achieved his dream: to become a successful composer. At that time, traditional songs were very fashionable, arranged into pieces to be played at home; we've already heard some of these songs here, harmonized by Haydn or Beethoven according to the commission of publisher George London. There were collections of Scottish, Irish, or English songs, but there were no Jewish ones, and Nathan saw here his niche: he would compose a collection of songs with melodies collected by himself in the synagogues of Canterbury and London.
Still, he would need the lyrics, and wanted a prestigious writer to write them; since he was unknown, the lyricist would help to sell his songs. It wasn't a crazy idea, he was just following in London's footsteps, who had relied on Robert Burns or Walter Scott to rewrite the lyrics of folksongs. Nathan's first choice was also Scott, but when he didn't get any response, he moved on to Plan B: Lord Byron. He sent him his request along with some melodies, and the poet sent him back the lyrics, including Sun of the sleepless. Encouraged, the composer sent him the scores of the finished songs and a new set of melodies, and Lord Byron responded with a second set of lyrics. If the first set had nothing to do with the melodies' religious origin, the texts of the second one have a more spiritual character; there was still a third set of songs, this time with lyrics inspired by some Old Testament scenes.
The composer was overjoyed because the poet had no intention of publishing those texts, he would have exclusive rights, but Lord Byron's editor wanted them to be included in the complete edition of his poetic work he was preparing. So Nathan hurried to release a first set of songs before the anthology was released. It came out in April 1815 and was sold out within days; a second set of songs appeared in May, and there was still a third, in 1826, when Lord Byron had already died.
Isaac Nathan's Hebrew Melodies, with lyrics by Lord Byron, were as successful as the composer had wished, but they were eventually forgotten, while Lord Byron's Hebrew Melodies, now poems, went down in history. The songs have recently been recovered and a selection has been recorded, so if you want to know how the original version of Sun of the Sleepless sounds, here it is, performed by Warren Hayes and Mary Gerlitz.
And now, let's go back to Vienna, in 1896, and to Hugo Wolf, to listen to his Sonne der Schlummerlosen. As far as I know, only three recordings of the song exist; I chose to share with you the latest, with William Dazeley and Sholto Kynoch.
Sonne der Schlummerlosen
Sonne der Schlummerlosen, bleicher Stern!
Wie Tränen zittern, schimmerst du von fern;
Du zeigst die Nacht, doch scheuchst sie nicht zurück,
Wie ähnlich bist du dem entschwundnen Glück,
Dem Licht vergangner Tage, dass fortan nur leuchten,
Aber nimmer wärmen kann!
Die Trauer wacht, wie es durchs Dunkel wallt,
Deutlich doch fern, hell, aber o wie kalt!
Sun of the sleepless! melancholy star!
Whose tearful beam glows tremulously far!
That show'st the darkness thou canst not dispel,
How like art thou to joy remember'd well!
So gleams the past, the light of other days,
Which shines, but warms not with its powerless rays;
A nightbeam Sorrow watcheth to behold,
Distinct, but distant - clear - but, oh how cold!
Related articles