Updated 7/7. Brendan G. Carroll, biographer of Eric W. Korngold, was so kind as to leave a comment specifying the date of composition of Sommer for voice and piano (1913, not 1916) and the date of composition for voice and orchestra (1916). Both are already included in my text.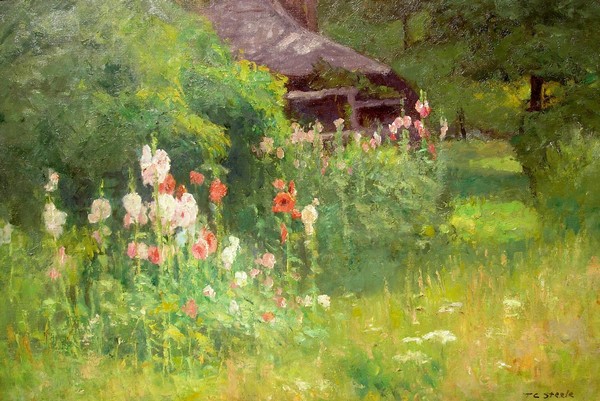 Malves reals - T. C. Steele
This article starts the month of July and ends the so-called regular season of Liederabend. Next week, the summer season (so to speak) is beginning, which in recent years has grew into two parts. July is for the students following the ESMUC Master's Degree in Lied; We're collaborating for the fourth time in a row with the subject "Literature of the genre. Repertoire of the German lied", taught by pianist Viviana Salisi. The final work project module involves writing a post for this blog; each student chooses a Lied that he or she knows well and talks about it in our usual format; my sole task is putting together all materials they send me in order to edit the post. Viviana and I choose four works that are published during for weeks, and a few more that, for one reason or another, we also find interesting to share with you; these are posted directly on the page I've linked above.
August, though, will be dedicated to the Schubertíada. As usual, I will talk about one or two of the recitals each week, and also I will gather the links to the programmed songs we'll have heard on Liederabend up to then and will add a new one. As every year, I truly wish me meet at Vilabertran (this time, with face masks, hydroalcoholic gel, social distance, etc).
And when September arrives, a new season will begin; I usually go on holiday that month, but this year... I have no idea. I could relax for once and not get ahead of myself; Anyway, let's welcome summer, which is a season that would be great if it wasn't for the heat, with a Lied by Erich Wolfgang Korngold called precisely Summer (Sommer), composed in 1913, when the composer was only 16. The poem is by Siegfried Trebitsch, a friend of Julius Korngold (the composer's father) to whom we owe, in addition to this song, the wonderful opera Die tote Stadt [The dead City] (some time ago, taking advantage of the fact that it was summer and no one was watching, I shared this gem that I recommend you to listen again and again). It turns out that Trebitsch had translated into German a work by Belgian writer Georges Rodenbach called Bruges-la-Morte and he told his friend Julius something like "take a look, I think that it's a good story for your boy to write an opera". Paul Schott, the libretto's author name in question, Die tote Stadt, is in fact, the Korngolds' pseudonym; they wrote it four-hands, probably with Trebitsch' contribution.
Korngold began composing the opera in 1916, the same year that Sommer was published and the orchestral version composed. The song is based on a poem in four stanzas that correspond to the four musical stanzas. The first one describes a placid summer scene that, at least for Mediterranean people, could be sometime in early July, with its widespread blooming and blackbirds singing merrily the whole day; the summer that Korngold draws shouldn't be really hot, because the music is lively and invites to motion. At the second stanza, the poet hears a tune that brings something to his memory; the tune is sad, but he only seems bothered by the sweet ending that spoils it. Suddenly, the hot air and the burning sun upset him and a storm breaks in his heart; luckily enough, it's short like a summer storm, and then, at the last stanza, we hear back the dancing music of the first one, meanwhile the poet calms down and feels himself caught in a web of dreams.
Sommer is the last of the Sechs einfache Lieder, Op 9, which, as you'll notice, are not simple (einfache); I'd suggest the recording of Konrad Jarnot and Reinild Mees, that is, the original version for voice and piano. In 1917, the collection was published for soprano and orchestra; if you listen to the orchestral Sommer (for example, in the version by Juliane Banse and the Munich Radio Orchestra conducted by Sebastian Weigle), you will listen to some connections with its contemporary Die tote Stadt.
I hope you enjoy this Korngold's Summer, and I also hope you return next week to know the first proposal from ESMUC's Master's in Lied students.
Sommer
Unter spärlich grünen Blättern,
unter Blumen, unter Blüten
hör' ich fern die Amsel schmettern
und die kleinen Drossel wüten.
Auch ein Klingen fein und leise,
schneller Tage schneller Grüße,
eine wehe Sommerweise,
schwer von einer letzten Süße.
Und ein glühendes Verbrennen
schwebt auf heißen Windeswellen,
taumelnd glaub' ich zu erkennen
ungeschriener Schreie Gellen.
Und ich sitze still und bebe,
fühle meine Stunden rinnen,
und ich halte still und lebe,
während Träume mich umspinnen.
Please follow
link
if you need an English translation.
Related articles