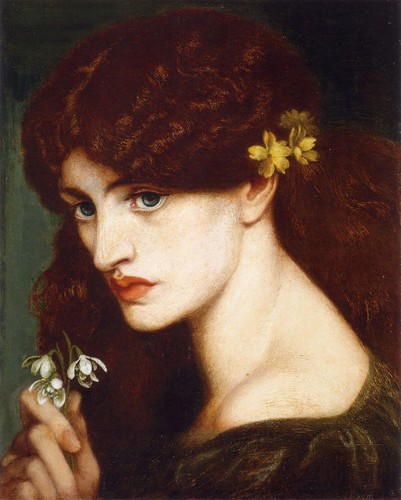 Blanzifiore - G.D. Rossetti
A few weeks ago, chatting with another blogger, I realized I had not still spoken about Mahler's Songs of a Wayfarer and I promised him that I would soon; it's a fundamental, beautiful cycle. Lieder eines fahrenden Gesellen is an early work of Gustav Mahler, at least in its first version, written when he was twenty-four. The origins of the cycle are quite convolute but it seems clear that it stems from a love story. Recently, we've talk about many songs with a love story!

We know the end of this relationship because one of the partie explained it. In 1884 Mahler was conductor of the Kassel opera house and fell in love with one of the singers, Johanna Richter. Apparently their time together was short but intense, and they split up during New Year's Eve 1885. The next day, the composer wrote to his friend Friedrich Löhr:
I spent yesterday evening alone with her, both of us silently awaiting the arrival of the new year. Her thoughts did not linger over the present, and when the clock stroke midnight and thears gushed from her eyes, I felt terribly that I, I was not allowed to dry them. She went into the adjacent room and stood for a moment in silence at the window, and when she returned, silently weeping, a sense of inexpressible anguish had arised between us like and everlasting partition wall, and there was nothing I could do but press her hand and leave.
And that's how everything finished. At the same letter, Mahler says:
I've written a cycle of songs, six of them so far, all of them dedicated to her. She doesn't know them. What can they tell her but what she already knows? I'll enclose the final songs herewith, although the inadequate words cannot render even a small part of it. The idea of the songs as a whole is that of a wayfaring man who has been striken by fate and who now sets forth into the world, travelling wherever his road may lead him.
There is little doubt that he speaks of what we know as
Songs of a Wayfarer
, but we're no certain whether he had written the songs or just the poems, because this is an atypical case: a composer who writes his songs from his own texts. We don't know either what happened with the two songs that he discarded because he speaks about six songs and the cycle has only four (the first one from a anonymous, traditional poem and the rest from his poems). We don't even know if the first version is with piano or orchestral accompaniment. If we ask ourselves so many questions is, among other things, because the songs were not published until 13 March 1896, in its orchestral version, although some years ago some of them have been performed with piano accompaniment (both versions were published simultaneously in 1897). Ten years had went by since that letter!
We're listening to the last song cycle,
Die zwei blauen Augen
(The two blue eyes). Those blue eyes made the poet to fell in love and now prompt him to leave home because she marries another man. The cycle deals with the pain of the poet and his wanderings around the world make us think of
Winterreise
, of course. This Lied is strongly linked to Schubert's work: a
linden tree
. Both Schubert and Mahler's wayfarers leave their home at night without saying farewell to anyone, and both find a linden on his way. However in Mahler's song it's early summer, the tree blossoms. Schubert's wayfarer ignores the tree calling him and passes by; the one of Mahler stops and sleeps under it, feeling then more comforted; as last week song,
Rastlose Liebe
, the poet accepts that
Lieb und Leiden
, love and suffering, go always together.
Die zwei blauen Augen
is a great song that we're listening in a essential version, that of Dietrich Fischer-Dieskau and the Philharmonia Orchestra of London conducted by Wilhelm Furtwängler. The recording is from 1952, meaning that Fischer-Dieskau was twenty-seven; it's impressive how he sang at that age! Just one thing before listening to
Die zwei blauen Augen
: if you know the first symphony by Mahler you'll clearly identified in this song the funeral march of the third movement; as we have seen with various examples like
Ablösung im Sommer
and the third movement of the third symphonie or
Des Antonius von Padua Fischpredigt
, also in the third movement of the second symphonie, there is a close relationship between the symphonies of Mahler and his
Wunderhorn
Lieder (and this cycle is considered
Wunderhorn
because of its character).
Now I leave you with this wonderful performance of
Die zwei blauen Augen
. Enjoy!
Die zwei blauen Augen

Die zwei blauen Augen von meinem Schatz,
Die haben mich in die weite Welt geschickt.
Da mußt ich Abschied nehmen vom allerliebsten Platz!
O Augen blau, warum habt ihr mich angeblickt?
Nun hab' ich ewig Leid und Grämen.
Ich bin ausgegangen in stiller Nacht
Wohl über die dunkle Heide.
Hat mir niemand Ade gesagt.
Ade! Mein Gesell' war Lieb' und Leide!
Auf der Straße steht ein Lindenbaum,
Da hab' ich zum ersten Mal im Schlaf geruht!
Unter dem Lindenbaum,
Der hat seine Blüten über mich geschneit,
Da wußt' ich nicht, wie das Leben tut,
War alles, alles wieder gut!
Alles! Alles, Lieb und Leid
Und Welt und Traum!
The two blue eyes of my darling -
they have sent me into the wide world.
I had to take my leave of this well-beloved place!
O blue eyes, why did you gaze on me?
Now I will have eternal sorrow and grief.

I went out into the quiet night
well across the dark heath.
To me no one bade farewell.
Farewell! My companions are love and sorrow!
On the road there stands a linden tree,
and there for the first time I found rest in sleep!
Under the linden tree
that snowed its blossoms onto me -
I did not know how life went on,
and all was well again!
All! All, love and sorrow.
(translation by Emily Ezust)