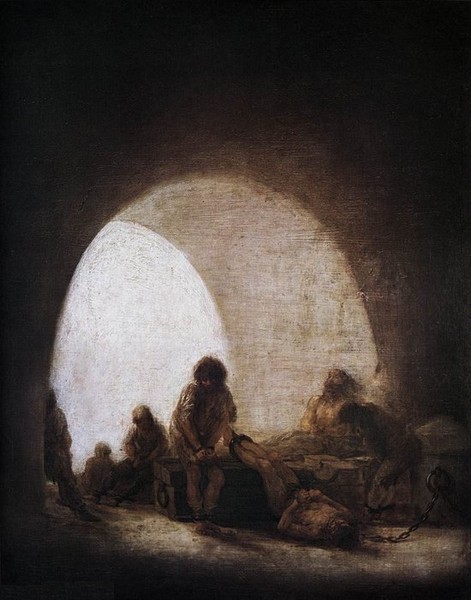 A prison scene. F. de Goya
After having written in a year and a half the fifty-three Mörike-Lieder, the thirteen Eichendorff-Lieder that completed his collection and almost all the Goethe-Lieder, Hugo Wolf was anxious. Which poet would be his next one? The answer came through a friend of a friend of his, who lent him a volume of poetry that seemed suitable. He was really right: just a week after writing the 51st and last song by Goethe, Die Spröde, on October 28, 1889 Wolf wrote Wer sein holdes Lieb', the first Lied of Spanisches Liederbuch (Spanish Songbook), a series of forty-four that he ended on April 27, 1890.
Friedrich Eckstein, the friend, and Franz Zweybrück, the friend of the friend, should know that Wolf was fond of Spanish literature. He would speak of Don Quixote as his favourite novel, he boasted of having read the original version of Don Giovanni, that's to say, El burlador de Sevilla by Tirso de Molina, he knew several dramas of Pedro Calderón de la Barca and had chosen El sombrero de tres picos by Pedro Luis de Alarcón as the premise of his opera Der Corregidor. He had read all this works translated into German; after the German obsession with Ancient Greece, the symbol of an aesthetic ideal, and with Italy, a near land that every art lover who could afford it used to visit, it seemed inevitable an obsession with Spain, that was essentially literary.
The book that Wolf got was Spanisches Liederbuch. Eine Sammlung Volkslieder, nachgesungen von Emanuel Geibel und Paul Heyse, published in 1852. The collected poems were not necessarily songs and were 'traditional' in the German sense, that is (more or less), linked to the people. They were chosen mainly because the translators thought they could easily be sung; hence the "nachgesungen" in the title, which literally would be something like "sung after the original version". The collection was divided into two parts: thirteen Geistliche Lieder (Sacred Songs) and ninety nine Weltliche Lieder (Profane Songs), of which Wolf chose to compose ten and thirty-four, respectively.
A few days ago, when I was writing the post about the Schubertíada, I realised that I hadn't yet spoken about this cycle. It's not the first time that a current affair makes me detect such an omission and I usually correct it as soon as possible; Especially in this case, because the Spanisches Liederbuch is a great cycle that is rarely entirely performed, mainly due to its difficulty (among other reasons, it's much longer than a usual recital). So I celebrate the opportunity to listen to it in Vilabertran and I wanted to write a short presentation; Today we'll listen to a profane song and next week, in a shorter post, to a sacred one.
At least, since Wolf wasn't the first composer that musicalized those poems, we've talked some times about the literary sources; Schumann composed the Spanisches Liebeslieder and the Spanisches Liederspiel from the first version of this collection, published by Geibel alone in 1843, Volkslieder und Romanzen der Spanier im Versmaße des Originals verdeutscht (Traditional Spanish songs and romances translated into German according to the original metrics). We listened to In der Nacht, from the second cycle, and last week I suggested that we listened to Wolf's version, Alle gingen, Herz, zur Ruh, no. 21 of the Weltliche Lieder; We also heard some years ago to Geistliches Wiegenlied by Brahms, whose text corresponds to Die ihr schwebet, no. 4 of Geistliche Lieder.
We talked previously about the Italienisches Liederbuch, the next cycle that Wolf composed, so we can indicate some parallelism between the two of them. For example, two singers are needed to sing the whole cycle. Some songs are assigned to a male voice, others to a female voice and the rest is to the free choice of singers. There are also similarities in the subject and the distribution between men and women, if we focus on profane songs: most are love songs, where the male songs tend to talk about suffering, idealized love while the female songs usually speak of passionate, carnal love. Finally, we don't find a trace of Spanish music in the Spanisches Liederbuch, as we don't find a trace of Italian Music in the Italienisches Liederbuch.
There is (at least) an important difference between both cycles: the origin of the poems. While the original poems from the Italianisches Liederbuch are from anonymous author, a part of the poems from the Spanisches Liederbuch has a known author; For example, In der Nacht / Alle gingen, Herz, zur Ruh is the translation of Todos duerrmen, corazón, a poem that in the Cancionero general of Hernando del Castillo is attributed to Diego de San Pedro; Geistliches Wiegenlied / Die ihr schwebet is the translation of the Cantarcillo de la Virgen by Lope de Vega, and we also find poems by the Archpriest of Hita or Cervantes. We even found the translators as authors: Geibel used the pseudonym Don Manuel del Río and Heyse, Don Luis el Chico.
The song we're listening today musicalizes a well-known poem: the Romance del prisionero, that begins with the words "Que por mayo era, por mayo" (don't you see, I didn't forget to translate the title), that is, Ach, im Maien war's, im Maien, according to Heyse translation. It's no. 20 of the Weltliche Lieder, composed on March 30, 1890, and our performers will be Marcus Farnsworth and Sholto Kynoch. I must admit that I find shocking the light atmosphere that accompanies the sorrow of the prisoner...
And next week, one more song from the Spanisches Liederbuch!
Im Maien war's

Ach, im Maien war's, im Maien,
Wo die warme Lüfte wehen,
Wo verliebte Leute pflegen
Ihren Liebchen nachzugehe,
Ich allein, ich armer Trauriger,
Lieg in Kerker so verschmachtet,
Und ich seh' nicht, wann es taget,
Und ich weiß nicht, wann es nachtet,
Nur an einem Vöglein merkt ich's,
Daß da drauß im Maien sang;
Das hat mir ein Schütz getötet--
Geb ihm Gott den schlimmsten Dank!
If you need an English translation please visit this
link