Fernanda Sánchez presenta Mein Liebster singt am Haus in Mondescheine, un nou lied dins la sèrie en col·laboració amb el Màster en lied de l'ESMUC. Els intèrprets són Mojca Erdman i Gerold Huber. Moltes gràcies, Fernanda!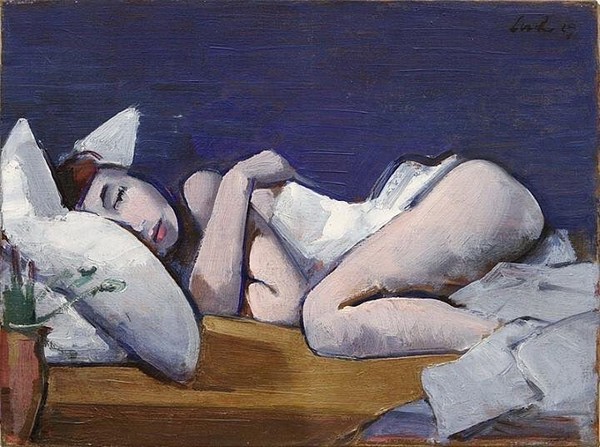 Noia dormint - F. Lerch
Una probadita de Wolf
Cuando uno se dedica a la música se adentra en un mundo en el que si no todos los que nos rodean, gran parte de la gente que nos rodea no entiende de lo que estamos hablando. Me refiero al mundo de la música clásica, un mundo enigmático para un gran porcentaje de la humanidad, que a su vez se puede dividir en muchísimos submundos; la música antigua, la ópera, las orquestas, en fin... la lista podría seguir. Aún así, hay muchísimos compositores cuyos nombres atraviesan las barreras de los submundos y del mundo de la música clásica, ya sea por la diversidad de sus composiciones, el volumen de su obra, su genialidad indiscutible o sus circunstancias afortunadas en la historia de la música.
Hugo Wolf no es uno de esos compositores. Cuando hablo con amigos que en su carrera musical no han tenido contacto con el lieder, la obra de Wolf no les es familiar, tal vez han escuchado el nombre pero no sabrían ubicarlo en un momento o lugar específico de la música occidental. ¿Qué decir de los amigos que no se dedican a la música o que no son aficionados de la canción? para ellos Hugo Wolf podría ser el personaje de una película o un diseñador. Hugo Wolf nació en 1860 en Styria, ciudad eslovena parte el imperio austriaco entonces, estudió en Viena y fue compañero de Mahler, compuso principalmente lieder y le dio a este género una expresividad única.
Yo misma lo descubrí muy tarde en mi carrera como cantante y sin embargo para mi audición del máster de Lied, las únicas canciones en alemán que canté fueron de Wolf. Y es que realmente es un compositor que me ha cautivado. Ian Bostridge se refirió a el como "el dios de las cosas pequeñas"[1] y yo no puedo estar más de acuerdo, para mí, las canciones de Wolf son mini obras maestras, y en un intento de ayudar al nombre de Wolf a traspasar las fronteras que menciono antes, quiero hablar de una de sus maravillosas canciones: Mein liebster singt am Haus in Mondenscheine.
Esta canción es la número veinte del Italianisches Liederbuch de Wolf, un cuaderno de lieder que no es un ciclo como tal, si no una colección de poemas italianos de autorías diversas traducido por Paul Heyse. Hay diversidad de opiniones sobre el contenido de los poemas de este cuaderno, a pesar de ser bastante dramáticos, se dice que los textos no son profundos si no más bien un ir y venir de intercambios y desdenes amorosos entre un hombre y una mujer. También una muestra de la idea romantizada de Italia, a la que Wolf soñaba con visitar, pero nunca pudo hacerlo. La maravilla de estos lieder es la libertad que dan los textos para reagruparlos o cambiar el orden a la hora de la interpretación para darles un significado determinado de acuerdo a lo que el intérprete entiende y quiere expresar.
En Mein Liebester singt am Haus la escena es muy clara: Una chica llorando en su cama porque la madre no la deja salir a ver al amado que le está cantando una serenata afuera de su casa, que hasta derrama lágrimas de sangre que la dejan ciega de tanto llorar. Drama total. Cuando escuché la canción me conmovió enormemente el dolor que puso Wolf a este poema y la manera de pintar la escena tan sutilmente. El lenguaje del piano es ligero, libre, representando el sonido de la serenata una noche placentera, en contraste con la melodía de la voz, mucho más dramática y declamatoria. Wolf da la indicación leidenschaftlich en el momento de llorar. La naturalidad del texto superpuesto a la melodía de la serenata, es placentera tanto de cantar como de escuchar y el lenguaje armónico crea una atmosfera que se mueve entre lo sensual y lo doloroso.
Fue curioso escuchar después la canción veintidós del cuaderno, Ein Ständchen Euch zu bringen kam ich her, donde la contraparte masculina dice simplemente: pasaba por aquí a cantar una serenata a su bella hija, por favor dígale que la echo de menos. El lenguaje de esta canción es descarado y jovial, no tiene nada que ver con el dolor de Mein Liebster singt am Haus.
Las dos canciones, cortísimas, de a penas un minuto y medio, son maravillosas. Interpretarlas en un mismo recital una después de la otra pueda cambiar el significado, Mein Liebster sing am Haus puede no parecer tan dolorosa, si no el berrinche de no poder salir de noche a coquetear con el vecino, pues el amor del que habla él en Ein Ständchen Euch zu bringen, no parece ser un amor profundo. El punto es que muchas veces el significado de las canciones es subjetivo y ahí está la libertad de interpretación.
Cuando decidí hacer el comentario sobre esta canción me puse a buscar información y a hacer investigación sobre el texto y el significado increíblemente trascendente que tenía para mí. En lugar de eso, lo único que encontré fueron críticas de conciertos y de interpretaciones. Que si la soprano vibraba muy lento, que si era demasiado intelectual, que si la sala no era adecuada para el repertorio. Toda una serie de afirmaciones y comentarios que me robaron momentáneamente la magia que yo sentí al escuchar esta canción por primera vez y después las muchas veces que la canté. La interpretación de Mojca Erdmann, que fue la que a mi me cautivó con esta canción, fue destrozada por la prensa; lo que me hace reafirmar algo que siempre he pensado: la música es un arte vivo, una canción es una obra de arte viva, y la complicidad entre el compositor y el intérprete o los intérpretes es lo que le da vida y es personal. Y Hugo Wolf es un maestro del cual es fácil ser cómplice, aunque sea por un minuto y medio.
[1] Bostridge, Ian "The god of small things". The Guardian, Sept 15, 2006
Sobre la autora
Fernanda Sánchez es una cantante y profesora de canto mexicana residente en Barcelona. Estudió el máster de Interpretación de la Música Antigua en la ESMUC y se dedica principalmente a la interpretación de esta música en diferentes proyectos en Barcelona y México. Actualmente es estudiante del Master de Lied Victoria de los Ángeles.
Mein Liebster singt am Haus in Mondescheine

Mein Liebster singt am Haus im Mondenscheine,
Und ich muss lauschend hier im Bette liegen.
Weg von der Mutter wend' ich mich und weine,
Blut sind die Tränen, die mir nicht versiegen.
Den breiten Strom am Bett hab' ich geweint,
Weiss nicht vor Tränen, ob der Morgen scheint.
Den breiten Strom am Bett weint' ich vor Sehnen;
Blind haben mich gemacht die blut'gen Tränen.
Mi amado canta junto a la casa en la luz de la luna
y yo debo permanecer aquí en la cama, acostada.
De mi madre me giro y lloro,
sangre son las lágrimas, que en mi no se secan.
El amplio arroyo junto a la cama he llorado,
No se, por las lágrimas, si la mañana brilla.
El amplio arroyo junto a la cama lloré por anhelo;
ciega me han hecho las sangrientas lágrimas.